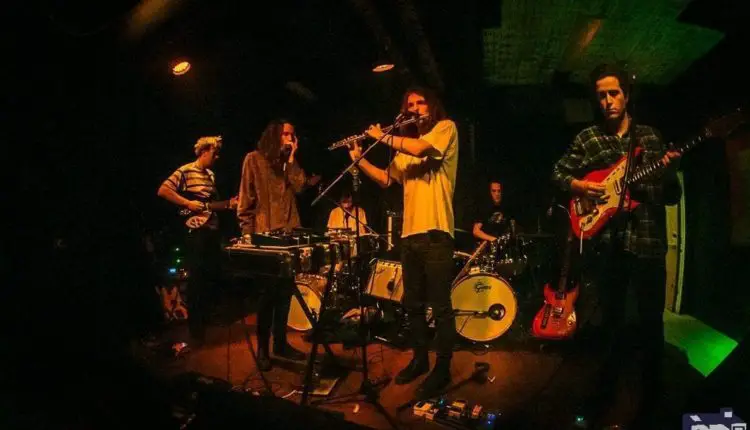 A fall night at Kingston's BSP saw three great bands take the stage for a small but enthusiastic crowd. Juan Wauters started the evening off with a wonderful set of acoustic tunes. The singer-songwriter's tunes were short and fun, but allowed enough time for the duo's great harmonies to shine through. The set was upbeat as the duo danced around the small stage, engaging the crowd. Juan had a child-like quality to him: he was so excited to perform on stage that it seemed he could play all night. The band was bathed in the best light show of the night, one which truly complemented their set. Juan sang the last song by himself, in both Spanish and English, which was a great way to end their evening.
Up next was Australia's King Gizzard & The Lizard Wizard and their brand of psychedelic folk-infused rock. The seven piece band furiously went to work during their short time on stage. The first few songs were segued amazingly– strung together for a non-stop 20 minute journey. "Sleepwalker" and "Hot Wax" off the band's album Oddments were two highlights of the evening. During the set, front-man and guitarist Stu Mackenzie mentioned that the band was tired and they would be taking it easy tonight, but no one showed any signs of wear and tear from the road. The band has been playing many shows surrounding the CMJ Music Festival taking place in New York City, and they played yet another wonderful set for the lone show in Upstate New York during their time here. Talking with drummer Eric Moore after the set, he stated how much the band loved Upstate New York. Their newest album I'm In Your Mind Buzz, coming out November 11, was recorded in Hunter, NY this past year during which time, the band fell in love with the area. Hopefully the band will keep the area on their tour docket for everyone to enjoy in the future.
White Fence ended the night of music with a punk rock attitude that the crowd loved. Their sound was reminiscent of early tracks by both The Who and The Kinks. Tim Presley played a fantastic lead guitar and his vocals perfectly suited the songs. A heavy dose of garage rock filled the small club to which people danced and bopped along during the hour long set. When the band wasn't employing their fuzz pedals on their guitars, some of the music sounded as though it could have been mid 70's Bob Dylan on stage. BSP put on a great showcase of three bands that are up and coming in the music scene throughout the country. The club has a knack for getting talented acts before they hit it big. If you want to see bands before they gain a buzz, head down as often as you can to the great shows put on by the small Kingston club!