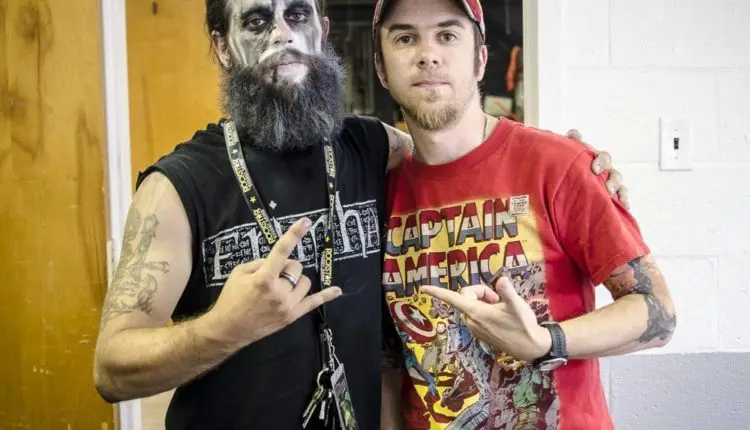 With a band name derived from the Sumerian language, you know you are in for a treat before you even hear them.  Erimha, or 'army' or 'legion' in Sumerian culture, has set a course to bring their haunting, melodic metal to the world.  Starting from humble beginnings in Montreal in 2010, they quickly coalesced into a powerful sound and wrote and recorded their first full length, "Irkalla" by the end of that year.  By 2013, their hard work and dedication put them in the sights of Victory Records, and they released their debut Reign Through Immortality in July 2013.  In 2014, they were granted the opening slot on the Rockstar Energy Drink Mayhem Festival, among some of the best metal bands touring today. Jim Gilbert and I were lucky enough to sit down with Kthien, the rhythm guitarist, when they came to the Saratoga Performing Arts Center with the festival.  Still wearing the remnants of corpse paint from their set earlier, he had a lot to say on what it means to be a hard-working, up and coming band.
Jim Gilbert: So you guys were on first today at the festival, how did that feel?
Kthien: Good! I mean, we understand our position in the lineup.  It does suck sometimes, to have fans say they were stuck in line, [trying] to catch our set, but we always have a good crowd everyday.  We just go out there, and do what we would do if there was five hundred people or if there was only five.
JG: You guys are the only black metal band on the festival. How is the vibe between bands?  A lot of bands must be fans of black metal, right?
Kthien: Yeah, yeah.  It's a little weird, we have gotten attention from a couple of bands, being the openers on this fest.  I think even fans too, people who have never seen this kind of music, they are coming up to us and saying, 'Listen, you have opened up a whole different style to us that we can actually appreciate from here on in.  Because, [black metal] still stays in the underground, and I'm surprised still to this day that, and maybe it's because our name isn't out there enough yet, but I'm surprised that we haven't been hated on by the whole black metal community.  We don't really consider ourselves to be black metal.
Jeff Ayers: What do you consider yourself then?
Kthien: Just extreme metal.  I mean we just stick it to that.  We do have black metal influences, we have death metal influences…
JG:  Who are some of your black metal influences?
Kthien: I would say it's mostly a lot of the other guys in the band. There is a lot of Dissection, Dimmu Borgir, Watain, older Behemoth, and it could go all the way down to At The Gates.  We are all different guys from different kinds of music.  I am a lot more Led Zeppelin, old rock and roll, so I bring that touch a little more rock to the band.  As much as we hate labels, we understand that we have to put one on the band.  But in the future, it is never going to stop us from doing anything [in music].
JG: I get disgusted by genres because there are so many of them.
Kthien:  Yea I agree.  Someone asked us early on when we got on this tour what our take was on the lineup.  I said that what I like about this festival is that it is all about metal.  Who cares what style you play.  All the bands talk behind stage, and no one cares if you play a bit more one way or the other, it's all for the same reason.  I think it's cool to have a festival like this.
JG: I think that there is some much talent in black metal, and how musically gifted your style of music can be.  People are not as aware of that, I believe.
Kthien: Thank you.  Death metal is the sound and the aggressive part.  What we consider a lot of what black metal is, you know in this band, is the ambience, and the lifestyle.   I think that is where we bring in the black metal part to Erimha.  Just how we live our everyday lives.  How you decide to see things, how you decide to spend your time.  None of us at home have TV's, none of us really use social media, other than band related.
JG: Let's talk about the metal scene in Montreal.
Kthien:  Sure.  I mean it's really good.  What's weird is that we were lucky enough to want to start a band, get into a van and get out of there.  As much as I think it's scene is one of the best in Canada, and I would even put it up against a whole big part of North America as well, but at the same time, when you are an underground band and you are trying to play shows, and there is five underground shows in some very decent venues, you have to choose which gig you want to go to.  You still end up playing to decent crowds, but when there are so many shows happening almost every night, you have to figure out a way to stand out.  We had an issue in the beginning trying to land shows in Montreal.  We are actually from fifty minutes south of the city, in Valleyfield, which is a small island off of Montreal.  So we told ourselves, let's just get in the van and get out and play shows.  So we started playing shows in Ontario.  We were accepted very well there and it was probably where we landed our first major shows.  From there, we just decided, lets stay out of Montreal as much as we can and keep on the road and keep playing.
JA:  Being in a big festival like this, big bands, corporate sponsors, publicists, how has that felt?  Do they give the opening band a fair shake?
Kthien: What surprised me the most, coming into this festival, was that within the first day, I didn't feel any different from say Cannibal Corpse, or anyone else.  The whole team has been treating us so great.  You know, playing a festival like this, you are asking yourself, 'Will I be waiting in line, and some guy in Korn or whatever is gonna push you behind the line.'  But no, everyone has been treated the exact same way, and we are going to work so hard to get back onto this festival in the future.
JA:  I am always interested in instrumentation, and I noticed when you started that you were a double guitar band with no bass.  Was that a decision made from the get go, or one made out of circumstance?
Kthien: It really was just that way when we started.  We had issues with bass players, and we decided to go out and play the first shows no matter what.  Now, we have been a full lineup for over a year.  We also have the guitarist who sessions with Vital Remains, Aaron Homma on this tour with us and we see what the future holds.  For now, all the compositions we try to stick to the main guys no matter what.  I'm guessing that might be an issue for, I don't know how long, because we are extremely strict on what we want in this band.  All of the main guys, we do not do anything else other than this.  We are not living like gods or anything, and that was something we decided early on.  Erimha and nothing else.  It's hard to find other guys who want to make that sacrifice.
JG: If this is the only thing you guys are all doing, how many days a year are you playing?
Kthien:  We should have another tour lined up after this one, for October/November, and that will have us hit the 100-120 mark.  That gives you a good idea on how we are living our lives outside of playing shows.  Right now we are seven dudes touring in a van, no a/c.  You sleep where you can.  Usually we try to show up to venues early and I try to sleep either on top of the van or outside on a mattress on the sidewalk.  Which has actually given us a good reputation with other bands.  You have to start somewhere.  To us, deciding to live our lives a certain way off the road, makes it easier to live on the road.  You are doing a hundred percent of what you want to do.
JA:  It's definitely tough to be a touring band.
Kthien:  Yea, but it's awesome, too.  It's crazy.  We joke around with some of the other bands, because some of them are complaining about problems with their tour buses or stuff like that, and then when you start talking about how you are touring and they are like 'Holy Shit! You guys are doing this?"  We don't see it as anything, it's just part of the whole process.  The smartest decision to make in a band, it to get out there and tour in a van.
JA:  You said you have seven with you right now.  Are you touring with a roadie?
Kthien:  Yea we have a merch guy.  We call him Ace Boogie.  He is the kind of guy you want on your team.  I think they have it even more rough than us, because they are sacrificing just as much as us, but they don't get to shake all the hands and meet the crowds.  They are the guys in the corner actually taking a lot of weight off our shoulders, and I have a ton of respect for that. We had a tour manager too, but he had to leave us because he was under contract for some big productions in Quebec.  But he decided to help us out for the first run of this tour.  He helped take care of everything and making sure we headed out to merch after we played.  Now we are just continuing to do what we do, working as a small team,  and that's our job.
JA:  What do you have planned for after Mayhem?
Kthien:  We are finalizing a tour for October through November, with two major headliners with full US/North American dates.  We are really pumped to be on that because one of the bands have not played in some time.
JG:  So could we speculate on who that might be?
Kthien:  Even if you did, I couldn't say who it is.  But we are really pumped, really excited for this.  We are trying to be out on the road as much as we can, and we have an awesome label who works their ass off.  Seems like the whole 'agent' part of booking, I don't know what you have to prove to these guys to make sure you are on the road, but that is what we are trying to do everyday.  Whoever picks us up eventually will be a happy guy, and we will hopefully stay with them a long time.
JA:  How is it being on Victory Records?
Kthien:  One thing I like about this label is they have a lot of balls.  You need to understand the industry is changing, you need to be on the road to make your name,  and I think they realize that we have a certain market, and we need to step into this extreme market which has been exploding the last few years.  All I have to say about the management at Victory is good stuff.  When you sit down and talk to the team and see how many hours they put in, this is why we are with them.  They are ready to put in as many hours as we are.  If you go out and look at the promotion that is being done [on our behalf] the work speaks for itself.
JA:  Again, thank you for taking the time to talk to us.
Kthien:  Honestly, we appreciate you guys talking to us.  I mean, I hold a lot back in interviews sometimes.  But one thing I always say is that if in twenty years I am still sitting around being as friendly as we have been, then I believe I made it in music.  I mean, we are talking to the guys from Cannibal Corpse, and they are giving us high fives back stage, and I have a lot of respect for that.  Kids that are starting out, just picking up guitars or whatnot, look at us.  We are just a few guys from a small area in Quebec and in four years here we are.  Nothing is impossible, so keep it up.
JA:  You do have the best outlook on this business: hard work.
Kthien:  There are a lot of sacrifices, man.  People that work 9 to 5 's, and do four hours of traffic a day are sacrificing too.  But we are lucky enough to do something that we have dreamt about.
http://www.victoryrecords.com/erimha