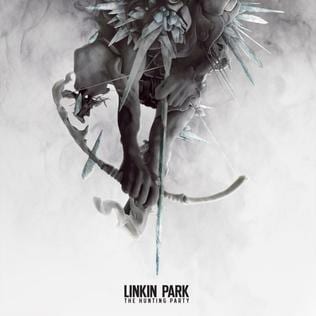 Hearing Aide: Linkin Park's 'The Hunting Party'
Linkin Park drops their sixth studio album, The Hunting Party, today; to a fan base already frothing at the mouth. 
They promised something hard, and, yeah, do they deliver.
Their focus on electronic music is out the window. Instead, good 'ol fashioned drums and guitar are brought back to the forefront, perhaps best showcased in the track "A Line in the Sand".
It's difficult to claim that this is a return to Linkin Park's earlier sound. In fact, it's not. LP has gone from being a "theory" that initially incorporated traditional rock instruments with DJ record-scratching, to hip hop, to nu metal and to electronic. Each album release has contrasted in style from the last, often leaving some fans scratching their heads. Personally, I've found myself buying a CD, giving it a once over, only to have it sit on the shelf for a time before it ultimately grows on me. This rebellious manner by which they circumvent pressures from their record label to follow the status quo (of which Mike Shinoda has seldom shied away from referencing in previous projects – see also, Fort Minor) has served to be one of the reasons why the band has maintained relevancy since Hybrid Theory was released nearly 15 years ago.
With the release of Collision Course in 2004, LP paired up with hip hop icon, Jay Z. Ten years later, LP is pairing up with another rap legend on the track "Guilty All the Same".
Rakim is as legendary as it gets in hip hop, busting out onto the sound systems of white suburbia with his smooth, lyrical flow in the mid '80s when he was then paired up with DJ Eric B. In their prime, Eric B. and Rakim were considered by some experts to be the most influential duo in the history of the genre.
With "Guilty All the Same" you have the aforementioned drums and guitar, and you have Chester Bennington screaming in your ears, lending little hint to the gem that resides within. Two-thirds the way in, the tempo of the music slows and dims, a figurative bow to Rakim as he starts to operate.  The R flows just as smoothly, with the same lyrical punch that he had nearly thirty years ago. Having him on the album only accentuates the greatness behind this project. The heavy and aggressive sound, along with collaborations involving Rakim, Tom Morello (Rage Against the Machine), Page Hamilton (Helmet) and Daron Malakian (System of a Down), makes this album an absolute must own.
You can purchase The Hunting Party through the band's website, iTunes, Amazon, and your local brick and mortar store.
Key Tracks: "Until It's Gone", "A Line in the Sand", and "Guilty All The Same"