Although the debate over whether or not God exists has raged for centuries, watching Animals As Leaders' guitarist Tosin Abasi can make audiences believe the Big Man is walking amongst them.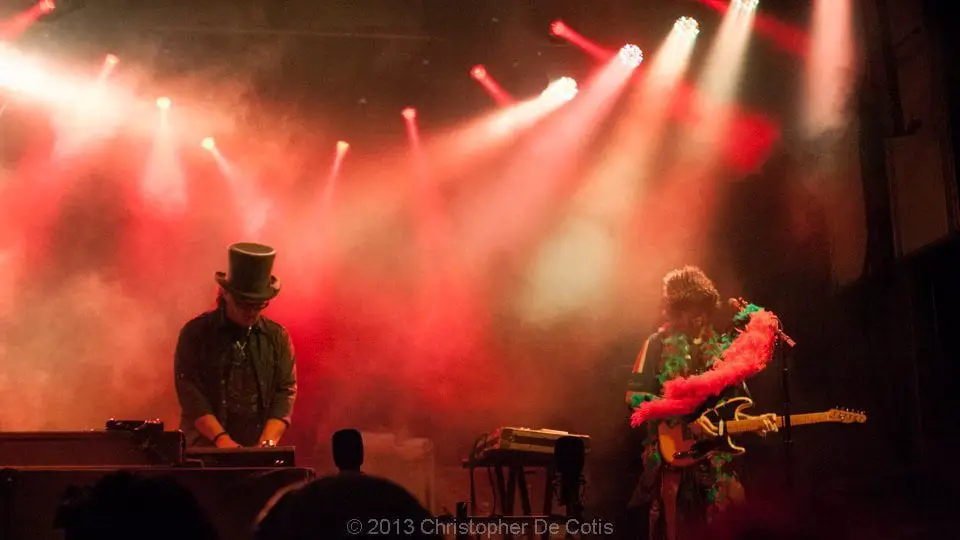 The boys headlined a show that promised an assortment of different types of music for concert revelers at Upstate Concert Hall on March 1st.  Mixed genre shows are a foreign concept. They're not yet popular in America with few big ticket shows giving credence to metal, jazz, and electronic dance at one event. This idea, however, is regular in European festivals.
Abasi, Javier Reyes (guitar) and Matt Garska (drums) could be considered among the best musicians in the world. Their headlining slot saw some of their easily recognizable stamps, such as "Tempting Time," "Point to Point," and "CAFO." Their unwavering ability to stay true to their original sound – which has evolved with every release – is remarkable. By the time Weightless came out, Navene Koperweis (the Faceless, Navene K) had jumped on drums and gave the second effort more depth of field than the first album.
But for this album – and tour – Animals as Leaders are utilizing the talents of Matt Garska, whose ability to command each obscure song might leave the most hardened music enthusiasts wide – mouthed. While Garska mastered every older song, the band also played three newer songs, "Tooth and Claw," "Lippincott," and "Cascade," which showcased both Reyes and Garska more than before.
Animals as Leaders experimentation from the start of the set to the end easily impressed both hard fans and those who had never heard the band play before. In hearing the newer songs especially, it was clear that the band will not grow tired.
After their set, the band took time to speak with fans about their instruments — they play eight strings and sometimes use oddly – shaped guitars that look they have just been cut from a tree — their style, as they don't have a bass player, musical sense, and other matters, including Abasi's obscure fashion sense.
However, Animals as Leaders were not the only defining force on this show. After the Burial, Navene K, and Chon supported the bill and got the attention they deserved as well.
Take for example Chon, who are essentially a (mostly instrumental) jazz quartet on crack. Although the audience was comprised of a few devoted fans, but it seemed that most people hadn't heard them before that night. Many people might theorize that instrumental music, such as Scale the Summit, is hard to relate to because it has no actual message for listeners to be devoted to. By the end of the set, Chon was given the legendary "One More Song!" chant (they were not allowed because of set constraint).
Although Chon may just be getting their foot in the door, their use of clean guitar tones, jazz and fusion, and downright strange melodies will take them places. Although they might not be "metal" by classic terms, they have our stamp of approval – not to mention the hundreds they impressed at Upstate Concert Hall.
Chon's music was not the most obscure. The night took a strange turn as soon as former Animals as Leaders drummer Navene K took the stage. His slot comprised of his current electronic project, in which he is the only member.
Although the audience kept an open mind to the electronic beats, one could tell that the mosh pit – type crowd did not really know how to respond to the beats and sounds. Navene K played on a strange drum set, but with the melodies he had written, one could easily tell that he is certainly a positive force for the metal community. He thanked the crowd for keeping an open mind by the end of the set. "I didn't expect to be taking this on tour," he said.
Inclusive with the light show, sound, and everything else, the presence of After the Burial was larger than life. The band was received in a profound enthusiasm. It was a typical metal show: circle pit, mosh, wall of death, and crowd surfing. They came out as silhouettes, stood as giants, and played each song with the incredible fierceness.
The band played some of their famous numbers, including a behind – the – back guitar performance of "Berzerker" by Justin Lowe. Additionally, they played songs off of their latest record, Wolves Within. Rarely faltering, drummer Dan Carle provided a prominent beat to every note the band played.
After the Burial's defining moments were those in which the audience was commanded by their presence on stage. Although it may have seemed dangerous at times, they earned fans new and hardened the loyalties of their followers. Each band brought something different to the table to create a one of a kind experience. Although this type of show is not common, promoters certainly made the right choice in placing these four bands together.