Upcoming bluegrass stompers and folk artists, The Brummy Brothers played a special gig in Albany on February 14.  It might have been the collective whole, grasping at that bubble of love that Valentine's Day captures but the vocal harmonies pulled especially tight on the heartstrings, bass and guitar strings too. Kicking the evening off with "Cruisin," a lovely melodic display of the harmonization and getting right to the point, "Music fills the air", making it evident that The Brummy Brothers are serious musicians ready to be known by a wider fan base.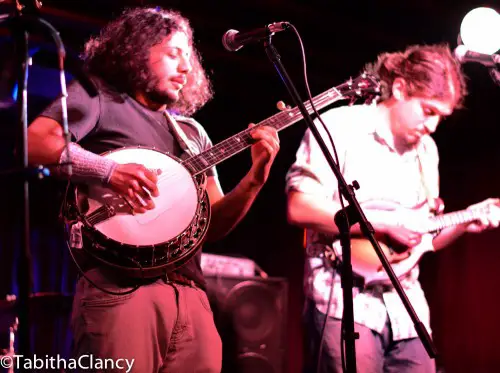 These banjo playing, bass beating, gee-tar slappers and singers have taken on some pretty big endeavors recently. The old adage, "It's not what you know, it's who you know" holds true and while The Brummy Brothers know a lot, the network of musical friends has helped them push forward in recording their first studio album. Over the course of two years, The Brummy's have toured the Northeast incessantly, getting their music out and forging a reputation. They recently went behind the scenes and recorded their first album, aptly titled On Our Way. After witnessing their stage prowess in Albany, they are very clearly "on [their] way," if not already there. Evidenced by their work with fiddler and producer, Timothy Carbone, The Brummy's proclaimed the recording was a "musical boot camp!"
Andrew Morris (guitar) and Russell Gottlieb (banjo) and brothers Dave (stand up bass) and Eric Brumberg (mandolin) are currently fundraising, offering album presales and special packages through a grassroots campaign on Indiegogo. The Brummy Brothers tour locations across the Northeast beginning March 11.