Over 900 fans filed into Albany's sold-out Hart Theater at The Egg to view Mississippi rock band 3 Doors Down perform their 'Songs from the Basement' acoustic tour. To provide an intimate atmosphere the stage was cleverly converted into a cozy basement complete with couches, pillows, and various lamps and décor. The band's laid-back attitude and humorous banter along with encouraged crowd participation made the evening feel more like a house party than a concert.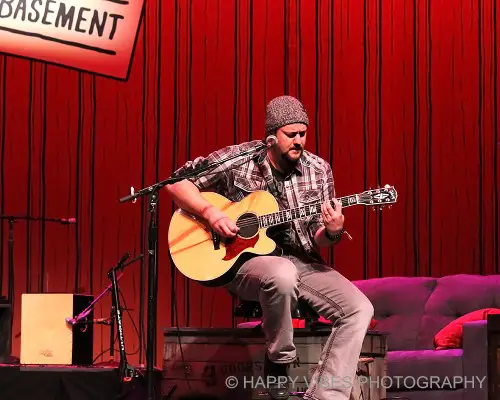 The single 90-minute set was filled with hit songs spanning over the group's 17-year existence. Lead singer Brad Arnold of 3 Doors Down displayed both power and emotion as he opened with "Father's Son" and "Let Me Be Myself". An obvious crowd favorite was a stirring rendition of Garth Brooks' "The Dance", which had the audience silent and lost in the magic of the song. Guitarist Chet Roberts not only played Abbott to Arnold's Costello during several episodes of comic relief throughout the evening, but also supplied the perfect compliment of acoustic guitar to each tune. This was most evident in "Not Enough" and "Landing in London", both featuring Robert's vast musical talent. At the request of the band, audience members shouted out requests to hear their favorite songs. The boys from Mississippi were happy to oblige by performing the hit singles "Away From the Sun", "Loser" and "Kryptonite". The show concluded with an encore of Metallica's "Nothing Else Matters" and the groups 2003 hit single "Here Without You".
Queensbury native Frank Palangi opened the show. Displaying impressive pure rock-n-roll vocals Palangi performed classic rock tunes, several originals, as well as an entertaining version of Johnny Cash's "Ring of Fire".
Setlist: Father's Son, Let Me Be Myself, Be Like That, Landing in London, The Dance (Garth Brooks cover), When You're Young, Let Me Go, Pages, Away From the Sun, It's Not My Time, Duck and Run, Loser, Kryptonite
Encore: Nothing Else Matters (Metallic cover), Here Without You