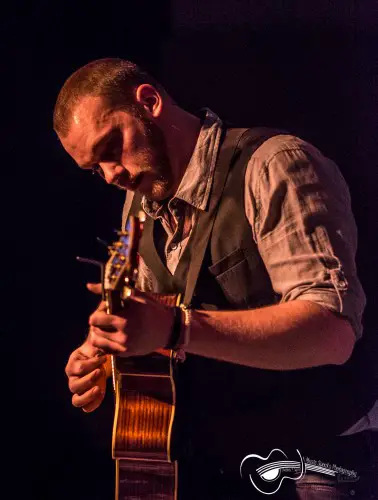 The Tralf was packed with loyal Dave Matthews Band followers everywhere and you could hear the banter all around the venue. It was a chance for the loyal fan base to catch longtime DMB collaborator and more recent a regular member of the group in action.
Tim Britt opened up things with his acoustic guitar and a microphone. Britt is heavily influenced by Dave Matthews and it could be seen throughout his act, particularly in his heavy rhythm guitar playing. Britt is also somewhat of a one man band as he creates sounds and loops them while playing over them in a very similar style to Keller Williams. His cover of Gorillaz "Feel Good Inc." is amazing to listen to but yet even more amazing  to watch him go through the setup of the song with his loop pedals. It's no reason Tim was awarded Best Solo artist for two years in a row in Buffalo.  Britt was joined on stage with Steve Amuso (guitar) and Rocco Amuso (Saxaphone) from the band Of The Cuff.
Tim Britt Setlist: Would've Could've Should've , Planes, Two Times Sick, Feel Good Inc., Up In The Air, Old Friend,  Breakdown, The Days
There may have been a lot of DMB fans in attendance trying to get a glimpse of Tim Reynolds (guitar, vocals) but they didn't expect to be amazed in such a way. TR3 has so much different elements in their show that it is truly amazing to see how three people command one stage. Reynolds is such a great guitar player and has the ability to play so many genres and make it look effortless. TR3 started the night off with a classical acoustic instrumental called "Lonely Woman" and soon after weaved through the night with jazz, funk and rock songs. Reynolds is really a master of the guitar, yet very humbling at the same time. It was very apparent Reynolds was having such a good time on stage with the group as well as the audience with the smiles throughout the night. Mick Vaughn (bass, vocals) and Dan Martier (drums, vocals) are very solid backing up Reynolds as most trios do. Vaughn was a true crowd-pleaser with some of the funkiest dance moves seen on a bassist in sometime. "Cave Man" proved to be an interesting instrumental that was played in the dark as the band whore only lights on their heads to look like eyes in a cave.  TR3 even showed how well they can play other songs and make it their own, covering  "Aqualung" by Jethro Tull really got the entire crowd going and really fueled the finish of the show.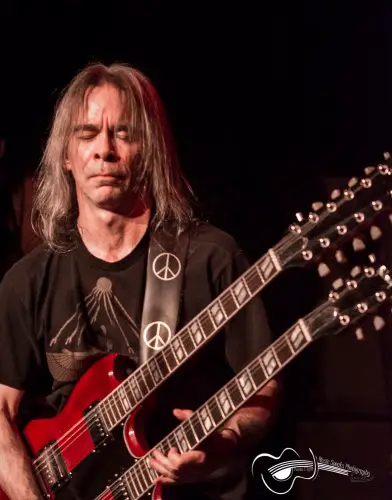 TR3 Setlist : Lonely Woman, New Solutions, See You In Your Dreams, Non-Violent Approach, Evathing I Believe, Highway, Sweet Spot, Missle Comin At Ya, Kool, All Over The Place, Running From People, Caveman, Victory Express, Lips Like Sugar, Dracula, Showbiz Kids, ICU, Industrial Complex, Aqualung, Mercury Direct
Encore: In The Zone
Tim Britt and Friends
Tim Reynolds and TR3