On Saturday, February 8th, Umphrey's McGee showed up to play a high-energy show at The F-Shed in Syracuse, NY. The crowd filed in through the narrow doors leading to the converted market shed venue. Umphrey's eased into their set with "October Rain" seguing into "The Linear." They kept their music selections relatively relaxed and atmospheric in the first set.
The set moved forward and the band launched into an epic version of "Wappy Sprayberry" in all its electro-jammy, hard rock-esque glory, including teases of Metallica's "Wherever I May Roam." Umphrey's went on to close the set with a cover of Led Zeppelin's "The Song Remains The Same." The band did an unbelievably tight rendition of the tune, complete with guitar tones almost identical to Zeppelin's. This setlist choice was certainly a challenging one to come through on, but Umphrey's pulled it off with poise.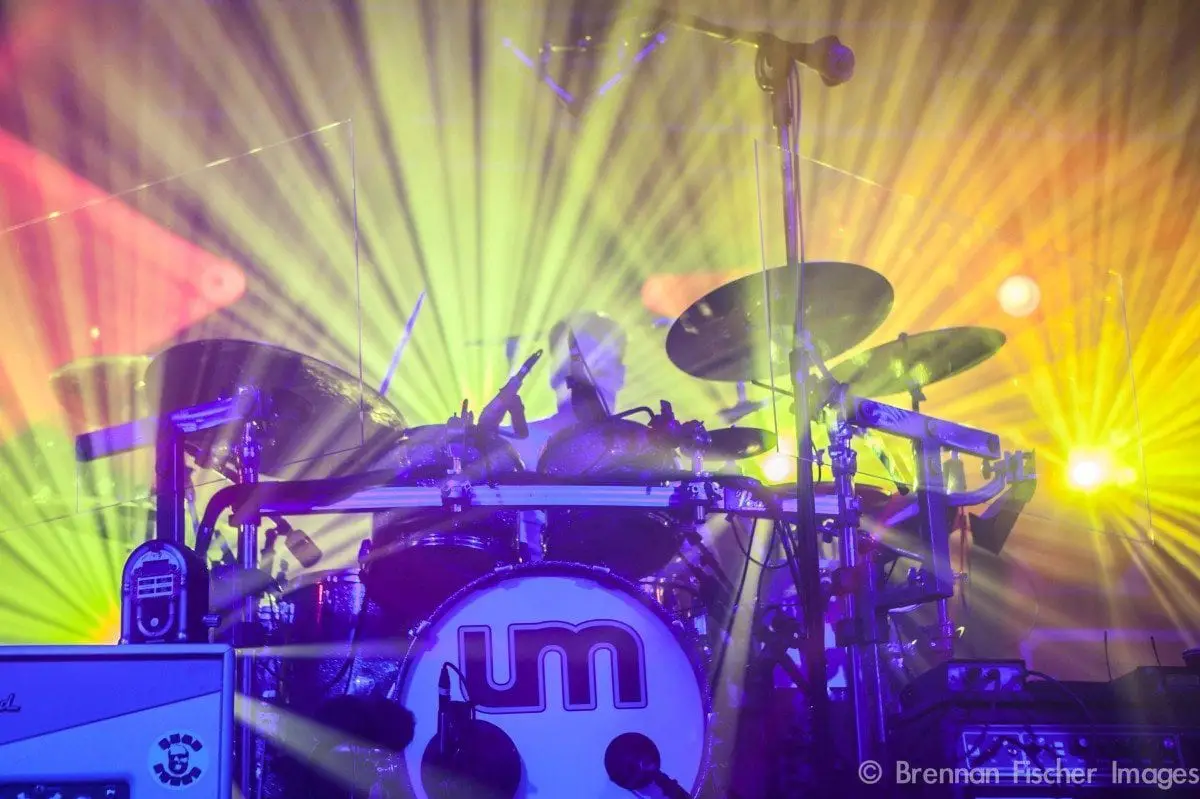 The second set really kicked off the party. As soon as Umphrey's busted into "All in Time" the crowd seemed to shift into full-on dance mode. Umphrey's dragged this one out, going into "No Comment" and then back into "All in Time." After a soft, inspirational and brief "End of The Road", the band launched back into rage mode with "Room To Breathe" and "Puppet String" before closing the set with "1348." The momentum they had built up during the second set carried over to the encore. Umphrey's came out on fire with a cover of Van Halen's "Hot For Teacher" in which the drummer Kris Myers sang the entire tune whilst keeping his heavy double-kick pattern. "Hot For Teacher" got a loud response from the audience that propelled the band to rock it even harder. Umphrey's then finished up the night with a fun and steady version of "Front Porch."
I was totally entertained and extremely impressed with the overall quality of this show. The sound mix was crisp and clear for the entirety of the set and the lighting direction was done phenomenally. Umphrey's showed their fans once again that they can do any style of music and still get the fans moving and grooving properly. The combination of the jam-band style, heavier hard-rock style and even some experimental electronic was infectious. This show further proves Umphrey's resilience in the live music scene and begs each fan to come out to their shows time and time again whenever they pass through town.
Umphrey's McGee F-Shed Setlist:
Set 1: October Rain > The Linear, Plunger, Booth Love > Out Of Order, FF > Wappy Sprayberry > The Song Remains The Same
Set 2: Puppet String > Slacker, All In Time > No Comment > All In Time, End Of The Road, Room To Breathe > Puppet String, 1348
Encore: Hot For Teacher, Front Porch