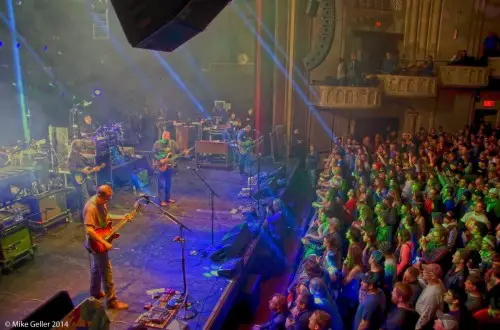 moe. will be bringing their A Game to The F Shed at The Market this coming weekend, February 14-15. Fans of all music will be in for a treat as moe. will bring their improvisational rock show to the Syracuse music scene. Syracuse is no stranger to the band and being close to home for the group their should be plenty of faithful fans in attendance. moe. is coming off an incredibly showing when they played at The Capitol Theatre for the Wetlands 25th anniversary and will not be slowing down as they play for two nights to Syracuse.
moe. has also made the Wetlands 25th Anniversary soundboards free to their fans which can be downloaded from their website. The shows featured a lot of special guests including Jimmy Herring, Wayne Krantz, John Medeski, Conehead Buddha Horns, and many more.
Tickets can be purchased at The F Shed At The Market   $30 General Admission $75 VIP.