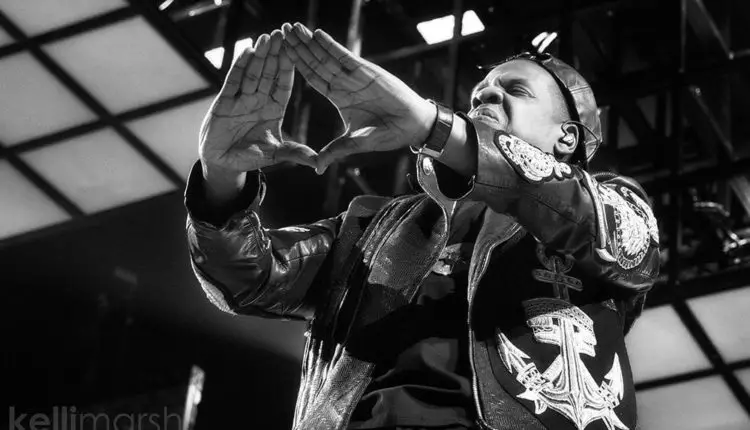 Jay-Z Brings Heat to Buffalo's First Niagara Center
Jay-Z has made a reputation as one of the greatest living rappers, and his Magna Carta tour continues to prove just that.  Opening with, "U Don't Know", Jay-Z started his performance at Buffalo's First Niagara Center with an energy that promised to keep the packed house on it's feet.  Backed by a four-piece outfit that featured renowned DJ Timbaland, drums, guitar and keys, Jay-Z dropped rhyme after rhyme spanning his nearly 20 year career.
The crowd rapped along to favorites like "99 Problems"and "Big Pimpin" while Jay-Z never broke his stride.  His calls out to the audience to "Put your diamonds in the air", were met with enthusiastic hands held high into the sky each time.  Even when the pace slowed briefly for an interlude by Timbaland the momentum wasn't lost.  "Jigga My Nigga", picked the crowd right back up and carried them through with more hits until Jay-Z took his time to thank the audience.  Fresh off his 19th Grammy win, Jigga said no matter how many albums or awards he has, the best feeling is being on stage and performing, promising the audience he'd "Never get jaded".  Picking individuals out of the crowd, he spent nearly ten minutes chatting and making his thank you heartfelt and personal before going into the encore.  Pointing to one girl in the crowd he said, "You know every lyric to every song, I appreciate you".  Picking another man out he said, "You were rocking with me all night, I appreciate you".   Jay-Z is leaving his mark as one of the great entertainers of his time, and continues to visibly enjoy every second of it.
Setlist:  Higher Intro, U Don't Know, Crown, On to the Next One, Holy Grail, Fuckwithmeyouknowigotit, Beach is Better, Drunk in Love (Beyonce Cover), 99 Problems, Picasso Baby, Dead Presidents II, Pound Cake (Drake cover), No Church in the Wild (Jay Z & Kanye West cover), Somewhereinamerica, Big Pimpin', Timbaland Interlude, Jigga My Nigga, Nigga What, Nigga Who (Originator 99), Dirt Off Your Shoulder, I Just Wanna Love U (Give It 2 Me), Niggas in Paris (Jay Z & Kanye West cover), Tom Ford, Public Service Announcement, Clique (Kanye West, Jay Z & Big Sean cover), Run This Town
Encore:  Encore, Empire State of Mind, Izzo, Hard Knock Life (Ghetto Anthem), Young Forever (Nelson Mandela Tribute)