To say that one has "seen" a David Mayfield Parade show is an understatement. The experience can best be described as an event that you were a part of when the Parade came to your town. The charisma that emanates from Mayfield's heart and soul, the music that he creates and the interactions he shares with the crowd are a spectacular occasion.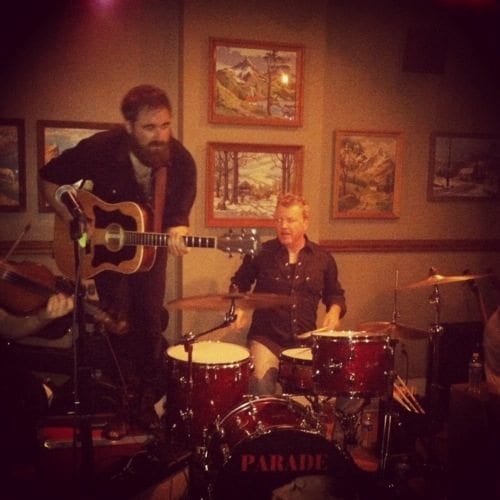 This night the venue was full and the music was hot! Highlights were hearing originals like, "Love Will Only Break Your Heart" – in true Mayfield fashion songs about love were followed by strong fiddle and bass filled dance songs, and dancing on the bar and the chairs and flat-out on the floor.
Banter among band members is common place at live shows but banter WITH the audience is what you get from Mayfield. Saturday's show at Abilene Bar & Lounge in Rochester, NY was no exception to the carnival side-show antics that make this band who they are and sets them apart from the others.  Mayfield was in the midst of performing his sexual prowess where he fit the entire mic into his mouth while batting his eyes and flirting with the crowd – a female fan yelled out, "I love you David!" to which Mayfield replied, "I thought I told you to wait outside". The small crowd at the intimate one room venue erupted with roars of laughter at the well-played banter.
Another moment shared between the crowd and Mayfield was set inside a circle of fans as Mayfield serenaded us with his acoustic guitar – sharing these intimate interactive moments with music and the artist is what music lovers hope for with shows like this.
The setting is small, especially in the winter when the back deck is closed off but the intimacy that can be reached between bands and patrons can not be found in any other venue in this city. Abilene has become Rochester's secret garden for music, whether it's as the Americana stage at Jazz Fest or the little bar with the blue grassy – rockabilly bands in the cold of winter. This venue is perfect just the way it is and I look forward to seeing shows here in the future.