Upstate New York has a strong and authentic sound when it comes to bluegrass music. It's an old world rebellion mixed with a hopeful heartache for the future that was heard loud and clear in Albany last weekend. Red Square and Guthrie/Bell Productions hosted Eastbound Jesus for two nights for a live recording session album on Friday, January 31st and Saturday, February 1st. The Northern Rock group invited Upstate bands Driftwood and The Blind Spots to share the stage and showcase their folk bluegrass talents. Eastbound Jesus has a dedicated fan base that easily relates to their catchy lyrics, contagious melodies and a love for flannel.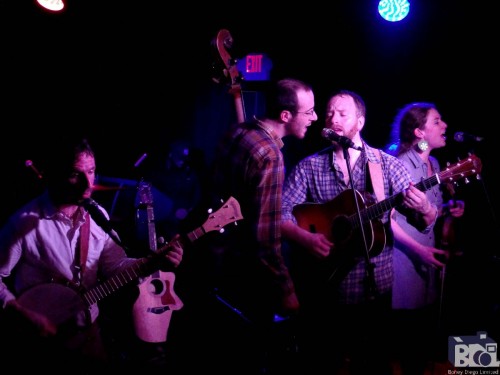 Driftwood, the all string quartet from Binghamton, showed no mercy to their instruments or the audience as they opened the show on Friday night. They are a fierce and savage bunch of sophisticated folks who bring out the best in each other. Their lyrics and melodies follow each other in rounds that create a beautiful chaos of Americana. Driftwood's music grows, it expands and the acoustics stretch the length of the room and outside the venue. They started with a soft lullaby of "High School Paycheck" to start the evening and the crowd was mesmerized with the mighty stand-up bass notes of Joey Arcuri. Claire Byrne won over many hearts that night as she ignited her fiddle with a burning passion that caught newcomers off guard. "Buffalo Street" was the biggest hit of the set, as the audience quickly picked up on the rhythm from the tambourine, clapping in unison and adoring the harmonies with whistling. Driftwood's newest self-titled album is available for a free streaming on their website or Soundcloud and be sure to catch them on their tour across the East Coast this spring.
Setlist: High School Paycheck, Words, Lost Indian, Dusty, Buffalo Street, 2 Kill Ya, Brother, Before I Rust, Carby, Outerspace, Sun's Going Down
Friday night proved to be another fun filled Eastbound Jesus show with lots of flannel, foot stomping and group sing-alongs. The weekend kicked off with "Easy Now" and with the lyrics, "It feels like forever since I've known that I've been home" there was a great cheer of appreciation and excitement. Jerry Reed's "East Bound and Down" was a surprise for fans as it brought out the southern hillbilly in everyone. "North Country Girl" brought out a romantic flair with rolling guitar chords and charming vocals from each member. EBJ welcomed Driftwood's fiddler Claire Byrne for a few songs, demonstrating that she can hold her own with the boys and brought a graceful yet rowdy style to the set. One of the perks of Red Square is the intimate space giving you the ability to get up close to musicians so that when they each member gets that same crazy look in their eyes; you can feel the music really kick in. EBJ saved some of their most climactic songs for the end such as "Where The Winter Goes" and "Waitin' On The Sun" with each song building up unlimited possibilities for hard strumming and thunderous rhythm. The night ended with a three-song encore, much to the crowd's delight who were already thirsty for Saturday's show.
Setlist: Easy Now, I Wouldn't Know, Pickin It, East Bound and Down*, Here's to You, North Country Girl, Sittin by the River, Roll in my sweet Baby's Arms, Talking to John, Ghost Town, Southbound Train, Corn Whiskey, Doors Open, Tennessee, Maggie's Farm, Where The Winter Goes, Waitin' On The Sun, Beat The Breaks
Encore: Out Yonder, Mouthful of Diamonds, Hold On Me Now
*Cover by Jerry Reed
Keep scrolling and Check out Tabitha Clancy's review and photos from Saturday night below!
The live album party continued in a "Small Town, Saturday Night" fashion, much like Hal Ketchum would say. Eastbound Jesus brought the grit and the grind to Red Square in Albany for a second night of recording.  These Greenwich swashbucklers are music machines just pumping out song after song after song but not in a boring factory line kind of way. Their high-energy arrangements are supported by well written lyrical stories. The PBR imbibers are a synchronous target audience of these blue-collar tunes turning the night into a merrymaking group participation event.
Eastbound knows their audience well and seemingly walked the crowd through a warm-up first. "Beat the Breaks," new to the amassed catalog of tunes, was the only song played both nights. "Without You" is a slow, sweet melodic piece with just the right touch of sadness.  Creating a build up, Eastbound kicked it up a notch with "Holy Smokes!" A special treat was in store for the room when Bryan Brundige (trombonist from The Chronicles) and Tony Meier (keys) were called up to "Let it shine, let it shine, let it shine," in a collaborative jamband and calypso groove rendition of The Grateful Dead's "Turn on Your Lovelight."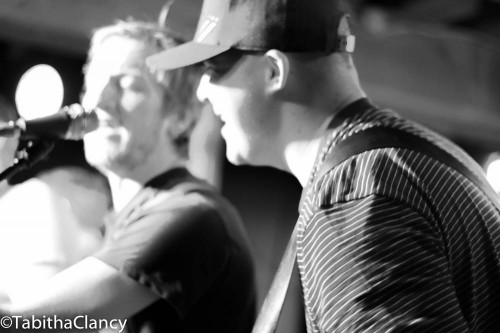 Eastbound Jesus crafted a set of crowd favorites from their discography, new tunes and threw in a few covers for what will soon be a playlist on a live disc. Their punchy personalities, stage camaraderie and homogeneous blend of instrumentation can only mean, "Someday, it's gonna go down."
Stay up to date with on Facebook and Twitter for news when Eastbound Jesus' live album will be released this coming winter/early spring.