"Three bands, three sets, no repeats" is how they billed it and I couldn't have said it better. On Saturday, January 18th, the Grateful Dans, Workingman's Dead, and The Maniacs brought their tributes of the Grateful Dead to the Tralf Music Hall in downtown Buffalo. Each band had their own unique take on the legendary band, with multiple generations of fans in attendance, ready to dance the night away.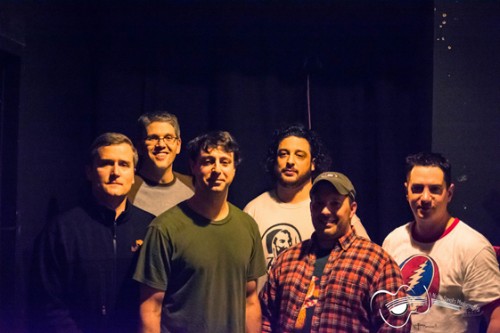 Grateful Dans had a laid back approach and got the party started with the fan favorite "Wharf Rat". Danny Lynn Wilson (lead vocals/guitar) was backed by a band that looked to be playing with one and other for quite a some time. Grateful Dans also incorporated a different approach with background vocalist Amy Svensson playing flute alongside select tunes. Danny Sturner (vocals/keys) played with a lot of enthusiasm starting off "Big Boss Man", noting "This is one of Pig Pen's." You can checkout the Grateful Dans at their next event 'Back to the Hotel' on February 15th at the Broadway Hotel in North Tonawanda.
Workingman's Dead recreated the closest sound to the original Dead. The crowd came alive and the energy in the room really showed it. Kevin Barry (lead vocals/guitar) had the uncanny ability to vocally sound so much like Bob Weir, leading some to think he may have been on stage with them. Mike Hogan (vocals/guitar) nailed down the late Jerry Garcia's sound so well it was bone chilling. Rick Ruhmel (Keys) was a very strong player, and along side Mark Chamberlin (Bass) really filled out songs nicely. Devin McDonnell and Rob Oshei didn't seem to miss a beat on drums and you could tell these six guys on stage were a very tight band. They opened with "Scarlet Begonias", and once into their second song "Jack Straw", they really lit the fire. The Workingman's Dead were able to get the crowd really moving with their renditions of "Harder They Come", "Birdsong" and "Gimme Some Lovin'". The crowd looked to dance with the same energy and enthusiasm as if they were at an original Dead show. The Workingman's Dead will be live again tonight, Thursday, January 30th at Nietzsche's in Buffalo.
The Maniacs closed out the show with continuing energy. Hitting their stride with several fan favorites including "Playing In The Band" , "Uncle Johns Band" and "Shakedown Street", Mark Hitchcock (Drums) was clearly the heart of the band and his energy with the band and the crowd was evident, coming out from behind the kit to the front of the stage. Bryan Staddon is an incredible guitar player and played well to the crowd, clearly enjoying what he was doing. Dennis Reed Jr. on the rhythm guitar was well rounded and along with Gavin Petrie and Tony Petrocelli completed a well playing Dead tribute band. The Maniacs bring their tribute to the Dead on February 7th at  the Forum on Maple Rd, show at 9pm.