It was cold night on Wednesday in downtown Buffalo, however this was not the scene at The Waiting Room, one of the hottest venues to catch a show. You could sense it in the air that there was going to be a sort of dance frenzy that would make it feel as if it was a summertime festival.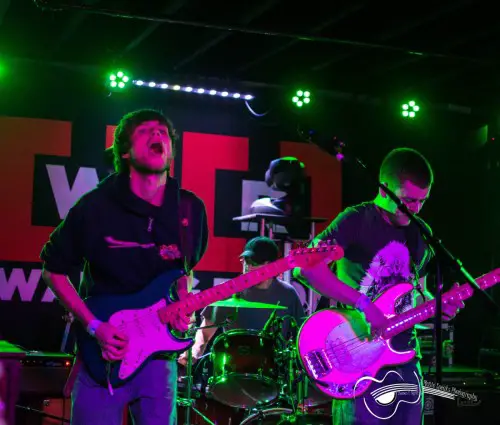 Funktional Flow started off the night, and for people who have not seen these guys in action you are completely missing out.  Funktional Flow is a four-man group full of talent from Ben Whelan (Bass), Jeff Kuebler (guitar, vocals), Jim Edgar (drums) and Mike Szcepanik (guitar and vocals), who play well together and it shows on stage. Ben Whelan just enjoys to really lay down the groove, and that is very evident with his emotional playing. Mike Szcepanik is an unbelievable guitar player, and a real hidden gem in the Buffalo music scene. His guitar work on a cover of Phish's "Slave To The Traffic Light" was on point and really tore the roof off with their rendition. Funktional Flow's next show is in Oneonta, NY on January 30th at Black Oak Tavern.
The Werks headlined the evening and brought their "A" game. The tour started in Buffalo, but didn't seem like their first show as they were firing on all cylinders. Hailing from Dayton, OH, they have been really heating up the Jam circuit and it really shows through their fanbase. Chris Houser (guitar and vocals), Rob Chafin (drums, vocals), Dino Dimitrouleas (bass) and Dan Shaw (keys, filling in for Norman Dimitrouleas) embrace their fans and their show feeds off the energy of the crowd.  Houser is a very talented guitarist with a very laid back vibe. Houser brings the fans on a musical road trip with is extensive soloing, making him a real joy to watch and listen to on stage. The Werks opened the show with "Guido", which got the crowd moving and shaking from start to finish. When they played Deep Purple's "Hush" the crowd was singing and dancing right along. I was personally happy to hear them play the fan favorite "Duck Farm" which I had on a daily rotation on my phone leading up to the show. Chafin on the kit with his side stage setup really brought the drums to the forefront during "Hard to Find > Drums > Hard to Find". Dimitrouleas and Shaw bring a lot to the table and their interactions with the crowd really put a warm smile on your face. The Werks closed with "Burning Groove", another fan favorite.