In the historic Stockade district of Schenectady lives a creative song crafter we will come to know as M.R. Poulopoulos. The singer-songwriter will be performing on January 17 at Caffé Lena in Saratoga Springs. We wanted to get to know M.R. Poulopoulos a bit so we sat down with him at Ambition, a small sandwich eatery located on the trendy and quaint Jay St. of downtown Schenectady.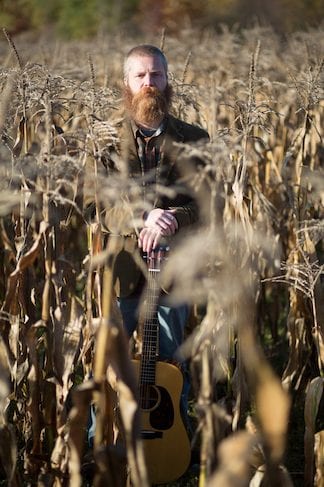 Tabitha Clancy:  Lets start with where you were born and raised.
M.R. Poulopoulos: I was born in Albany, NY. So I'm a local boy. I was raised where Bethlehem, Albany and Guilderland meet. It was rural suburban area. As I grew up over the course of 15 years, all of that space was developed. I grew up on the outskirts of Albany. I went away for college but I always gravitated toward Albany.
TC: Where did you go to college?
MRP: Undergraduate I went to Providence College in Rhode Island. I always reminded of a Janeane Garofalo quote. She went there for a little while. There is a dorm called McVinney Hall but everyone called it the virgin vault. It was an all female dorm with restrictions that males couldn't be in the building after 9 pm – rules that were consistently broken. The point that Garofalo made was that "you could stand on top of McVinney and drop a rock on anyone walking by and it wouldn't matter because they're all the same."
After a few years of going to school there, I found a group of friends I truly connected with on a music level. I discovered I wanted to share myself and express myself in a musical medium.
TC: Is this the period when you started playing guitar?
MRP: Yes. A buddy of mine has a Fender Stratocaster (which I now own) and a small little amp and I would play around on just making sounds. I learned a few chords from him. That was freshman year. Then sophomore year I found a group of folks and we would just sit around. They would teach me standard chord progressions and melodies. It was all these different of angles of music, a number of different approaches. Part of hanging out was trying to fuse our different styles together and make something fun of it. We all ended up playing in a band together called Men are Broccoli. I think that was my senior year.
TC: What did Men are Broccoli end up sounding like?
MRP: It had more of a groove to it – a groove rock. We would give it a harder edge. We also did a lot of covers that reflected our styles.
TC: How did you break away?
MRP: My contribution to that group was blues music. I think it was the raw expression of the blues soloists that I particularly enjoyed. I was trying to learn that style. I started playing at a place called Savanna's in downtown Albany. It's now no longer. It was such a great room and they had an open mic night. I played bottleneck slide on a Robert Jonson composition but I learned Eric Clapton's arrangement.  It took me four times just to get started. By the fourth time the room was dead quiet and focused because I kept screwing up. But that fourth time I nailed it. A group of guys liked what I did and asked me to be part of a band – Manikin Ed. That is when I stepped into playing in the Albany area.
We were playing the River Street Pub as Manikin Ed and there was a guy that was coming to these open mics. His name was Matt Durfee. We ended up hitting it off musically. I started straying away from the electric sound and started gravitating towards the acoustic again. Matt was playing acoustic. We ended up forming a band called Palatypus (intentional misspelling). We released an EP in 2007 called Lazaretto. We carried some weight with that. We travelled the Northeast a little bit.
TC: Palatypus sort of ran its course. How did you get to the point of being a solo singer-songwriter that you are now?
MRP: Matt wanted to do some solo work and I was going through some personal things in 2010-11. I put out a solo album called Greenhorn. That carried it's own weight. That set me off on a solo route.
TC: You have come a long way, learning your craft and then establishing yourself. How did you decide that this was the direction you wanted to go in?
MCR: I don't think its something I decided on, I think its something that decided on me. I have a drive to share myself artistically. I like playing music, I really like singing and I like stories. It's a good little trio that can work toward a song.
TC: Describe how you create the song from the melodies to the lyrics.
MCR: The lyrics come from a variety of sources either a personal trial or a personal triumph. Those are some standbys, but I love books. The first two tunes that I really enjoy were a personal experience and a book, respectively. "Drunk," the lead track off of Greenhorn is totally personal. It's a pretty generic experience but I think the tune sounds good; it has something new to provide despite the generic title. Then there was another tune that made it onto the Palatypus CD called, All I Own. The song is loosely based on William Kennedy's character, Francis Phelan from the book, Ironweed. I read that book and it floored me.
TC: Clearly you draw inspiration from books but who are some of your musical influences?
MCR: It goes all the way back to being kid. I was a fiend for Beach Boys tapes. I wanted all the Beach Boys tapes I could find. I got into a period where I wanted to listen to everything that was Billy Joel. That was probably sixth grade. I just loved Billy Joel. I think there was something natural about his voice and you could tell he was singing from somewhere. Then there was that period in high school where I got into rap. I listened to a lot of Tribe Called Quest and Wu Tang Clan. I started gravitating towards them because I liked the beats and I liked the jazz samples in Tribe Called Quest. I also liked where they were coming from lyrically. Then when I got to college I was introduced to Phish, Grateful Dead, all sorts of contemporary jam music and well-orchestrated music – I didn't know music could or should sound like that. I took a class called the history of jazz. I got hip to John Scofield. Then I got into songwriters. I started focusing on the presentation of lyrics. Probably like most people, just a variety of influences coming together.
TC: Lets talk about both albums.
MCR: Anybody who listens to both of them they will know that they are two very different albums. I named Greenhorn because I wanted it to be an introduction into an artistic project. I wanted people to know that I'm not coming at this from the angle of a professional. I wanted people to know that I was just testing this out. I wanted to start from where I was actually at and not peek before I was out there. That is where the name came from and the approach I took. All the tunes were recorded live.
Then on Harvest the Heart I wanted to show people the progression. I learned a lot. We did a lot of separate tracking. You'll notice the arrangements are tighter. The musician parts are a lot tighter. We had gotten some really good recording equipment by chance. It's very much a contrast to Greenhorn.
TC: You are progressing from singer-songwriter but now you are also playing out under another moniker, Rebel Darling. Lets talk about Rebel Darling.
MCR: It was just one of those names that came together. When the idea hit, it was such a 'Wow, that's a good name!'  I uttered the name on stage. It was just a good idea, people liked it and it really describes the sound. The improvisation is there and it gives us an edge. The arrangements are tight but there is that vibration, that communication on stage.
TC: Who exactly is Rebel Darling?
MCR: Its this amorphous collection of guys who play music together as a group and sometimes not. There is a Rebel Darling that I play with in Cambridge MA. She is a viola player. Sometimes we play other songs, but by in large, it is my songs.
TC: You seem to have a soft spot for playing Caffe Lena. Would you consider this home base?
MCR: Caffe Lena is the kind of room where I don't get to make that decision. That room is really something special. I consider myself extremely fortunate to have a gig there. That room is historic and full of spirit without a doubt.
M.R. Poulopoulos will be at Caffe Lena on Friday, January 17, 2013. Poulopoulos will share the stage with NYC singer Caitlyn Canty.
You can also catch M.R. Poulopoulos on the following dates in the Upstate area:
Friday, February 21: Shelburne Falls, MA
Friday, February 28: Hastings-on-Hudson, NY
Saturday, March 1: Peekskill, NY
Saturday, March 8: Easthampton, MA
Sunday, April 6: Saratoga Springs, NY