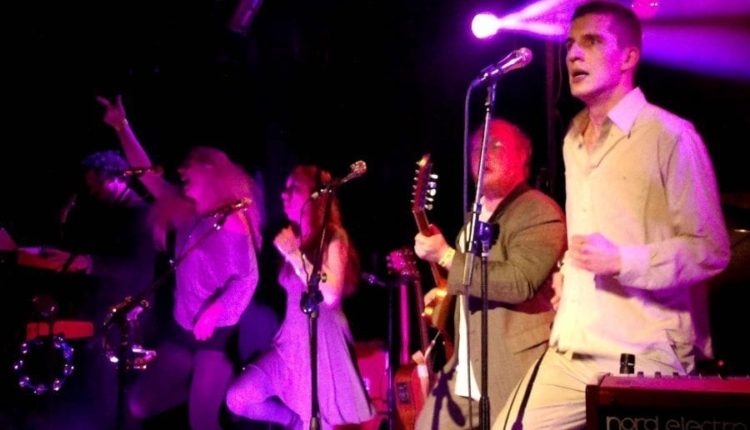 Update 3/5/14 – Download this show!
When a Phish show during a New Years Run ends, you're pumped up, full of excitement and need a release. Post-shows seem to have been created just for Phish, giving fans more than a dozen options over the four nights of Phish, not to mention the random bars, loft parties and miscellaneous debauchery that goes on after the lights come up. So, on December 30th, some opted for Marco Benevento, others Dead Sessions, but headed down to the Lower East Side to see Turkuaz perform the Talking Heads Stop Making Sense in its entirety.
Starting out with two mellower numbers – an acoustic "Psycho Killer" and the serene "Heaven", Drom, a promising nightclub with ample room, found a crowd still shuffling in from the trip on the F Train (never again…. I'll take a cab next time). By the time the venue was filled for this sold out affair, "Burning Down the House", "Life During Wartime" and "Making Flippy Floppy" kicked things into high gear – ain't no rest for the wicked after 1 a.m.! The funk from "Swamp", the joy of "This Must Be the Place (Naive Melody)," and high energy from Joshua Schwartz singing "Once in a Lifetime" sustained the vibe without a missed beat, while the crowd sought extra space to rock out in the club's foyer near the bar – a great vantage point for sight and sound. Capping the set off with "Crosseyed and Painless", Turkuaz gave the crowd something Phish didn't during the four nights – a Talking Heads cover. Not that Phish didn't do it right at MSG with no covers in four nights, but to hear "Crosseyed and Painless" from a proper funk band, well, there were no complaints to be heard, just cheers for more.
And more they got. Turkuaz kept much of the crowd following the Stop Making Sense set, and those who stayed were in for a treat. Fun and funky, these guys and girls know how to jam. The crowd never stopped moving, a feat for pushing 3 a.m. following Phish. The horn section worked in sync, one collective with three heads and instruments, and while the stage was packed with 10 musicians, the individual players didn't overwhelm each other musically or crowd each other out. "Coast to Coast" is quite a frenetic number, high energy and the perfect tune for a late night show – anything that hovers near a slow tempo would have lost the the crowd. The encore of "Monkey Fingers" should be a staple of any funk you listen to in the future and polished off an ideal late night for Phish.
Stop Making Sense setlist: Psycho Killer, Heaven, Thank You for Sending Me an Angel, Found a Job, Slippery People, Burning Down the House, Life During Wartime, Making Flippy Floppy, Swamp, What a Day That Was, This Must Be the Place (Naive Melody), Once in a Lifetime, Genius of Love, Girlfriend is Better, Take Me to the River, Crosseyed and Painless
Original setlist: Lookin' Tough, Feelin' Good, 20 Dollar Bill, Coast to Coast
Encore: Monkey Fingers
Turkuaz returns to Upstate New York on March 20th at Java Barn at St. Lawrence University in Canton, March 27th at Putnam Den with Alan Evans Trio, and Brooklyn Bowl on April 5th, also with AE3