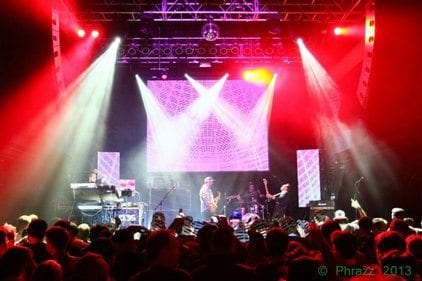 Conspirator returned to one of their favorite east-coast venues last Friday, the infamous 930 Club in Washington D.C., which has hosted their progenitor band, The Disco Biscuits, to many sold-out shows.  Torrential rain didn't scare away about 750 patrons, who gyrated to the dark and heavy electronic rock themes, while purists debated why they were at a Biscuits offshoot show. One fan on the rail shouted to his buddy, "I've never seen the Disco Biscuits, but I love Conspirator!", which may suggest a transition in their fanbase.
I thoroughly enjoy Chris Michetti's guitar prowess and what he brings to Conspirator, having been a fan of RAQ for years.  Torch's drumming is quite adept and fluid; he knows when to lock in and when to play heads-up, watching for change cues.  Magner's keyboard mastery has expanded, as has his rig, which has nearly swallowed him whole.  Heavy use of computer graphic projections made the band disappear into the darkness, with occasional blasts from light scanners, which dealt a mesmerizing but challenging visual ambiance.
In music, loyalty is sacrosanct.  The word "fan" after all is short for "fanatic", and there are  few things more fanatical than a Disco Biscuits crowd at full tweak.  However, there is  another kind of fan loyalty, which is to the musicians.  From interactions between Marc Brownstein and his fans, it is clear that they enjoy supporting each other.  There is a blatant honesty to "Brownie" (as he is affectionately known), as he socializes openly about touring, the songs, the shows, life, and trials of the road. He is one of the few artists who isn't shy, staying after shows to schmooze with fans, take pictures with them, and share stories.  Both in person and online, Brownie is approachable and loquacious, sharing his thoughts and impressions of specific songs, music itself, the aspects of technology versus talent, and other philosophical ramblings, which are entertaining and thoughtful.
Having a much smaller crew than the Disco Biscuits makes it harder to address last-minute gear issues, more extensive lighting, and other frills.  In the continual quest for evolution, musicians develop by branching out to fellow artists, who bring their own perspectives.  Fresh ideas improve songwriting, but fans will always split hairs over which song is cooler or which band they adore the most.  We sometimes forget the "fun" aspect of music if we focus too closely.  A major aspect of enjoying music is knowing when to let go and become the flow.  The band often surprises themselves, as Brownie recalled in a Facebook post, "My favorite jam of the whole tour was in 'Up' tonight.  I can not wait to get back to the hotel so I can listen to it and figure out what the hell we were doing."  That kind of candor and connectedness to his fans sets Brownie apart from most artists who shun publicity. Brownie is among the most vocal and frequent social networkers, giving fans updates on starting times, and extolling the virtues of their opening bands.  Pigeons Playing Ping Pong opened for Conspirator with their own rapidly growing movement of fans, many who drove down from their home base of Baltimore.
Conspirator finish their fall tour in North Carolina, with their last dates in Raleigh, Asheville, Winston-Salem and then Wilmington.  Conspirator only have one other 2013 show booked, on December 30th, at Stage 48 in New York City, sandwiched within a Disco Biscuits New Year's tour that culminates on New Year's Eve at the Madison Square Garden Theatre.  In early January, Conspirator will sail from Miami on the 12th annual Jam Cruise.
Setlist:  Pow-Wow > Commercial Amen > The Commish > Up > Brooklyn Bridge > Retrograde, Caves > Feed the Wolf > Proper Education > Pow-Wow.
Encore:  KMF