Sullivan and Ulster Counties are home to the famed 'Borscht Belt' of Jewish comedy that rose to cultural prominence in the early and middle part of the 20th Century. Drive down Interstate 86 and Route 17 and you will see hotels that once stood in summer grandeur as thousands of tourists flocked to the mountains for respite from the heat of the inner cities and found themselves a part of the birth of American comedy. This brand of Catskills comedy originated as a result of the cultural influences of Jewish immigrants and who made up the early entertainers in New York City, the Catskills and eventually, on television and in film. Today, New York is home to more music festivals than any other and looking back at our history through the new documentary When Comedy Went to School, we can see that Upstate is also the birthplace of the Golden Age of Comedy in America.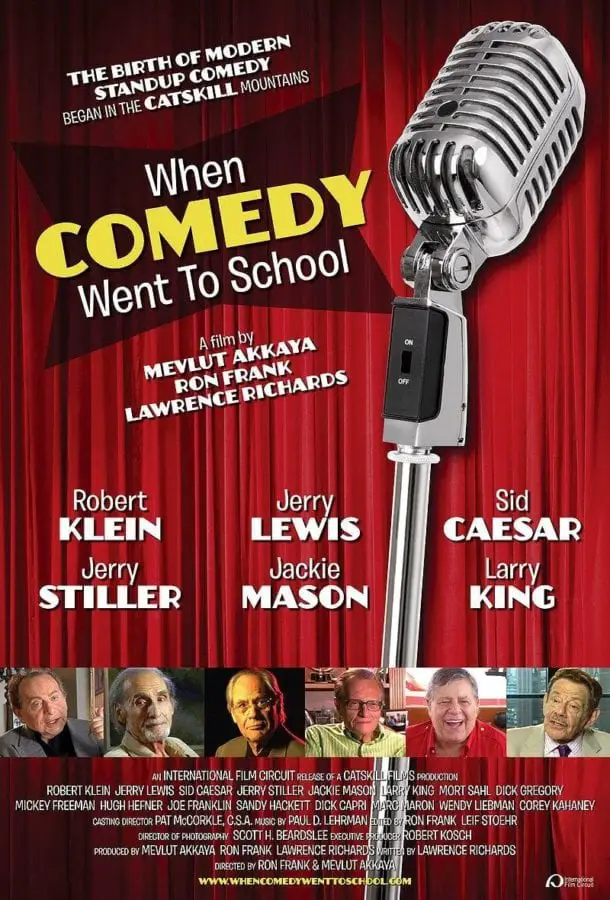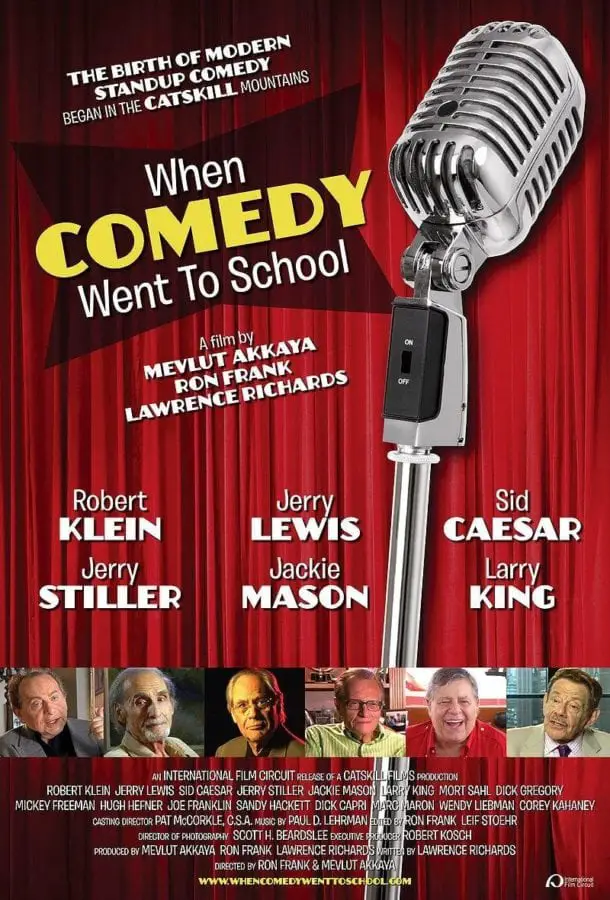 Comedic legends such as Sid Caesar, Mickey Freeman, Dick Gregory, Sandy Hackett, Larry King, Robert Klein, Jerry Lewis, Jackie Mason, Mort Sahl and Jerry Stiller are interviewed in this 83 minute documentary, including archival footage of Henny Youngman, Buddy Hackett, Joan Rivers, Lenny Bruce, Alan King, Woody Allen, Rodney Dangerfield and many more. Robert Klein hosts and narrates the film, for he is a product of the Catskills comedians who came a generation before him. The birth, rise and fall of the Catskills is exhibited and argued to be the home of comedy in America as we know it today. What grew from the Eastern European immigrants of the late 1800s became the post-vaudevillian comedy of the 1920s, seen in the Depression-era theaters like The Palace in New York City and eventually, the vacation getaways for the post World War Two tri-state area. This gave rise to comedians such as Sarah Silverman, Jerry Seinfeld and even Chris Rock, who shaped comedy and pop culture through today and will continue to do so posthumously well into this century.

The rise is documented quite well in When Comedy Went to School, starting in the packed inner cities of Brooklyn and The Bronx, where European traditions led into vaudeville and theater. In the summers, young waiters and staff were trained to socialize with the patrons, which invariably led to comedic routines for the likes of Jerry Lewis, Alan King and Larry King, among others. Summers in the Catskills had a thriving Gentile population that made the region a Dirty Dancing-esque retreat for more than two decades. Things thrived until the decline in the 1960s began, partly attributed to the rise of the middle class and affordability of amenities not previously available to all, including a shift to the suburbs, houses with pools, membership at country clubs, air conditioning for those hot summer days, and summer camps for kids that kept families from going to the Catskills in growing numbers. Plus, the comedians once seen in the Catskills were now seen on television and in movies, so a 90 minute drive to see them was not needed. The counterculture shift of the 1960s was a final straw for the region, one that has struggled to recover from the end of a half century of success as a summer destination for millions of New Yorkers.
Ron Frank and Mevlut Akkaya's film is a documentary but more of a loose oral history of how comedy rose and fell in the Catskills. While it is disjointed at times, the audience at Spectrum 8 on September 30th roared with laughter and reflected on an era left behind, finding the film nostalgic and a method of preserving this era as the major players, especially Sid Caesar, Jackie Mason and Mickey Freeman, who shared a wealth of information found no where else but in the memories of those who lived them. For those who want to find evidence of the roots of American comedy that followed the eras of Mark Twain and Will Rogers, laughs and nostalgia combine as When Comedy Went to School covers all the bases.
It should be noted that while many resorts from the region are no longer open, a couple of these locations in the Catskills thrive and one is the reason for Woodstock finding its way to Sullivan County. In that case, Eli Tiber was the son of the El Monaco Motel owners who lived in White Lake. Throwing small arts festivals each summer, he learned that Michael Lang was looking for a place to throw his Woodstock festival after they were summarily asked to leave Wallkill in Orange County. After the motel's property was deemed too small for the festival, Max Yasgur's farm was offered up as a potential location, and history was made. Today, Rock n Roll Resort at Hudson Valley Resort and Spa in Kerhonksen and The 16th NY Harvest Festival and Freedom Fair at Kutcher's in Monticello are well received music festivals that provide a spark for the economically distressed region and offer a glimmer of hope for a new reason to make the Catskills a destination for those throughout the Northeast.
When Comedy Went to School is playing in limited release in the following Upstate-area cities. Find more information on playing time and ticket prices here.
Hamilton, NY 10/2-10/4
Fredonia, NY 10/5 & 10/8
Rosendale, NY 10/7 & 10/10
Great Neck, NY 10/21-10/17
Danbury, CT 11/2