On August 5th, 1983, Talking Heads initiated the arena tour that would eventually take their popularity to new and unknown levels. We flashback to the group's visit to Saratoga Performing Arts Center (SPAC) that particular summer 30 years ago. 1983 was a definitive and peak era for the band and this show documents the time with a crisp pre-FM line recording that exhibits professional release sound quality.
The group featured founding members David Byrne (vocals, guitar), Chris Franz (Drums), Tina Weymouth (Bass), and Jerry Harrison (Keyboards) in addition to a number of added musicians who come and go when needed to supplement the bands theatrical performance. One of these musicians just happens to be magic keyboard man Bernie Worrell of 'P-Funk' fame. For those fans who love the 1984 concert film 'Stop Making Sense', this live recording makes a fitting addendum to that document, which also chronicles the 83 tour in support of the LP Speaking In Tongues.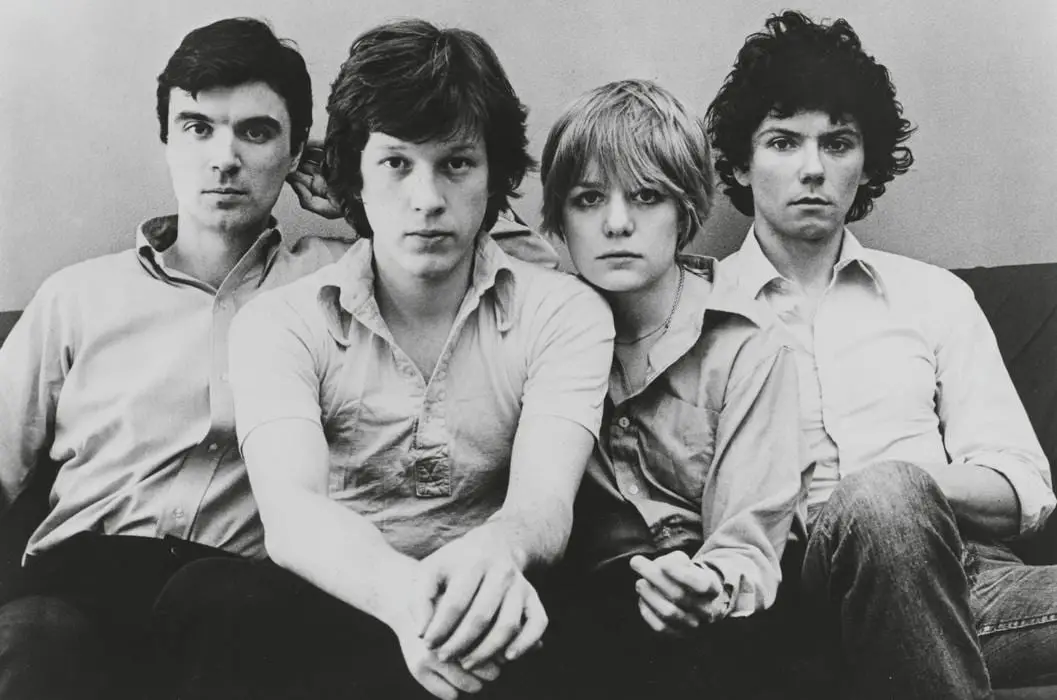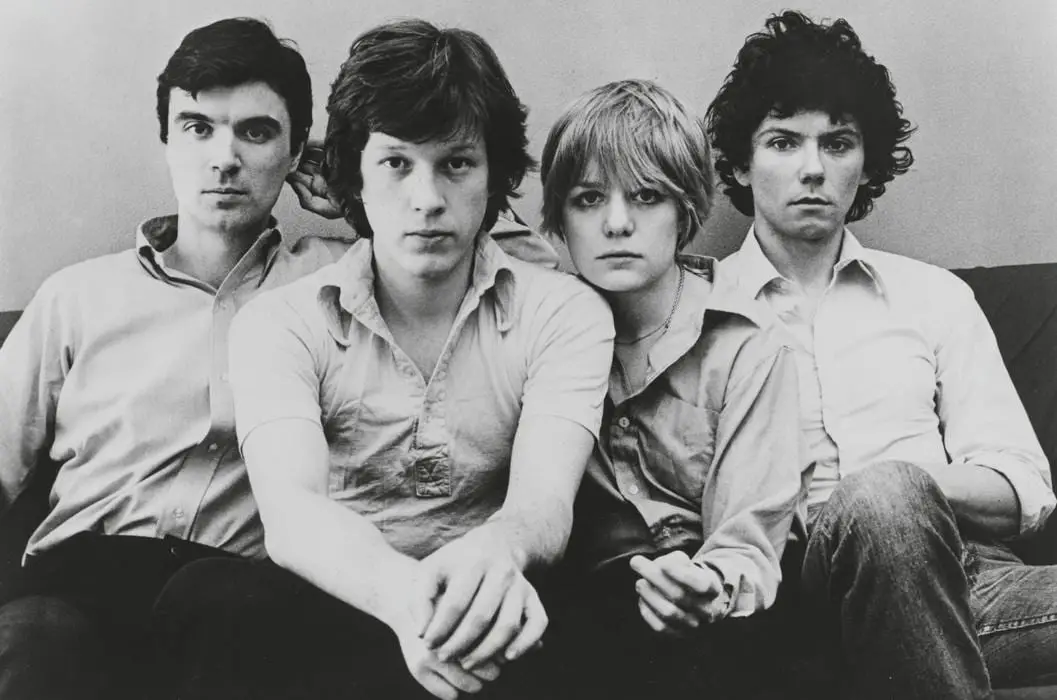 The evening's concert begins quietly with the differently arranged sparse acoustic chunk of 'Psycho Killer'. Containing a pulsating drum machine beat and acoustic guitar, the tune meanders from its original incarnation with a drifting and patient groove. One hallmark of this concert is the way it expands, gaining energy, along with increasing instrumentation along the way. Each song climbs another step, reaching another level of intensity, adding another piece to the creation of the setlist story. Following the refurbished 'Psycho Killer' begins an emotionally dry but poignant version of 'Heaven' that contains only acoustic guitar and Weymouth's tempo setting bass. A beautiful flower of a melody gently handled and preserved. Byrne plays master of emotion by following 'Heaven' with a galloping 'Thank You for Sending Me An Angel' that skips along on a Tennessee Three tempo. This early segment of the performance drifts coasting weightlessly through thoughtful melodies and intelligent, but always far out lyrics.
The concert now becomes invigorated as electric guitar drops into the mix and the core band plays an emphatic version of their debut 1977 single 'Love Goes to Building on Fire' in which the crowd responds in positive fashion. Reaching cruising altitude the show now settles into a danceable summer evening groove. As 'The Book I Read' begins, the blend of summer evening segueing into dusk permeates the feel of the recording, eliciting the aroma of fresh cut grass, mossy earth, and the bouquet of live music in late summer New York State.
'Book I Read' opens on a very nervous Paul Simon like guitar riff, eventually settling into tempo setting vocals by Byrne that work in a tug of war against the shifting drums. Working in conjunction with breezy synth whistles and Weymouth's hypnotic bass this one really swings, setting the stage for the first dynamic peak of the performance with a funky 'Slippery People'. Based around a Morse code keyboard riff and some thick James Brown dance guitar licks, 'Slippery People' becomes a celebratory revival with joyous backing vocals that reach with arms raised to the deep navy sky.  'Slippery People' hits a delicious groove with Byrne taking a tribal climb up a greased pole by free forming diverse mouth jams that rebound around the dynamic tune, increasing the intensity.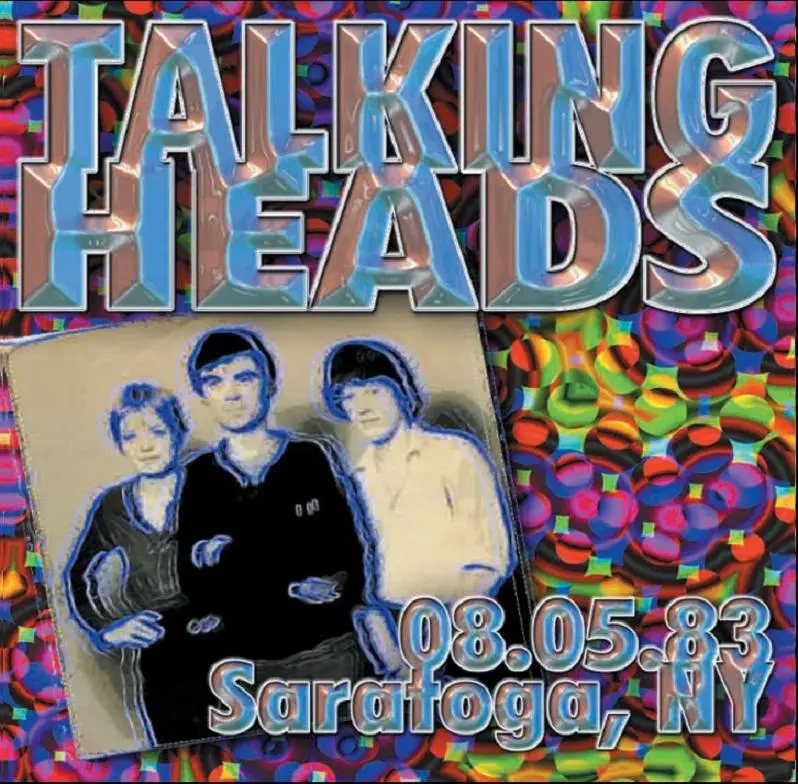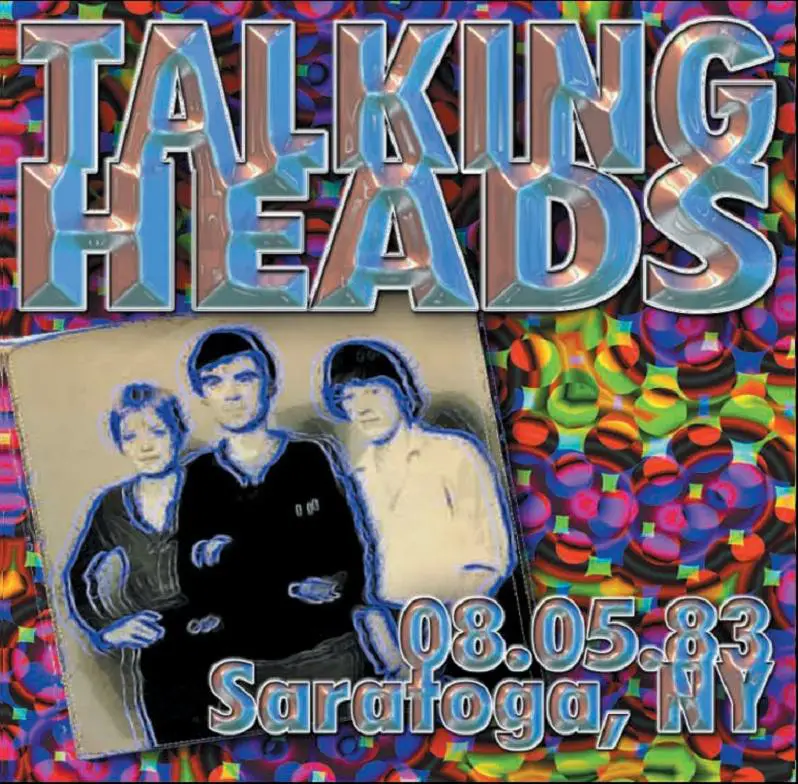 Following 'Slippery People', the concert begins a segment of quick hitting, danceable and dizzying tunes. 'Cities' off of the 1979 LP Fear of Music, begins this middle segment of the concert that also encompasses 'Eyes Wide Open', the current and well known hit 'Burning Down the House', and the hot to the touch 'Life During Wartime'. There is no let up here as Byrne steps on the gas harder than a truck driver on the Route 90 with 'White Line Fever'. 'Eyes Wide Open' ricochets around the venue on jumpy percussion punctuated by Byrne's falsetto interjections, eventually culminating in a stimulating journey brought on through celebratory vocals and airy instrumentation.
'Burning Down the House' receives a big response from the assembled crowd, quickly moving into the jumpy 'Life During Wartime' which is drizzled with ice cream keyboards that color between the lines with their colorful melt. The humid dancing bodies filling SPAC this evening translate to the recording due to the energy that emanates from my speakers as 'Life During Wartime' cooks like bacon in an iron skillet. What a performance and a perfect close to the end of the first set which Byrne announces at the songs conclusion.
The second set begins in earnest and does let up as far as tempo and all out funkiness goes. 'Making Flippy Floppy' starts the second half of music, and regardless of its 'light' title, reaches deep with its intuitive commentary on living and this artists view of reality. This song is a fine example of Byrne's musical and lyrical ability to comment on bigger issues in a clandestine fashion.  'Swamp' follows quickly and falls into a quasi-Reggae groove which never strays to far from a straight rock beat interestingly enough.  Dancing on sponges, the squishy vibe of 'Swamp' contrasts its dark lyrical content. The collaborative 'Hi Hi Hi Hi' vocals elicit the image of a line of cheerful people being led to slaughter, singing their way to their eventual demise.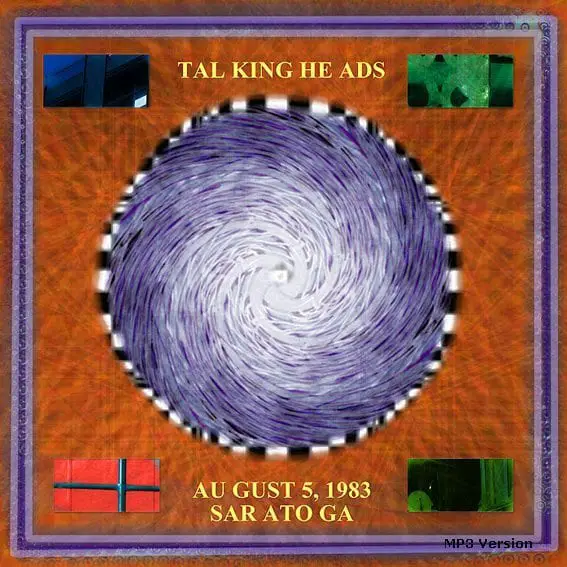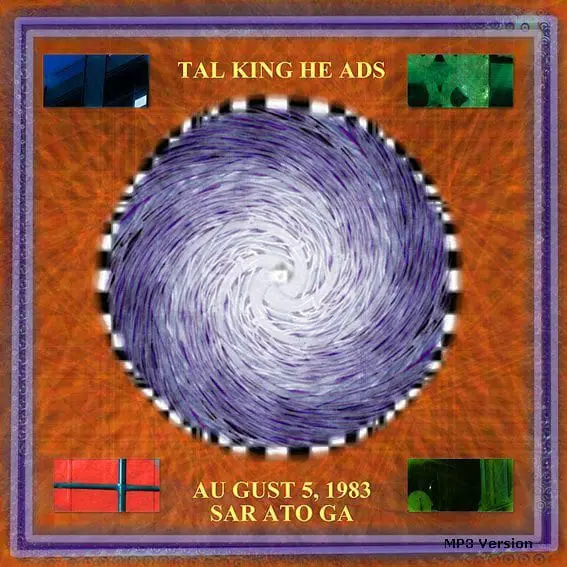 A breathless sprint through 'What a Day It Was', leads to the pixilated 'Naive Melody' that rattles like change in a jar, soothed by the sweet harmonized vocals that spread across the jumpy instrumentation like butter on warm bread.  'Naïve Melody' brings the vibe down slightly, hitting a hypnotizing, eyes closed tight groove, initiating dreamy sways. 'Once In a Lifetime' blows in on a wash of cymbals and spectral keyboard manipulation reaching its destination of a unique ethnic groove to which its instrumentation balances. Another one of the bands most well-known and popular songs; 'Once in a Lifetime' is also special due to its combination of Fela Kuti influence, Brian Eno production, and Byrne's eclectic literary talents.
One of my personal favorite segments of the performance comes next with the version of 'Big Business/I Zimbra'. Brimming with synth manipulation that causes a disorientating storm of sound the song rides on Chris Franz's popping kick drum and hi hat strikes. The middle segment of the track becomes a percussion workout, swirling, folding into itself, encasing the spacey guitar/synth interjections that segue into the earthy shouts of "I Zimbra".  The song becomes a whirling dervish of fevered musical energy that culminates in a Shamanistic and blissful conclusion.
The second half of the concert becomes decidedly more sensual, both rhythmically and in its melodic sensibilities.  'Houses in Motion' slithers in slowly, eventually becoming all angles, shifting and extending through lush bass carpeted rooms decorated with drippy guitar chorused wall hangings.  Another top notch reading by the group as this one takes on numerous moods during the journey through its changes.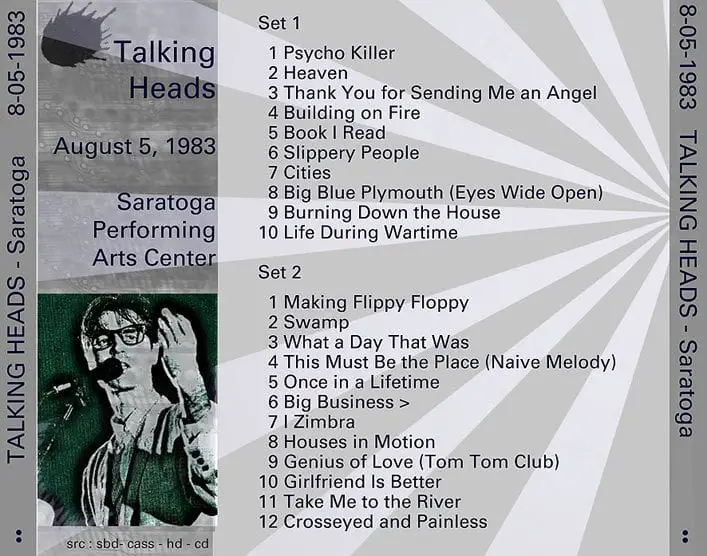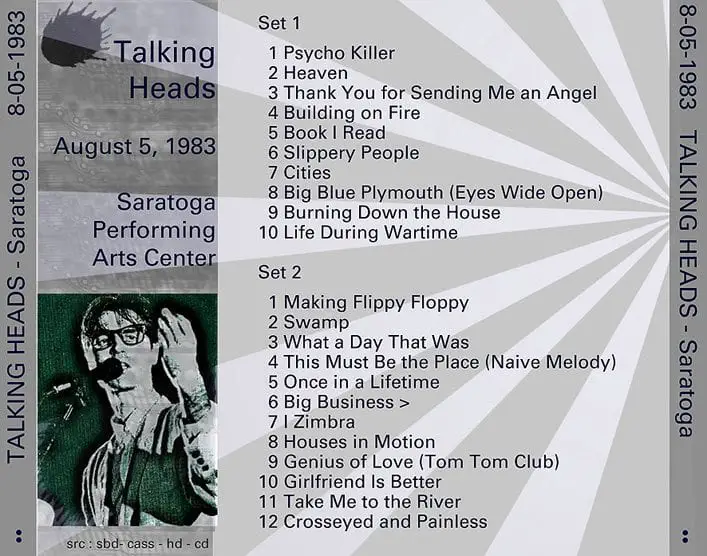 A quick interlude is taken prior to a performance of 'Genius of Love' by 'Tom Tom Club', another name for the band shared by the husband and wife team of Tina Weymouth and Chris Franz. A fun and freaky performance and an opportunity for Byrne to step off stage and prepare for the closing blow out. Keen-eared music fans will recognize many of the songs components as being sampled by many hip hop and rock musicians through the years.  Byrne then returns to the stage for the final songs that make up the conclusion of the performance. 'Girlfriend Is Better', 'Take Me To the River', and 'Crosseyed and Painless' all contain fiery and concentrated readings.
'Girlfriend Is Better' is cutting edge, and compelling, the bass line a blend of shadings that pillow the after images of flashing keyboard squeaks and screams.  Byrne, a wellspring of unique diction and vocal expressions, soaks the crowd in his lyrical gospel. Beautiful. The crowd's excitement bleeds loudly into the soundboard recording as the group stops briefly before slinking into a bubbly 'Take Me to the River'. Involvement from the crowd in the form of hand claps and shouts can be picked up intermittently throughout the recording; a matrix of the show if available would be an amazing experience. 'Take Me to the River' extends long enough for Byrne to introduce the band and then builds to a party conclusion, bringing the performance to an end.
The band returns for a schizophrenic encore of 'Crosseyed and Painless' that looks from the stage with shifty, busy eyes. The band moves quickly, wound tight, hallmark call and response vocals reverberate between the singers on stage, keyboards and guitars intertwine in a soulful embrace. The song is a break neck race toward the finish line that finally crashes through the ribbon and raises its hand in glory. A quick 'Thank you' and the show and recording conclude.
This crisp board recording of the Talking Heads in our very own Upstate New York venue, the Saratoga Performing Arts Center, finds the group peaking artistically, yet precariously close to their demise as a touring group.  The performance featured, never lets up, yet exhibits a musical control that balances the needs of the crowd with the wants of the band. For fans of Stop Making Sense, this recording offers a full and uncut performance from that very era. My recording exhibits very few recording flaws, but I do know that versions of this document circulate with some digital issues, so look out. Throw this one on, and remember a summer day dance party from thirty years ago that echoes through the famous venue to this very day, and is preserved for all to enjoy.
Set 1: Psycho Killer, Heaven – Thank You for Sending Me an Angel, Love -> Buildings on Fire, The Book I Read, Slippery People, Cities, Eyes Wide Open, Burning Down the House, Life During Wartime
Set 2: Making Flippy Floppy, Swamp, What a Day That Was, Naive Melody (This Must Be the Place), Once in a Lifetime, Big Business -> I Zimbra, Houses in Motion, Genius of Love (The Tom Tom Club), Girlfriend is Better, Take Me to the River
Encore: Crosseyed & Painless