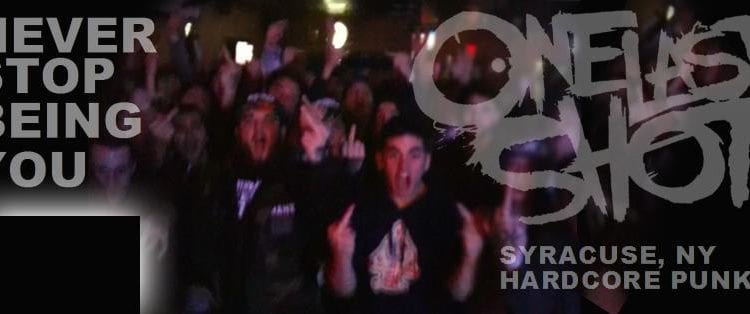 One Last Shot is a Punk band hailing from Syracuse is anything less than heavy hitting. With heavy hitting vocals and powerful instrumentals to go along with it these guys will leave you pumped and angst wanted more. I had a chance to talk with Jeremy(vocals) about the band and their hush hush Halloween album release.
Me: First off how did you guys meet? Were you high school buds? Random meet up somewhere and happened to hook up?
Jeremy: The line up changed over the years, but the current member's were all connected by friends of friends in the music community.
Me: How did you guys come up with your name?
Jeremy: The original members took the old name "One More Shot, One Last Chance" and consolidated it to "One Last Shot"
Me: Is it a reference to hockey or does it have anything to do with being the underdog coming up and giving it one last shot at your dreams?
Jeremy: It's about anyone giving it one last shot at dreams, or anything at life that they are trying to do which seems impossible.
Me: Who are some of your influence in music and or in your personal lives that make you do what you do?
Jeremy: We all musically have different influences. But what I've noticed is we all have a love for music in our scene made in the early 2000's.
Me: How does the writing process go for you guys?
Jeremy: It can happen in many ways, whoever has a musical idea, they bring it to the table and we go off of it. Currently we've been locked in a room surrounded by extreme horror movies every other day writing.
Me: Speaking of writing process, I heard there was an album coming out soon! Would you care to shed some light one that?
Jeremy: We've put so much time into this. Almost over a year and a half of ideas and writing. All songs are written and in a week we go in to record it. Oh and its 12 all new songs.
Me: Date, people your working with?
Jeremy: The album will be out on Halloween (Naturally). We're working with a lot of people, but I will not be able to drop that bomb yet. The one I will tell you we're working with is Steve Sopchak at Square Studios again. I wouldn't have it any other way. He's the best at what he does.
Me: Album art?
Jeremy: Not yet.
Me: I know your a horror movie fan Jeremy, can you tell us…..Whats your favorite scary movie haha
Jeremy: I have too many favorites. They are a huge influence on me and my art. The other members are really into horror movies too, so it works well.
Me: The music video for "Guilt Like a Guillotine" did you direct and produce that yourself or did you bring outside influence?
Jeremy: We had the nice folkes at Night Force Video help with it for fun before there was a such thing as Night Force Video. They will be doing our next one as well.
Me: What were the trials and tribulations that went into making the video?
Jeremy: Ummm… It was a quick thing, nothing too hard or serious. We will be taking way more time and putting a lot into the next one. It's going to be awesome.
Me: Lets take a step away from the music and talk about the Straight Edge lifestyle?
Jeremy: Sure. It's a clean lifestyle away from drugs, alcohol and promiscuous sex.
Me: Ive been hearing about a diffusion in the community, would you like to talk about that a bit?
Jeremy: I honestly don't do it for the community or care what goes on in it. I know that may sound disrespectful, but I mean no disrespect. I don't do it for the community or care about a few assholes in it. No matter what you do, there will always be jerks messing with it and giving it a bad name. I just do it for me and for my health, and if I'm happy with myself that's all that matters.
Me: Any last words or stuff you'd like to throw out there that hasn't been said or upcoming projects?
Jeremy: Just expect this new album to be a flash from the past but in present time.
Look out for them in a venue near you and check them out on any one of these links below!
Website:
http://www.onelastshotband.com/#store
Facebook:
https://www.facebook.com/onelastshot
PureVolume:
http://www.purevolume.com/onelastshot315
Myspace:
https://myspace.com/onelastshot
Reverbnation:
Throw my page a like on Facebook:
https://www.facebook.com/315StreetTeam