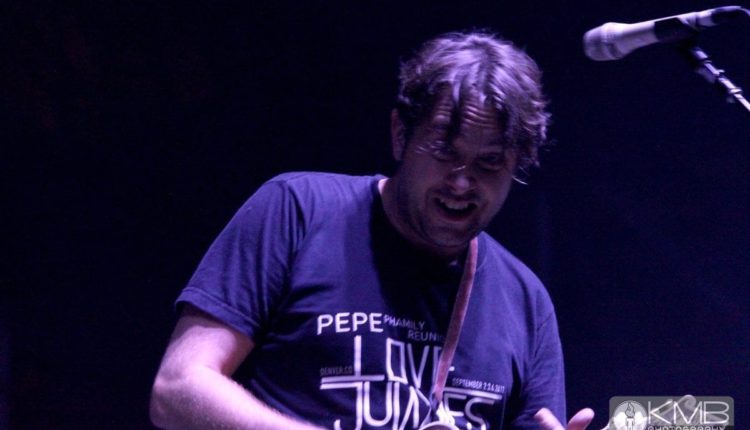 This year I was able to experience one of the best music festivals this side of the country: All Good, which took place at Legend Valley in Thornville Ohio on July 18-21. I made the trek out to Ohio late Wednesday night and arrived early Thursday morning, when the madness began.
Thursday
I finally arrived in Hebron, Ohio after eight and a half hours of a musical journey. Ohio made me feel like I was in a long never ending cornfield infused tunnel. When finally arriving at the All Good grounds, only to find no one there, (the lights were on but no one was home), I sought out a spot to spend the night, and found people who were actually partying all night long in the Kroeger parking lot, which was a couple miles away from the grounds. I found a quiet spot was in the back parking lot of at the Comfort Inn, and I wasn't the only one that had the idea, as there were about 20 other All Goodians crashing there for the night. Hebron is a quaint little farming town nestled in the heart of cornfields as far as the eye could see, the aforementioned hotel and grocery store seemed like sensible lodging, simply because I didn't want to wake up to a reenactment of the Children of the Corn. Finally bedding down for the night, the waiting game began, which gave me some down time before the weekend festivities began. In the parking lots there was an electricity in the air, license plates from Ohio, Virginia , New York, Pennsylvania and even Colorado. Everyone traveled hundreds of miles for one of the bigger music festivals in the Midwest. I already knew that this festival would help me document some great bands, not to mention a bunch of new friends and stories. I was fortunate enough to partake in the modern melting pot of rainbow tye-dye and hoola hoops.
At 8 am the temperature was already 81 degrees, the sun shining and haze from the humidity already on the fields. This was the first festival I have been to this year with the sun actually shining on the first day, and it was a nice change of pace.  Setting up camp and hanging out with all the new people I met on the way in All Good was pretty amazing, and I thought, 'If the rest of the fest is anything like this, I am in for one hell of a time!" It was on a shady spot on a hill that I realized music festivals are an oasis for artwork and I was greatly inspired through this sensory stimuli overload. The lay of the land was pretty amazing as well, a giant hill forming a bowl shape where the stage is situated, although it offered little shade at the top which was prime real estate when the sun was out! Even though I was 500 miles away from home, I ran into people I see at local festivals in New York. Festivals are a giant family, creating bonds both with people you know and new faces you meet. Hoops and hacky sacks galore filled the natural amphitheater where everyone was waiting to see the opening act, John Scofield Uberjam Band, featuring the masterful jazz improviser whose music generally falls somewhere between post-bop, funk edged jazz and R & B. His set was a great opener for the stacked lineup of giants.
Speaking of giants I thought my eyes were playing tricks on me when I saw coming down the hill a small army of people on stilts, dressed like characters from Aladdin. The music for the rest of the day included Toubab Krewe, Papadosio and Lettuce, followed by Yonder Mountain String Band and Beats Antique.  Lettuce started as the sun was going down, and from my perspective, funk and photography make an insane combo; it's tough to take photos when my feet want to move to the beat. If that wasn't enough, Yonder Mountain String Band kept the grooves coming in the name of bluegrass. Late night with Beats Antique, was sensory overload accompanied with a belly dancing mesmerizing performance by Zoe Jakes.
Friday
I awoke to the sounds of Cabinet, a bluegrass/country group, and what a way to wake up! Following Cabinet was a band from Columbus known as Mojoflo.  They definitely helped beat the heat with their soulful upbeat sounds and even had a dance off in the "Soul Train" line. Making my trek down to the Main Stage, I stumbled upon a drum circle where I saw a familiar face whom I had met in May at the Spring Revival.  Three states away and I saw someone from my own back yard, what a small world. Once I reached the main stage to hear the sounds of blues, Americana and hillbilly music fill the air from Reverend Peyton's Big Damn Band. Rev. J. Peyton, his wife Breezy and cousin Aaron "Cuz" Persinger form the trio and got people moving around, playing as a thunder storm was brewing overhead that led to an hour-long delay in the music. The brief thunderstorm didn't deter the hard core Dark Star Orchestra fans, as one girl said to me "A little rain isn't gonna stop us, it's All Good!"
The Stepkids knocked it out of the park followed by legends Leftover Salmon. The surprise of the fest and one of my new favorites was Nahko and the Medicine, with a positive message in their lyrics that was truly for the people.
After they warmed the crowd up and people were sharing the love, I saw a couple gazing into each other's eyes. They mentioned that they met at a John Butler Trio show three years ago and were getting married in September. The trio from Australia put on an incredible performance, accompanied with slide guitarist Roosevelt Collier, making for a magical combination.  As the sun went down, Digital Tape Machine featuring Kris Meyers and Joel Cummins of Umphreys McGee gave a stellar light show that matched up with their video game sounding music, getting the crowd dancing to the 8-bit club jams.
Primus Sucks and started their set off with "Groundhogs Day" and "Fisticuffs" which gave all the costumed spectators the chance to really get into the weirdness throughout the night.  There were pigs and bears and even a fan in a banana costume; it was a combination zoo and fruit salad that was welcomed by Primus. During this weirdness, cartoons were played will Primus rocked the stage. Primus ended with their popular hit "My Name is Mud", and encored with "Tommy the Cat", in which Les Claypool explained how he and Tom Waits became friends because he asked Tom to do the voice in the video. Primus definitely didn't suck and gave everyone a show to remember. Making their once a year appearance at All Good was The Bridge, whose light show was complimented with fireworks galore. As if my eyes and camera lenses needed any more stimuli, STS9 gave not only a stellar musical production but a ridiculous visual offering.
Saturday
Just when you think you can't take anymore, it's Day Three of a festival and you soldier on. The day began on the Grassroots Stage with Three Legged Fox, which had a dub/reggae/ska/sound to them, a sweet way to start the day off right. On the Main Stage was a group from Africa called The African ShowBoyz, who were dressed in traditional African garb and played instruments made from gourds, and put on a pretty impressive show. One the bands who were the talk of the fest and awarded my personal best All Good Band name was Michigan's Ultraviolet Hippotamus. 
Trombone Shorty and Orleans Avenue gave me a reminder of what James Brown was once like when he led his band. Grace Potter and the Nocturnals gave a high energy performance, so much that I needed a cold shower to get my blood pressure back down. To cool things off a bit, Bob Weir of Furthur came out and did a duet with Grace Potter, singing "Friend of the Devil".  The Infamous String Dusters put on one hell of a performance and were joined by Grace Potter for "Turn on your Lovelight". Sticking to the Grateful Dead theme of the night, Pretty Lights dropped an electronic remix of "Shakedown Street", leading to some sensory overload from the lights and lasers, prompting fans to get a better view of things from the hill. Rochester's own Giant Panda Guerrilla Dub Squad played for a packed field to cap off the late night.
Sunday
Sunday was a nice recovery day that allowed catching up with old and new friends alike. The Ragbirds were definitely worth a viewing. The lead singer Erin Zindle was playing her fiddle and joked about one of the camera men being a doctor; she mentioned this as she was eight and a half months pregnant, so the camera man could deliver the baby if she were to go into labor onstage. Even being pregnant she could play the fiddle like she beat the devil himself in a competition. Likewise with Keller Williams and The Traveling McCourys, Sunday's acts had everyone jumping and dancing like they were at a good old fashioned hoedown; the only thing missing was the barn.
Furthur featuring Bob Weir and Phil Lesh headlined All Good with an already extensive line up that topped off Saturday's lineup. The all-stars opened their set with "Dancing in the Street", which got everyone dancin' on the grass. They played a double set and had a March Fourth Marching Band, complete with stilt walkers perform during setbreak. They came back playing "Feel Like a Stranger", yet by this point there weren't any strangers, only new friends in the crowd. They closed with "Scarlet Begonias", and a surprise sit-in of Grace Potter on "Turn on Your Love Light". Furthur took a bow after an encore of Phil's "Donor Rap" and "BrokedownPalace". Furthur paved way for producer Pretty Lights who laid down an EDM cover of "Shakedown Street" in a nice little nod to The Dead.
Although I was met with a dreaded eight-hour drive home, All Good was by far the largest and most fun music festival I have been to and I can only look forward to the next. I am fortunate to have gone and even more fortunate that I got to document All Good for in words and photos.