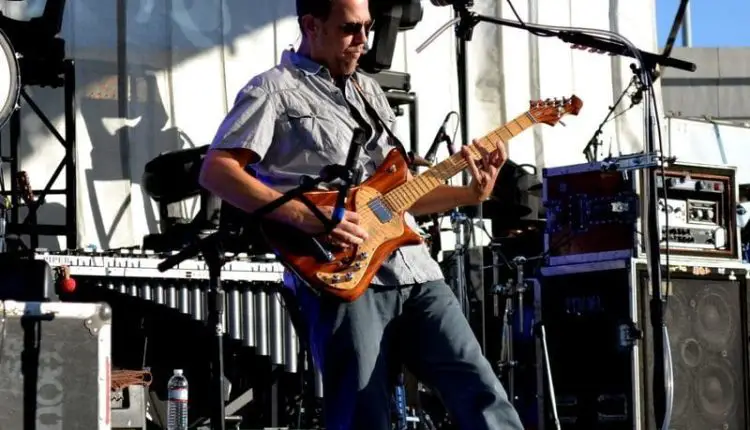 Upstate improvisational legends moe. brought their jam marathon's to Rochester's Party in the Park series June 20th. Often locally referred to as "Party in the Parking Lot", this series deserves more credence. While it's correct that the events take place in an area also often used to park cars, what is missed by local denizens is that there is ample space provided, an excellent "big-time" stage, copious amounts of affordable vending, convenient entry and exit points, a picturesque view of the Flower City bridge and tons of nearby parking. People must not care that much though, as this event was packed from end to end.
moe. came straight out of the gate at full speed with fan favorite "Happy Hour Hero". The first set was a short one, but offered excellent takes on "Sensory Deprivation Bank" and "Akimbo" as well as some voice box fun from Chuck Garvey. During setbreak, fans enjoyed music from buskers, beer from Rochester based breweries Rohrbachs and Genesee, and several food trucks filled with tasty treats.
Second set began while the sun was going down, allowing fans a glimpse at moe.'s top tier light show.  Also offered was plenty of shreddy guitar interplay between guitarists Chuck Garvey and Al Schnier. Highlights included a fiery "Wicked Awesome", the always epic "Brent Black" and a top-speed encore combo of "Spine Of A Dog->Meat".
Set 1: Happy Hour Hero > Sensory Deprivation Bank, Understand, The Ghost Of Ralph's Mom, Hi and Lo > Big World > Akimbo
Set 2: Haze > Wicked Awesome, Puebla > Billy Goat > Tailspin > Brent Black
Encore: Spine Of A Dog > Meat
Upcoming Party in the park shows include John Browns Body on 7/11, Great Big Sea on 7/18 and Leon Russell on 7/25