Guide to the Fest
Apps

Easy, free, plan your schedule, set reminders, get all the latest festival info anywhere, anytime! iPhone: download |  Android download
ATMs
ATMs are located in several locations around the festival. See the map for exact locations.

First Aid Tent
Outside the Merchandise Tent on Jazz Street.
Important Information You Need To Know

Jam Sessions
Free, open to the public,  led by Bob Sneider and his Trio nightly from 10:30 PM at the Rochester Plaza State Street Grill. The Grill is newly renovated and expanded offering food and beverage service in the Grill, on the outdoor patio and in the lobby. Shuttle stops across the street at Sister Cities Garage.

Lost & Found
Please go to the Ticket Office at the corner of Gibbs Street & East Ave. Open 10 AM – 11PM daily during the festival. Write your name and cell number on your Club Pass so that you can be notified if it's lost and found.
Parking
XRIJF is held in downtown Rochester's East End Cultural district. All venues are within walking distance of each other so park once and walk to everything. The Festival does not operate any parking but there are many surface lots and ramp parking garages conveniently located near festival venues. Please note, many side streets will be closed.
Surface lots, fees vary, all are operated by private owners, the festival does not operate any parking.
Sister Cities Garage,
28 N. Fitzhugh St., Rochester, NY 14614
, closest to Rochester Plaza Hotel for Jam Sessions, 1st two hours: $1, each additional hour (or any part of) add $1.00/hr up to $6.75 daily max, weekends free
Shuttle Service  –  FREE! –   5PM to Midnight  –  6/21- 6/29
Shuttle bus service, sponsored by Simcona Electronics and AAA's Horizon Club Tours, is free all nine days during the festival to make it easy for patrons to get to and from downtown parking garages and lots surrounding the festival.Continuous round trip service provided daily. Buses will arrive at each stop about every 15 minutes from 5 p.m. to midnight. Last pick-ups are at 11:30. Wheelchairs and assistive devices can be stored in the luggage compartments. Coaches are air conditioned and have bathrooms.
Stops are conveniently located near downtown parking garages. Look for the Shuttle Bus Signs  1- State St. & Church St. (Across from Rochester Plaza Hotel) (daily)
2- South Ave between Broad and Court Sts (daily )
3- Clinton Avenue South at Woodbury – near GEVA – (daily)
4- Roundabout at Broadway and Broad (near Manhattan Square Park) (6/21 & 22 and 6/28 & 29 only)
5- Chestnut St. & East Main St. (Sunday 6/23 – Thursday 6/27 only)
6- Andrews St. & Liberty Pole Way (daily)

Street Closings  
Gibbs St. (From East Ave to E. Main)

Mon., June 17 (Midnight) to Mon., July 1 (Midnight)


Chestnut St. (From E. Main to East Ave)

Fri., June 21 (6AM) to Sun., June 23 (2AM)

Fri., June 28 (6AM) to Sun., June 30 (2AM)


East Ave. (From E. Main to Scio) and Chestnut (From Broad to East Ave)

Fri., June 21 (5PM-Midnight)

Sat., June 22 (5PM-Midnight)

Fri., June 28 (5PM-Midnight)

Sat., June 29 (5PM-Midnight)


East Ave. (From Prince to Alexander)

Sat., June 29 (6AM) to Sun., June 30 (2AM)


East Ave. (From Alexander to Union) & Alexander (From Charlotte to Park)

Sat., June 29 (5PM-Midnight)


Main St. (from Gibbs to Chestnut-not to include Gibbs or Chestnut)

Fri., June 21 to Sat., June 29 (5pm-Midnight)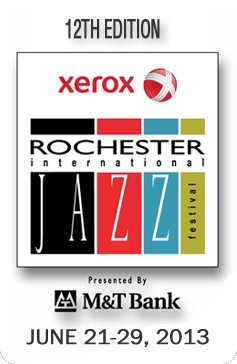 Tickets:
Headliner show and Club Passes buy online at rochesterjazz.com, call 585-454-2062 or visit the Jazz Fest Ticket Shop at the corner of East Ave and Gibbs St. open now from 10AM-5PM, M-F,  Saturday from Noon-5PM, closed Sunday, and open daily during the fest from 10AM-11PM.
Club Shows – enter with the Club Pass or $20/$25 cash only at the door. First-come, first-served for everyone, no reserved seating, no advance sales.
Free Shows – no tickets required, all shows rain or shine.
What to Bring
For free shows you can bring lawn/stadium chairs
Portable seats to make waiting in line will be for sale at the Festival Merchandise Tent or you can bring your own.
Your tickets and Club Pass! (Please write your name and cell number on your pass.)
What NOT to Bring