The world's most famous arena got a heavy load of jaw-dropping guitar work for two straight nights as The Crossroads Guitar Festival came to Madison Square Garden on April 12th and 13th.  This was the fourth festival that has been put together by Eric Clapton to benefit his Crossroads Centre in Antigua, which helps treat people addicted to alcohol and other drug dependencies.  Every three years since 2004, Eric brings together a bunch of his friends and fellow musicians for an all-star concert to raise money for the Centre.  A big part of the event has always been guitarists sitting in with each other to play some songs together and this year was no different.  This was the first time it has been held indoors and both nights sold out instantly.  Prior to both shows, there was a showroom in the arena where some guitars that Eric himself has used in the past, as well as ones played by Stevie Ray Vaughn and Muddy Waters.  There was also a Martin & Co. Guitar booth that had reproductions of some of Eric's guitars for sale.  Seeing these guitars in person was amazing and made everyone there dream they could make these guitars "talk" like Eric has for so many years.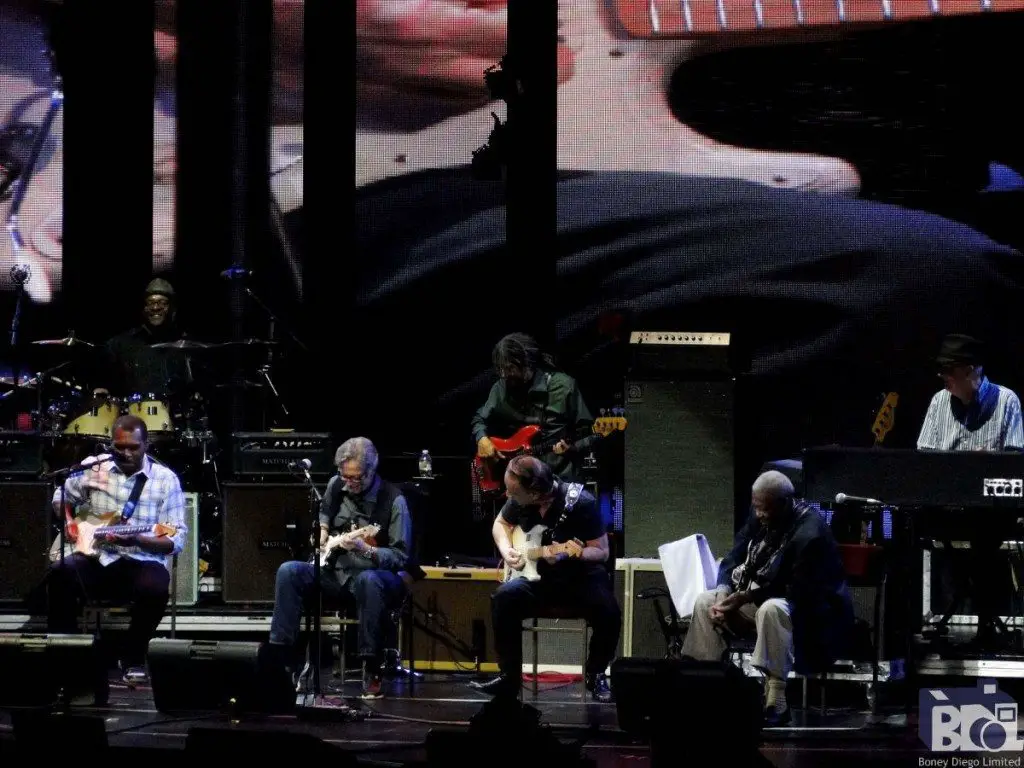 The first evening started with Eric, joined by Willie Weeks and Steve Jordan on bass and drums respectively, playing a short acoustic set.  Soon Andy Fairweather Low and Vince Gill were on the stage helping Eric finish his short acoustic set.  A beautiful "Tears in Heaven" saw the crowds' first of many roars throughout the evening and this was followed by a great "Lay Down Sally" and "Wonderful Tonight."  The crowd gave a standing ovation as Eric left the stage.  Dan Akroyd was the emcee for both nights and continuously gave excellent introductions to the oncoming acts.  He is a man who knows and appreciates music and was the perfect person for the job.  Next came Booker T. Jones and Steve Cropper to the stage.  They went right into "Time is Tight," made famous by the pair when they were in Booker T. & the M.G.'s.  Matt "Guitar" Murphy and Albert Lee then joined the evening for a take on "Hip Hug Her."  Matt, Albert, and Steve were trading licks left and right, each showing that they still can rock after all these years.  Keb' Mo' joined the group for "Born Under a Bad Sign" and stayed out for the set closing "Green Onions" that finally let Booker T let loose among the guitarists.  The crowd went wild at the end of the song and everyone on stage seemed truly touched that they were getting this kind of ovation.  It was great to see legends getting the respect that they deserved.
A staple of the festival has been Robert Cray and he put on quite a show.  Before inviting guests out for the rest of his set, he was killing the guitar for two blues numbers.  What followed next was an absolute highlight of the festival as B.B. King came out for "Let the Good Times Roll" and "Sweet 16."  B.B. King is 87 now and he can still play a mean guitar and have a great time on stage. Robert and B.B. King started a call and response during the songs and the crowd ate up every second of it.  To close the set Jimmie Vaughn and Eric came out to play "Everyday I Have the Blues" with Robert and B.B. King.  Each guitarist took a solo and wowed the crowd with each new person's solo getting a bigger reaction than the last.  It could clearly be seen that these friends were just having an absolutely amazing time playing together for the crowd.  Sonny Landreth then got to play a song on a side stage while the next act was being set up.  He is such an impressive guitarist to watch play.  The sounds that come out are like nothing you have ever heard before.  Doyle Bramhall II was the next main act and he played a great set of funky rock and roll.  Citizen Cope and Gary Clark Jr. joined him during the set and although the crowd wasn't as responsive as they were during other moments for the festival, the guitarists still killed each song that they chose to play.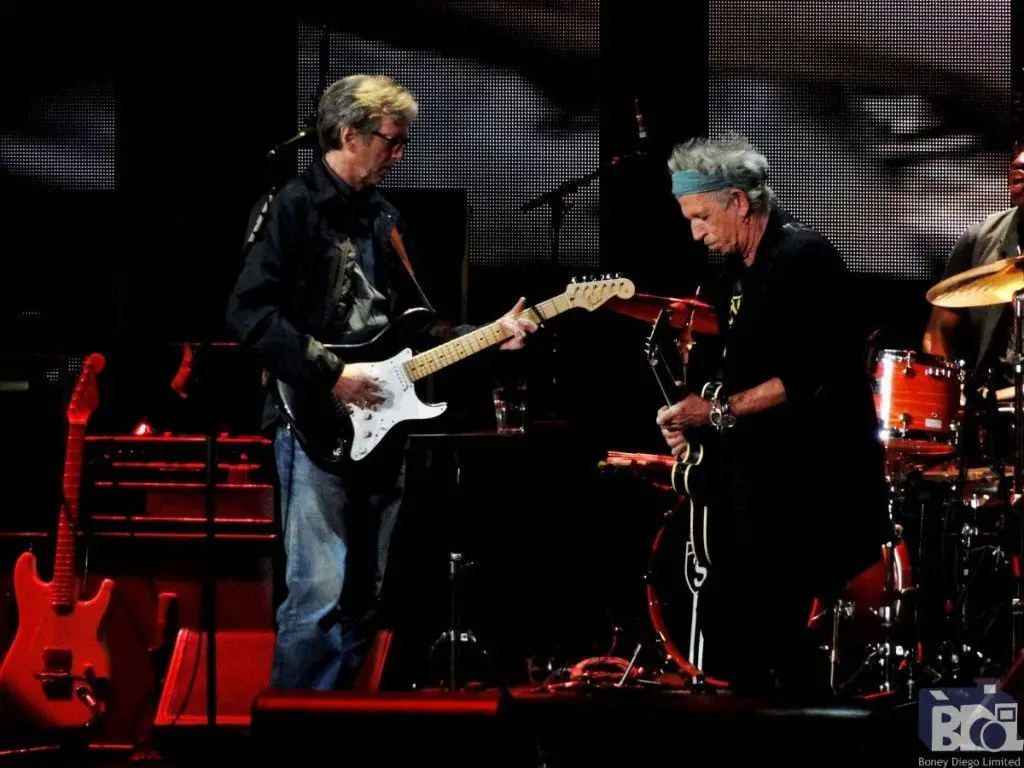 Next was Phillip Sayce on one of the side stages.  He won a contest from Ernie Ball to play at the festival and he made the most of his five minutes and put on a display of pure shredding on the guitar.  It was different than everything else on the festival's bill and it was great.  Earl Klugh, a jazz guitarist came out with a bass player on the other side stage next and all of a sudden Madison Square Garden was turned into a jazz lounge for ten minutes.  Earl can play his guitar so fast it's amazing to watch.  The contrast of these two guitarists back to back really showed how this instrument can be played in any way that you want to and still sound amazing.  Kurt Rosenwinkle followed and got some help from Allan Holdsworth for his second song, but it was Eric's appearance for the last two songs of the set that got the crowd back into the evenings events.  Kurt let Eric take the lead on the songs and Eric made his guitar sing as he is known to do.  Eric really got to let loose on the blues with the last song of the set, "Way Down that Lonesome Road."
Gary Clark Jr. was put on a side stage for night one and he played both the guitar and drums at the same time.  Watching him do this was awesome.  He is a very skilled musician and I think he is going to be a force to be reckoned with in the music world sooner rather than later.  The crowd gave a loud ovation for John Mayer, who came out and played some great blues.  Keith Urban came out to close the set with him on a cover of The Beatles' song "Don't Let Me Down."  The two stunned the crowd with this great version of the song.  This is a must hear song from the weekend.  Buddy Guy with Quinn Sullivan and Robert Randolph followed and played a three song set of pure blues.  "Someone Else is Slippin" was a barn burner as each guitarist got a moment to shine with Buddy going last and showing why he is a legend.  The crowd loved every moment of the set and seeing Buddy Guy, like B.B. King, should always be seen as something special.  Keb' Mo' and Dan Akroyd then got a moment to pay tribute to Muddy Waters with "I Got My Mojo Working" and did a fantastic job of honoring the man.  After the song was over, Akroyd gave an amazing introduction for the evening's headliner, The Allman Brothers.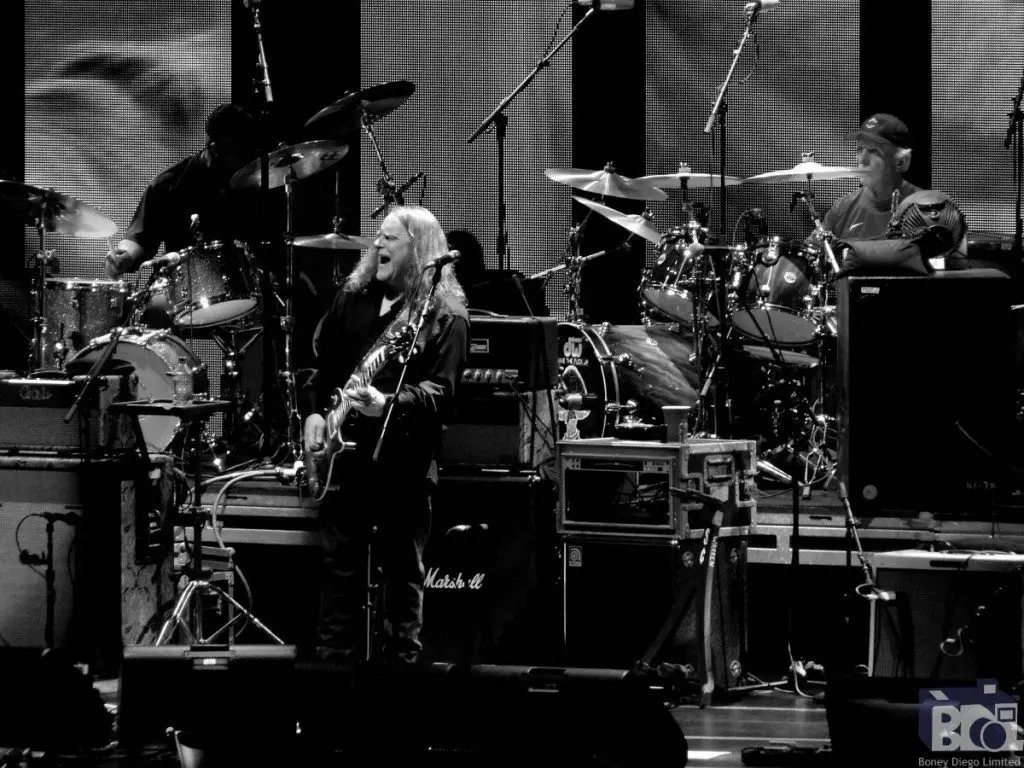 The Allman Brothers came out and wasted no time going right into "Don't Want You No More/Ain't My Cross to Bear."  Greg was in strong form vocally and Derek and Warren were trading guitar licks left and right.  Greg then introduced Taj Mahal, David Hidalgo and Cesar Rosas for a hot version of "Statesboro Blues" that saw Taj and Greg trading vocals, with the guitarists having fun deciding who got to solo when.  "Black Hearted Woman" followed and then Eric came out to play "Why Does Love Got to Be So Sad" that saw Derek play Duane's gold Les Paul.  The crowd went wild throughout the song and the solos were some of the best of the night.  With a wave goodbye Eric left the stage as The Allman's started "Whipping Post" and what a version it was.  Warren and Derek really got time to shine during the song, each taking lengthy solos.  The entire crowd was on their feet for the whole set and it was a perfect way to end night one of the festival.
Night two of the Crossroads Festival started with a set by Sonny Landreth.  It was a beautiful instrumental set with Derek Trucks joining him for the first of his appearances on this night.  They traded slide guitar solos for two songs, with "Cherry Ball Blues" getting the better solos from both of them.  The crowd erupted at the end of the set showing their appreciation for the amazing musicianship they had just seen.  A quick two song solo acoustic set by Doyle Bramhall II followed and it was beautiful.  Doyle is a great player and for his second song he invited John Mayer for a take on the Stevie Ray Vaughn song "Change It."  The crowd was more alive through the first two sets of the evening than they were most of night one.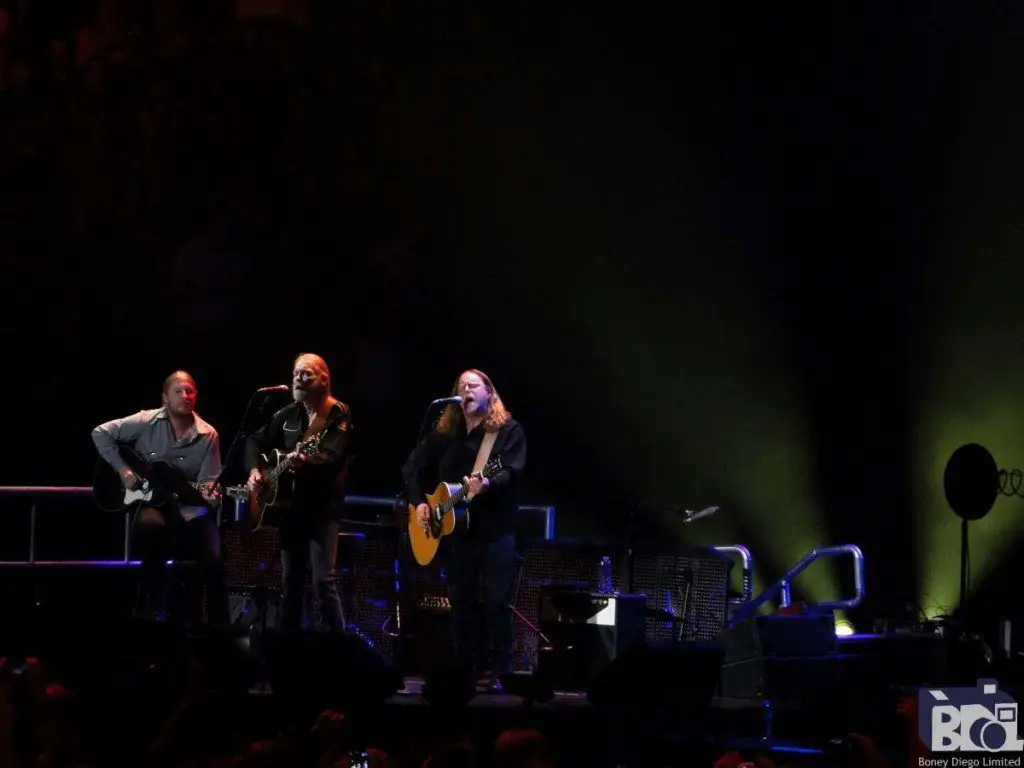 Some Texas flavored blues followed with Jimmie Vaughn and his band.  His set didn't seem to completely win over the crowd, but it was a good set by a great legend and he received a good hand from the crowd as he stepped off.  Blake Mills, a young guitarist, came out for his solo set next and played one song before inviting Derek to join him for an amazing take on "Save the Last Dance for Me."  It was a very interesting version with Derek playing slide like only he can, mixing with Blake's high vocals.  It was a great combo for a great song.  Los Lobos took the stage next and destroyed Madison Square Garden.  Susan Tedeschi assisted on vocals with their first song "Burn It Down."  It was a great song and soon Robert Cray was out for "Just Got To Know."  Robert and the band were just having fun on stage, playing off of each other and absolutely killing this old blues song.  After the song was over Eric Clapton came out for "Tin Can Trust" and took over the venue.  The whole crowd erupted as Eric's solo in the song soared throughout the arena.  Los Lobos' set was one of the better ones of the two nights.  It was straight fire from note one.
What followed next was a big surprise.  It was unknown if The Allman Brothers were going to play night two, or if they were just the headliner for night one.  Warren Haynes and Derek Trucks came out and played a great rendition of "Old Friend".  Warren then told the crowd to welcome in Greg Allman.  The crowd was immediately on their feet, showering the musicians with love.  They covered Neil Young's "The Needle and The Damage Done" and it was gorgeous.  Greg was in fine form vocally and Warren and Derek took their solos, much to the crowd's approval. "Midnight Rider" followed and the entire Garden crowd was singing along with Greg.  As the song ended, the crowd gave one of, if not the loudest roar of the two nights.  Everyone wanted more from the three of them, but it was time for the next act which, once introduced, maintained the energy in the building.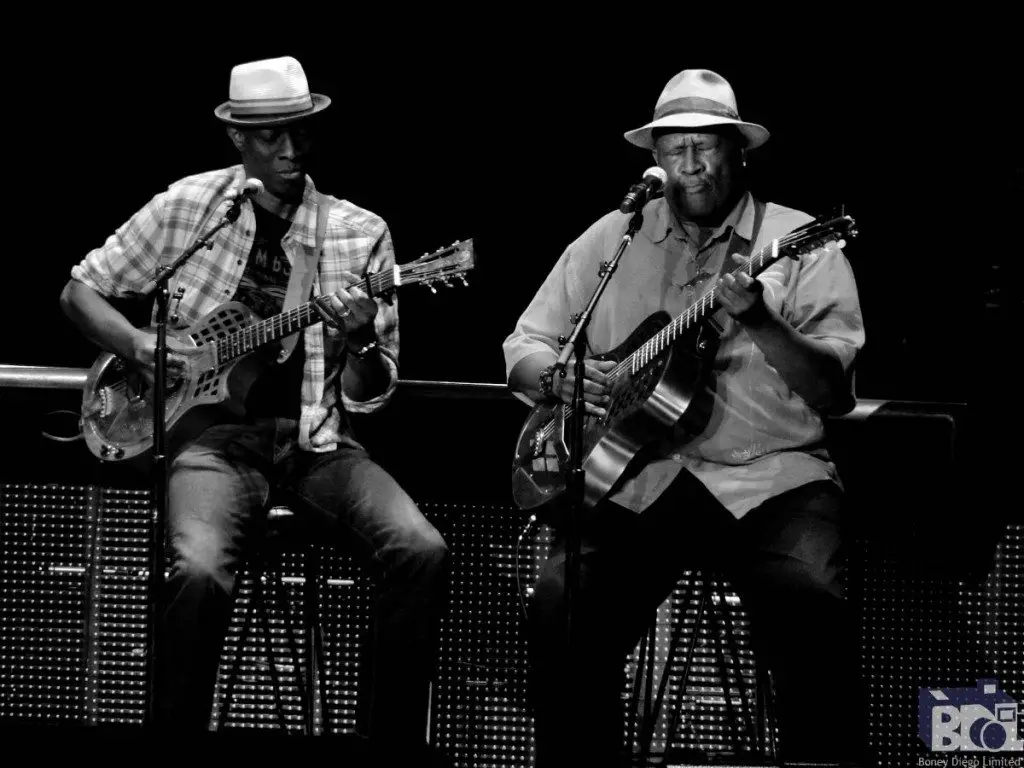 Vince Gill, Albert Lee and Keith Urban came out and did a set of covers.  Vince took the lead on Waylon Jennings' "I Ain't Living Long Like This" followed by Albert taking Ray Charles' "Leave My Woman Alone."  Both of these songs were excellent and saw great playing throughout.  Keith took the lead next on "Tumbling Dice" by The Rolling Stones and truly shined.  All three of them took turns on Dire Straits' "Setting Me Up" and each did such an amazing job.  Their solos were all scorching and kept the crowd going wild after the partial Allmans set.  Keb' Mo' and Taj Mahal came out for an acoustic set next.  They both played resonator guitars in honor of doing a full delta blues set.  They started with Robert Johnson's "Walkin' Blues" and they were obviously ready to have fun.  Taj Mahal always has a good time on stage and really got the crowd going throughout the mini set as well as making Keb' laugh while he was playing the lead guitar.
Following the blues, we got back to back sets of nothing but loud electric guitar from Gary Clark Jr. and Jeff Beck.  Gary came out ready to rock and destroyed the stage during his three song set.  He is one of the best young guitarists around right now and showed why he was given a spot on stage with all of these legends.  Jeff Beck followed with his own mastery on the instrument.  His music is very abstract and goes from blues to rock in mere moments.  With the help of a drummer, bassist, violinist, and guest vocalist Jeff was able to construct a great set that was greeted with roars from the crowd.  Buddy Guy followed with a two song acoustic set.  He had wowed people the first night with his electric set, so it was very nice to see a stripped down version of this blues legend.  During his first song "74 Years Young" he joked with the crowd, as he always does, stating "Actually everyone, I'm 76 Years Young".  Buddy is always a pleasure to see and it was a great calm before the storm of the finale.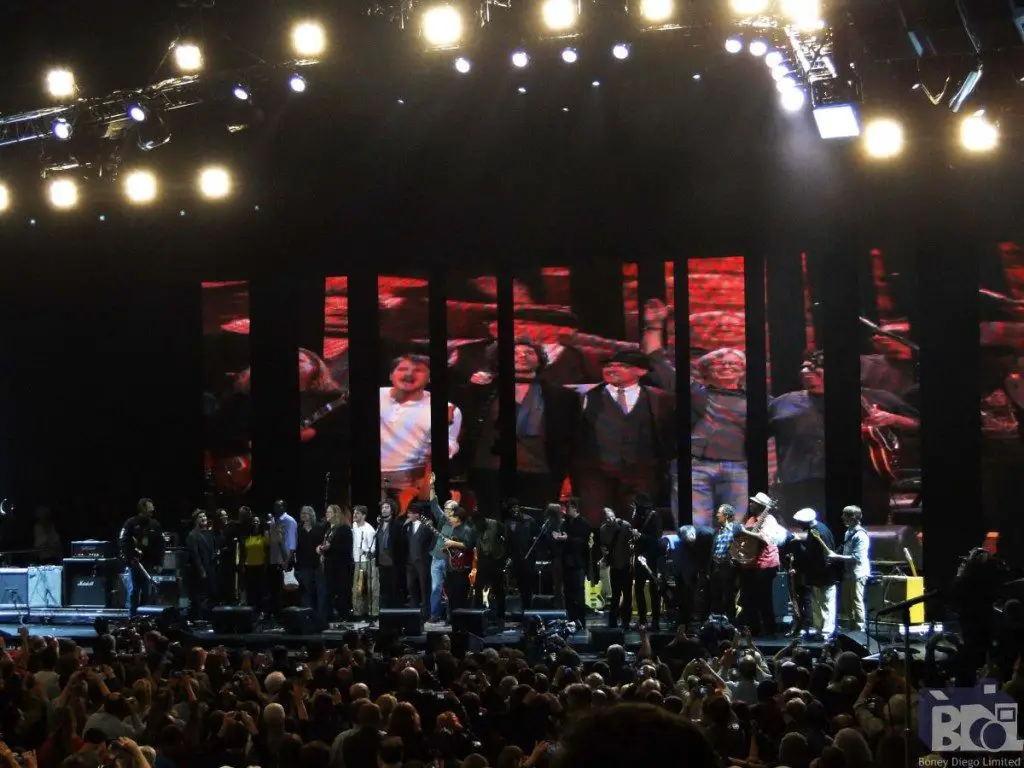 The stage was dark as the figures emerged and the front of the orchestra began going crazy.  Everyone knew it was time for Eric Clapton's headlining set, but when the lights came on there was a special surprise guest with him.  The one and only Keith Richards had come out with Eric to play a couple of tunes.  They started with "Key to the Highway" and traded licks throughout.  They continuously shared smiles with each other and to see these two legends on stage together was worth the price of admission alone.  Keith stated how happy he was to be around and it was time to rock and roll as they went into "Sweet Little Rock & Roller."  With a bow, Keith left and out came Robbie Robertson who also got to play two songs with Eric.  Before the second song Robbie stated "This is in remembrance of friends who are no longer here" as they went into "I Shall Be Released."  At the conclusion of the song the crowd gave a stunning ovation for the once member of The Band.  Eric continued the onslaught with "Got to Get Better in a Little While" and the namesake of the festival, "Crossroads."  Eric has been playing "Crossroads" slower in recent years, but this was the closest to the rocking Cream version than anything he has done lately.  Eric's hands were flying all over the fret board as he took the song to great heights.
"Little Queen of Spades" followed and gave Chris Stainton the chance to shine on the keys for the first time all night.  He is one of the best keyboardists in rock and roll and he pushed Eric to take a great solo on this blues number.  With a little jam intro, the band went into psychedelic mode with "Sunshine of Your Love." Doyle and Eric traded licks and vocals on the great Cream song.  When anyone else plays the guitar next to Eric, it seems like they are trying so much harder than he is.  The ease of Eric playing and the smoothness of his movements remain unmatched.  With a thank you and a promise to see everyone in three years, Eric brought out many of the guitarists from the two evenings of music for "High Time We Went."  Each guitarist got a solo with Eric getting the last one bringing the festival to a close.  This was an amazing festival for a great cause and the amount of guitar work that was seen would be hard to ever repeat.