Spotlight on a small killer band from Southern California by the name of Acidic. They've toured with major bands such as Hinder, Trapt, and Hawthrone Heights. The band consist of Mike Gossard (lead vocals/guitar), Ted Dubrawski (bass), and Matt Whitaker (drums), with a special guest guitarist; in this case on the Hinder tour it was Josh Bennett. Their first record, Chronic Satisfaction, produced by John Ryan of Chicago Kid Productions, a platinum award-winner (produced Styx, Santana, Lynyrd Skynyrd, Badfinger, and the Allman Brothers. As of recently, the band signed with SONY/RED through a special arrangement with MegaForce Records. Acidic's latest record, Copper Man, is expected to be released March 19, 2013. The leading single, "Copper Man", was picked by Motley Crue's Nikki Sixx on his nationally-syndicated radio, "Side Show" to kick off February. Upstate Metal's staff, Kate Drexel, was lucky enough to do an interview with the band's front man, Mike Gossard.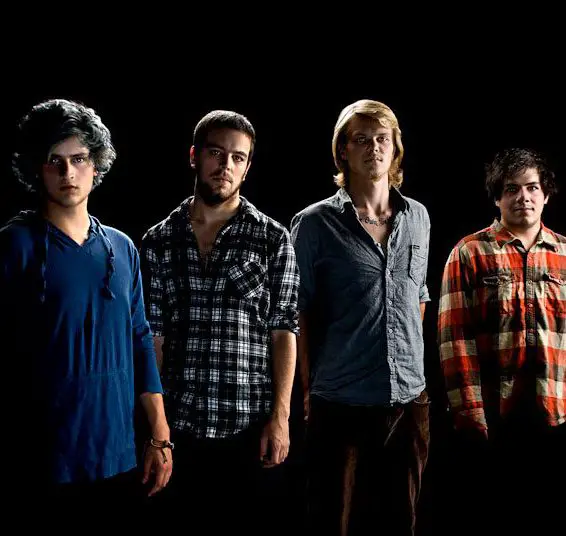 UM: How did you come up with your band name?
MG: We went out to Joshua Tree for a weekend with a…you ever see that movie where Johnny Depp goes to Las Vegas and has a crazy weekend? Yeah, well it was kind of like that, and we came back and we didn't know what the fuck had happened but saw that we had written on a little piece of paper the name "ACIDIC" and we were like, "what?" That must be the band name we decided…kinda catchy, y'know, unknown. There was a lot of 'shrooms involved probably, we're not really sure. But we had a good weekend; we know that, we came back safe.
UM: What's your favorite song off of your record?
MG: Off our new record? Well, I'll just do it from the new record, which is out March 19th; it's going to be released by SONY/RED. My favorite song off that record is called "Copper Man" and I know we sound like total douchebags right now but we wrote it in jail. So yeah we got arrested the first day of our tour for Fuel, for being a "rock 'n' roll" band and I'm not going to go into any more detail than that. And we decided we were going to write a kickass song about being on the road. And so we wrote a song about the chronicles of this guy going across the country, getting into all sorts of shenanigans and partying with people and having a great time and everywhere he goes, he's the life of the party…he's the Copper Man. And he's just all around the country, and when they let us out, we had a full song and we played it that night and it was pretty cool. We've never done anything like that since. We've only been arrested twice last year so it's all-good.
UM: How did you become a part of the Hinder tour?
MG: Actually, our management is good friends with their management and they hooked us up and I have to say…Hinder, they are the nicest bunch of dudes on the face of the planet, I mean seriously, they have taken such good care of us. We are so grateful about that. So yeah, mutual friends.
UM: What's the story behind "Satellite"?
MG: Okay, I went through a bunch of crazy stuff last year, right? And usually, it revolves around a girl and so I went through a bunch of stuff with a girl and I ended up getting sober and that was the first song I had written sober in years. I wrote it about always feeling like you can't quite connect with somebody. I mean, everybody's had that feeling where they're just like, the one person they really want but can never say the right thing to or can't connect with, it's all about that. It's the idea of being a satellite and they're being a fucking planet.
UM: What does music mean to you?
MG: Everything. I try to think "Could I be a lawyer?" and then I realize, when I'm not on stage, I'm always listening to music, or when I'm watching a show, all I pay attention to is the music in the background. If you watch a TV show, there is never more than 30 seconds of that music, and if it's done, it's done on purpose to get attention…but it's everything and it's everywhere you go. You cannot escape from music. So it's my life.
UM: What does your music reflect about you guys?
MG: Our general attitude and our transgressions on the road. Seriously, we write everything about experience, things that have happened to us…oh god, people we've known, people we've had drinks with, people we've had smokes with, people we've had sex with, y'know that's the classic thing. It's great, it's honest…may not be very polite, but it's honest.