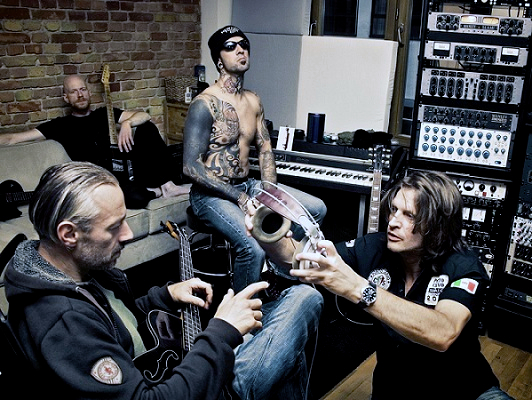 Today is a red-letter day for fans, and for the media at large an important date which makes their representatives prick up their ears: Lenny Wolf and KINGDOM COME are set to release their new studio album Outlier May 7thin the USA, picking up with ten powerful rock songs where his long tradition of fascinating studio albums left off. At the same time, mastermind Lenny is starting a new chapter of his diverse creative career, expertly positioning his charismatic voice on Outlier between traditional rock structures and modern sound elements, which add a third dimension to this album.
"I simply felt the need to delve deep inside of me and run riot in the infinite expanse of the audio cosmos. The result is a friction of mercilessly mechanical, heartless sound collages, combined with my typical melancholy-melodious style," Wolf explains the album's artfully interwoven experimental approach to his sound, which never detracts from the familiar atmospheric basic mood of his songs."A whole number of souls happen to dwell in my breast, which is why experimentation and the development of my musical existence simply belong together."
Outlier was recorded at Wolf's own Hamburg studio, the Two Square Noise Factory. With the exception of the solo guitar parts contributed by Eric Förster, all instruments were recorded by the KINGDOM COME boss himself. In addition, Wolf produced, engineered, mixed and mastered his new album. "Eighteen-months of struggle and madness lie behind me, a period which saw me go through the usual alternating bath of euphoria and doubt. As an artist, you can never be quite sure just what you've cooked up, but I happen to be an idealist and simply have to keep embarking on new adventurous journeys. The path of predictability has never satisfied me."
Outlier is KINGDOM COME's first studio album featuring completely new material since the arrival of their 2009 release Magnified and will be released as CD and download worldwide through SPV / Steamhammer.