Singer and song writer Tom Brosseau was the opening act for the evening and took the stage with just him and an acoustic guitar. Brosseau swooned the small crowd with his emotional songs full of compassion and a slight optimism. Brosseau made cute conversation with the audience about the inspiration for his songs, that come from his Grandma and growing up in North Dakota. He said of The Egg, "(It) Always remains my favorite sight and sound."  One of the songs that stood out most to me was "Youth Decay" a sorrowful melody that showcased Brosseau's gifted folky guitar playing. As talented as Tom Brosseau was, I was hoping for a more upbeat opener for The Punch Brothers at The Egg.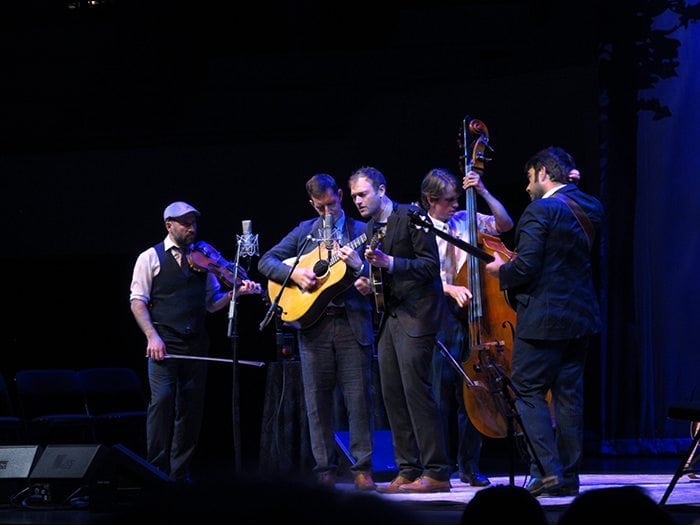 Much to my surprise the seats were half full as the progressive bluegrass band; The Punch Brothers took the stage.  The first beautiful notes are played and the audience falls deadly quiet; such a beautiful sound deserves complete silence. The feel of the music as it rapidly circles around the odd curves of the room only to gently wash over you, are irreplaceable. PB played a lot of songs off their newest album from February, Whose Feeling Young Now? showcasing a fine array of the bands individual as well as group talent.
"No Concern of Yours" was a heartbreaking tune, especially with hard strumming from Chris Eldridge playing guitar. Noam Pikelny on banjo helped guide the music through the evening with a bluegrass sway.  "This Girl" was a song "about relationships" with lyrics full of love, a melody upbeat and sweet with chords that give you butterflies. Gabe Witcher was master of the fiddle as his strings had the ability to create visions and thoughts of the great outdoors and adventure, who said, "This song is about a place not too far from here" an obvious hint for one of their new songs, "New York City." A fast tempo is kept up throughout the song, creating multiple beautiful build ups, similar to any day in the big city. The Punch Brothers have a fluidity that couldn't be broken.   I was delighted to remember that the PB were fans of Radiohead too and couldn't have been more impressed with their rendition of "Kid A."  Paul Kowert's steady bass notes were haunting, making this a cover song that any Radiohead fan should listen to. The night closed with one of their popular tunes, "Rye Whiskey" a mischievous song that had the audience nodding their heads in approval and wishing the show didn't have to end.
It was fun to watch Thile wander from his center spot to his surrounding band mates, everyone playing off of each other. For a good amount of the show, Chris Thile seems to be possessed by his very instrument. His body jerks uncontrollably as his fingertips radiate pure soul. Thile has brought life back into the mandolin, performing improvisational bluegrass, classical, folk and jazz with grace and sincerity. This musical experience was sacred, refreshing and inspiring to me. The music of the Punch Brothers expands the space in your mind and urges you to stretch your thoughts.
Go to punchbrothers.com or find them on Facebook for more information on the bands tour dates as well as merchandise. I highly recommend purchasing their newest album, Whose Feeling Young Now? as well as Chris Thile's solo album The Goat Rodeo Sessions" which was recently collaborated with Yo-Yo Ma.