One of the great rites of passage into summer that the Northeast offers every year takes place in a small campground tucked in the woods of northern Massachusetts. I'm talking about StrangeCreek Music and Arts Campout Festival of course, and Camp KeeWanee. This quaint campground in Greenfield, MA is typically used for children's summer camps, but before that gets underway, the summer kicks off with a fantastic festival that features some of the finest bands that this region of the country has to offer as well as some true up and coming acts.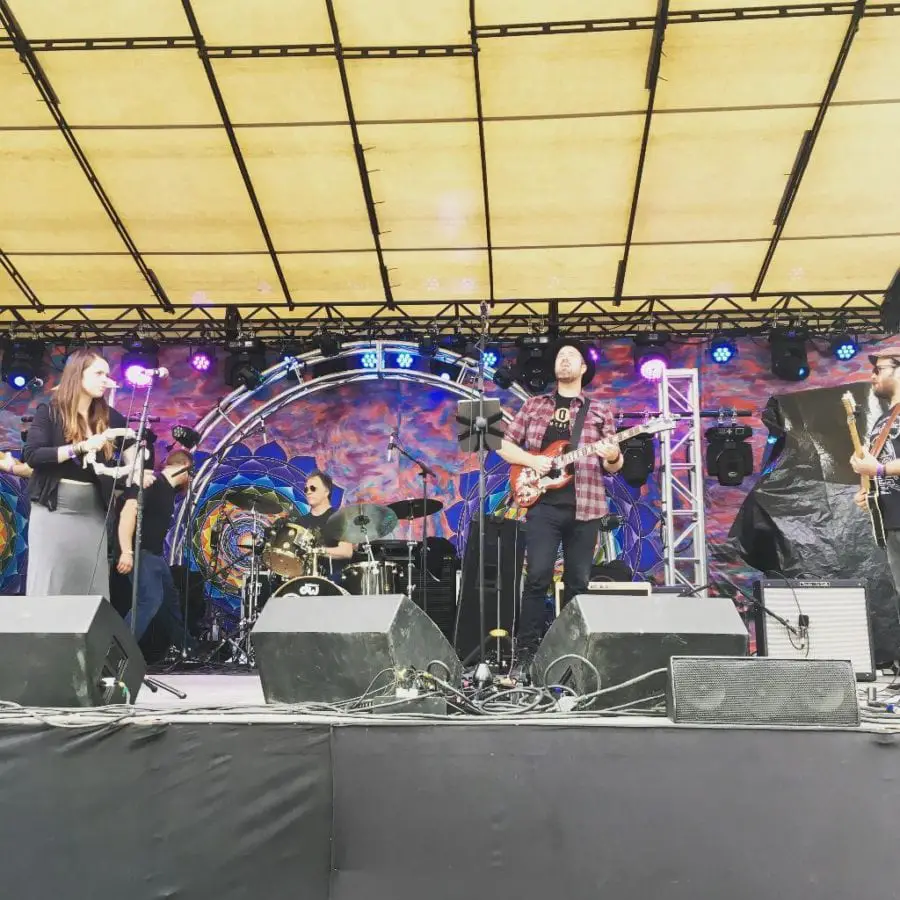 We arrived at the campgrounds late Thursday night after driving though a pretty light but constant rain storm. An early arrival like this is paramount for this festival. One of the more unique aspects of StrangeCreek is that pretty much all of the general camping area is in a wooded area right next to a small river. There are plenty of spots there to set up camp sites, and large ones at that, but they go quickly and the later you arrive, the further back into the woods you have to trek in order to set up a base camp. Early birds are really rewarded in this aspect as they get first dibs on the woods, so to speak.
After a quick hello and chat with festival promoter and Wormtown owner Mark Blanchette upon arrival, we were on our way to try to set up camp as best we could in the dark, wet surroundings. Mark and his Wormtown crew do an incredible of producing and hosting StrangeCreek every year. They seem to have it down to a science with the festival now in its 10th year of existence. There were plenty of people around for help if it was needed, readily available supplies like ice and security maintained a steady but low key presence all weekend.
Despite the elements, setting up camp in the woods was devoid of hassle. Having two experienced festival goers made things a little easier. Some much needed sleep parlayed into Friday morning and the first day of music. As more festival goers arrived with gear in tow, Timbre Coup played a relaxed but energetic set on the main stage. This group from Albany, NY always seems to deliver interesting, progressive music and definitely fit in the aforementioned 'up and comer' category. Their mix of rock and funk grooves, along with a bubble making machine in the audience, made for a fun set and nice start to the weekend.
The Alchemystics once again brought their mix of reggae, funk and soul to StrangeCreek and ushered in the evening session. This band is no stranger to this festival and by the end of their set, they had everyone moving and spirits were high. This gave way to the night's headliners, Donna the Buffalo. This eclectic yet funky group has now been delivering infectious tunes for more than 20 years. Formed in Ithaca, NY, DtB offers a little bit of everything as a band. They have elements of rock, blues, country and zydeco in their music and the band has always maintained a socially conscious image. While some band members have come and gone, the core of the group remains in Jeb Puryear and Tara Nevins. Donna's set featured classics such as "If You Only Could See" , "No Place Like the Right Time" and "Family Picture". Along with some newer tunes thrown in, their set threw the night into high gear and almost assuredly garnered them some new fans.
Another true rising star on the scene, Dopapod, threw it down in one of the late night cabins. Their set kept the party going and was high energy to say the least. With every performance, this group seems to get both collectively better and more off the wall. Their brand of rock meets acid jazz meets electronica is a welcome addition to any weekend. They have a full summer slate of shows this year and are sure to be a fixture in the late night festival slot. Do yourself a favor and make some time for this band this summer; you'll have plenty of opportunities.
As night turned to day, the Wormtown Cabin was filled with the familiar sounds of The Grateful Dead via the cover band Shake Down. Their set kept the cabin nice and hot and was ended with a truly mesmerizing version of "Morning Dew." With the sun almost fully risen, it was time to call day 1 a success and try to rest up for day 2.
Saturday saw both the temperature and amount of live music increase. The afternoon kicked into gear with a set from the new look McLovins. Guitar virtuoso Jeff Howard is out and two new guitarists, Atticus Kelly and Justin Berger, have entered the fold. Their set was light and enjoyable and included a take on "Shakedown Street", keeping the Dead vibe alive and well. With two new members in the band, the musical execution may not have been as crisp as past shows, but clearly the foundation for a new and fuller sound has been laid. With more practice and regular gigs, this band should remain a must see on the festival circuit. It's just a shame they no longer have a band member who slightly resembles the actual McLovin character.
The afternoon action on the main stage continued with Marco Benevento and a set full of musical mastery and whim. Playing with Dave Dreiwitz on bass and Andy Borger on drums, Benevento went through many song found on his solo albums. A true highlight was the new tune "Fireworks" which established a bright and sunny mood on a gorgeous sunny mood. A notorious consumer of Marker's Mark, Marco even ducked off stage between songs and provided a fan with some from his personal stash. When he wasn't playing bartender for the crowd, Benevento flashed the musical prowess and wackiness that have made him a household name as it pertains to the jamband scene.
Toubab Krewe, an act growing in national popularity, took the stage soon after and delivered a set full of its typical ethnic grooves and rhythms. They wowed the audience with their mastery of various instruments and styles. Afterwards, on the other main stage, a StrangeCreek staple, New Riders of the Purple Sage, kept the music going. This is another band that has performed at StrangeCreeks of yore and they kept the Dead vibe going that was prevalent all weekend with an absolutely stirring rendition of "Peggy-O".
Finally, it was time for Saturday's headliner and co-name sake of the festival, Max Creek. You can tell right away when a band consists of members that have been playing together for years and make musical mastery seem almost effortless. Max Creek fits this description and they delivered another set that was high in intensity and fun. They delivered a fun mix of originals and covers, the latter of which was highlighted by an explosive version of "Eminence Front" that closed the action on the main stage for the day. Other fun covers from this set included "The Night They Drove Old Dixie Down" and "Helter Skelter".
The late night action was highlighted by a performance from Giant Panda Guerilla Dub Squad. Their brand of high-octane reggae and funk is a welcome addition to any late night grouping. This band has sure come a long way from playing in the woods (and not being on the bill) at one the early Camp Biscos. A performance by Viral Sound kept everyone moving and shaking in the Kee Wanee cabin until the wee hours of the morning.
As Sunday arrived, some festival goers began to pack up and break down their campsites in an effort to stay ahead of the game. With Monday being Memorial Day, this is not an essential action by any means, but usually a smart one. We decided that leaving Sunday night wasn't a bad idea, as a weekend full of sun and music was beginning to take its toll. However, there was business to attend to first.
The Tells, a StrangeFolk side project of sorts, played their typical Sunday set at the Vernville stage. They succeeded in keeping the spirit of The Grateful Dead alive with a sweet and soft cover of 'Ripple' after playing a few Strangefolk songs that had been on the shelf for over a year. Another fun aspect of StrangeCreek is the presence of small side stages placed in openings in the woods. All weekend long, lesser known bands filled the woods with music. Some not-so-lesser known bands also saw action on this stage as Tom Hamilton and his American Babies performed Sunday night and Dangermuffin the night before.
A hot and humid afternoon soon gave way to the night and two of the bigger acts on Sunday. Ryan Montbleau Band, another festival regular, got the crowd warmed up with a fun, hip set that showcased his song writing (and performing) talent. He's developed a fervent following that seems to get a little bigger and louder each time out.
With everyone in good spirits, it was then time for the other co-name sake of the festival, Strangefolk, to take the stage. Earlier this year, the band had a very successful "reunion" tour with Reid Genauer back on vocals. However, this was the newer formation of Strangefolk, but that doesn't mean they didn't rock as hard. Hits like "Sweet New England" and "Entitled" were played to perfection and filled the night air with a beautiful and familiar sound. A cover of Crosby, Stills & Nash's "Carry On" served as both the encore and the bookend (for us) of the weekend. Alchemystics delivered another set in one of the late night cabins and they were followed by Jimkata, a band that is no stranger to the festival late night schedule.
If you're looking for a fun, close and well-run festival to kick start your summer, you need look no further than Greenfield, MA and StrangeCreek. It's a truly special weekend that sees many attendees returning faithfully each year. This sense of togetherness and community is prevalent from the moment you park your car. So ditch the beach and the barbecue one year and get to StrangeCreek. You'll certainly be glad you did.