Mikaela Davis is a great example of the diverse musical artistry that is electrifying the Flower City. She embodies originality, vision, and prolific virtuosity as a singer and player. Her songwriting abilities mixed with the mastery of the harp, have put her in a position to make highly creative music of a new and exciting ilk. I caught up with Mikaela recently to talk about her new record, a recently televised concert on WXXI, and all the things that the future holds.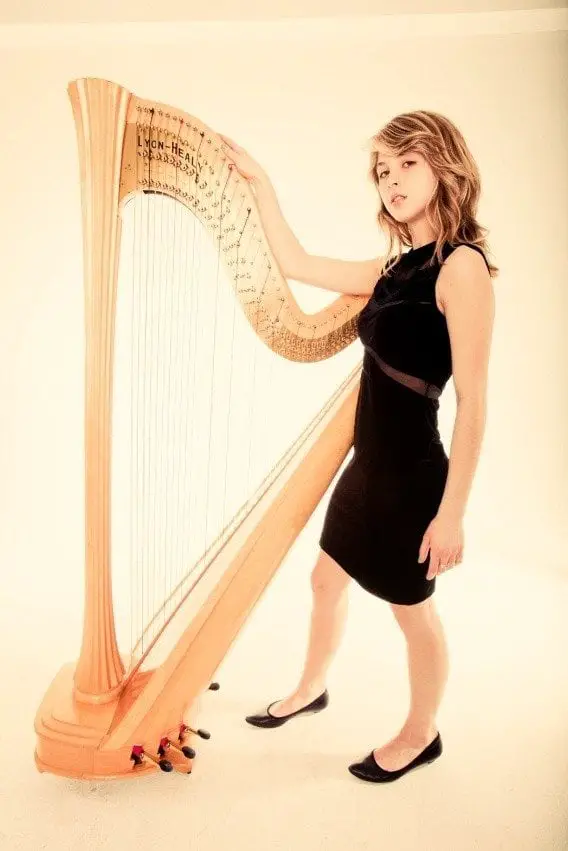 Erik: How did you get started with your musical education, and when did you first start writing songs?
Mikaela: Ever since I was little I knew I would be going to school for music. I decided to go to school for the harp, auditioned at schools, and ended up at the Crane School of Music in Potsdam for harp performance! I started writing songs when I was 12 for piano and voice. This was a way for me to let out stress, sadness, happiness, or whatever other emotions I felt! I put on two concerts of all original songs in 7th and 8th grade. I took a break from writing music, then started up again in late high school, deciding to start writing on the harp instead of the piano.
Erik: What escalated the decision to take on the harp, an instrument that takes incredible patience to master?
Mikaela: Actually, the harp is the instrument I started off with. In 3rd grade, I started up the harp and the piano at the same time. They offered harp in my school district (Penfield), so every school owns a harp or two. I wanted to learn how to play the harp so I could practice under the skylight in my living room and let my Oma (grandma) hear me. She passed away a year before I started taking harp lessons, and I was very close with her growing up.
Erik: Who are your biggest influences overall, and what influences play out most in your approach to the writing process?
Mikaela: My biggest influence is Sufjan Stevens, although I'm not sure if his writing style is reflected in mine. I'm also a big fan of Elliott Smith, The Beatles, The Remains, T.Rex, and so much more!!
Erik: The Bug Jar seems to be your performance home in the Rochester market? Obviously, you do play other venues here, but what is most appealing about most of your shows taking place within that uniquely great venue?
Mikaela: I really love playing at The Bug Jar. Mostly because I get to play with other amazing bands! I just recently played a show with My Brightest Diamond and it was such a great experience. There is a different crowd every time I perform, which means new fans!
Erik: How is it juggling the performance and writing schedule with the demands of musical curriculum at a school like Crane?
Mikaela: During school, I usually hang low with gigs and writing. I have a lot of work to do during the semester, as well as arranging one harp ensemble piece every semester! It's a lot of fun, and can be tiring at times, but driving home for a weekend gig or recording session is always worth it.
Erik: How is the whole recording process going over at Red Booth? Do you have a release date planned for the album, and what can we expect from the piece in general.
Mikaela: Alex Patrick (keys and guitar), Alex Cote (drums and percussion) and I recorded most everything over the summer. We've been adding things here and there, and recorded a newer song, I'm Just Tryin' To Be Your Friend, over Thanksgiving break. Red Booth Studios is great, such a warm environment. I always looked forward to going in and getting to hang out with Brian Moore (the engineer and owner). He's a great guy and really knows what he is doing; I trust him 100%!
Erik: I was wondering if you could tell me a little about your backing musicians, and their backgrounds?
Mikaela: Alex Patrick plays the keyboard and guitar in my band. He is a jazz guitar performance major at the Eastman School of Music. Alex Cote plays the drums and percussion and attends SUNY Purchase for jazz drumset performance. We all went to high school together and graduated the same year. The band actually came together by accident. I used to play by myself. Alex Cote wrote some bell parts to my songs, and slowly started adding drums to more performances. The three of us hang out all the time, so eventually Alex Patrick started writing guitar and keyboard parts to each song. They add so much to the sound!
Erik: How exciting was it, getting the opportunity to do OnStage for WXXI? Great performance by the way. How has the response been from friends and fans?
Mikaela: Such a great experience! It was so different being filmed by such large cameras, rolling around as we were playing… kind of scary! The response has been great! My family is always so supportive of me which I am so grateful for. I definitely have some new fans from the experience too which is great.
Erik: Do you have any plans to take the show on the road when things settle down in your life? Any touring plans imminent?
Mikaela: I want to go on tour this summer after the CD is released to get the word out, and travel to some cool cities. I'm honestly not sure what I want to do in the future, but if I could live off of touring and writing music for a little while, that would be the dream.
Erik: I ask this of many! Rochester is a highly diverse musical scene that is starting to get the attention it deserves on a national level. What do you think of your "home city," and the great things that are taking place at this time.
Mikaela: I have always loved Rochester. I can think of so many amazing people and bands that come from this city. I feel that Rochester will become more alive. There is definitely a lot of music cooking up in here; it just needs to get out into the world.
Stay tuned for more Mikaela news in the near future. We intend to announce more information on the release of her record as it becomes available. Also, catch her when she plays shows in Upstate. You will be mesmerized by what Mikaela and her band are bringing to the table.