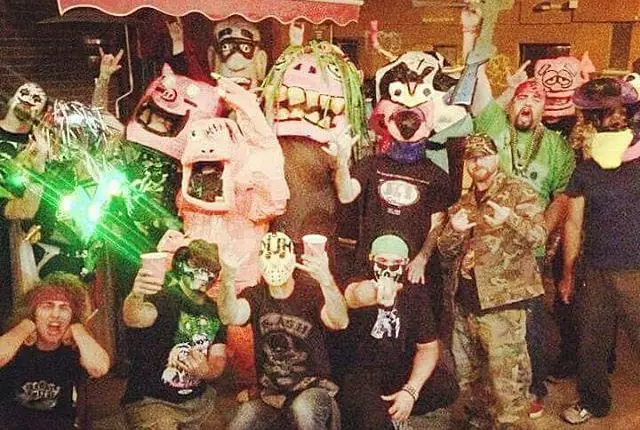 Once upon a time, there was a band who retold the story of The Three Pigs set to metal music, and the claymation video spent five weeks at the top of MTV's Headbangers Ball. Fast-forward a couple of decades and you will still find Green Jello up to their juvenile antics.
Green Jello is a punk/metal band founded in the Buffalo area by Bill Manspeaker who combined his love of comics, cereal and puppets with his lack of musical talent in an effort to create the worst band ever. Since its inception in 1981, the band has been notorious for its crude humor, riots and lawsuits from the likes of Kraft Foods, the Kellogg Company and Metallica. When Joey Ramone was asked about the worst opening act, he named Green Jello.
The feature-length documentary Green Jello Suxx Live  is a rip-roaring rumpus through a mini tour. It also contains historic footage and interviews. Created by band member Rob Gabriele on a menial budget of $5,000 raised from a Kickstarter campaign, the movie has the same DIY aesthetic as everything else the band has produced thus far.
The documentary starts with a live performance of the iconic rendition of "Three Little Pigs." Chaos reigned as a gaggle of band members wearing enormous homemade puppet costumes played with more gusto than talent. Frontman Bill Manspeaker stopped the show to talk to a drunken fan in the front row. And it's all downhill from there.
Between clips of live performances, viewers learn about the history of the band – Manspeaker's first puppet costume at age five, the band's riot at a rival high school, the performance on The Gong Show and the gig with The Ramones. Manspeaker also talks about how he ditched the model of a touring band and instead franchised band members in various locations across the US and Canada.
Nestled in the midst of all the interviews and clips of performances are small interludes. A tutorial demonstrates how to make a puppet head like the ones used by the band. Lloyd Kaufman, co-founder of the independent production company Troma Entertainment, delivers a few colorful commentaries about the band and the music video industry.
Manspeaker's family plays a prominent role in the movie. Green Jello went on hiatus when Manspeaker became a father. Encouragement from his son Damien led to the revival. Damien has been touring with his dad, playing the banjo. Manspeaker's wife and toddler have also come along on tour. For them, Green Jello is not just a band, it's a lifestyle.
And on a couple of nights per year, fans-turned-members from various franchises get in on the action, donning ridiculous costumes and wailing on instruments at deafening volumes to people intoxicated on lime gelatin shots. For 120 minutes, viewers of the film get a sense of what it is like to be at a live show. It's loud and vulgar and full of drunken fools partying with reckless abandon. In short, it suxx.
"Green Jello Suxx Live: The Movie" is available on DVD and limited edition VHS. A soundtrack will be available at a later date. Green Jello continues to tour and a list of upcoming shows can be found on the band's website.