It was a heavy night of sonic improv and heavy themes at Lark Hall on April 26th, when enduring jam band veterans Perpetual Groove made their long-awaited return to Albany.  Tackling topics of loss and regret, redemption and hope, the band was at the top of their game and demonstrated a level of musical maturity and precision that can only come from decades of playing together.  Commemorating 20 years since the group's breakout album, Sweet Oblivious Antidote, the evening also marked the debut of the venue's brand new disco ball.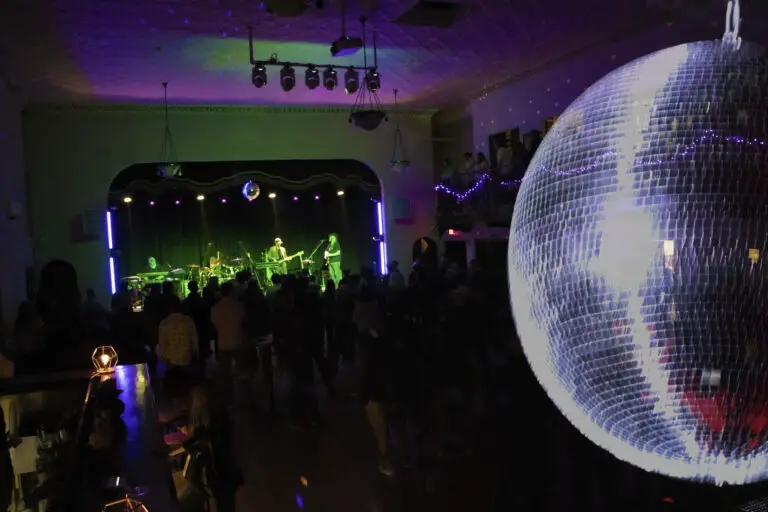 Kicking things around 8pm, The Social Assassins got things off to a loud and progressive start.  Featuring fusion guitarist virtuoso Gabriel Marin of Consider the Source, the band has only played handful of live shows together since their debuting in October of last year.  Marin, along with his trademark Vigier double neck guitar and a bevy of effects pedals, took us on a sonic journey through instrumentals like "Begrudging Acquiescence" and "The Red Hour," while his high energy band of Assassins pummeled away on songs like "Hora Attik" and "Blood Boi." Playing before a moderate crowd of concert goers on this Wednesday night, the band turned in a max effort performance for those who were there to appreciate it. A fusion of eastern influences mixed with everything from metal and disco, The Social Assassins surprised everyone with their unique sound, especially on their set closing version of A-ha's classic sing along "Take On Me."
After a brief intermission, it was officially time for Perpetual Groove to launch the Lark Hall crowd into orbit. Originally formed in 1997, the Athens, GA based quartet opened their single set performance with "Save For One" from 2007's Live Love Die album. Sounding fantastic from the opening note to the last, guitarist/vocalist Brock Butler would lead P-Groove straight into a heady version of "Stealy Man" that saw the crowd let out collective cheers and head bangs when it's extended jam dipped into the 'heavy' section before shifting gears into the first cover of the night with The Cars classic song "Drive," and then finally returning to "Stealy Man" to complete an impressive 30+ minutes of uninterrupted music to start the show.  After a few welcoming words, the groove would pick up again with another oldie in 2005's "Andromeda." 
Despite it being the 20th anniversary of the bands Sweet Oblivious Antidote album, Perpetual-Groove would only play one song from it, "TSM2." Laying down the tastiest of bass lines, Adam Perry stole the show next on a well-received version of "Crockett and Tubbs" that got the whole place dancing. A bit of a deep cut in "Cairo" was next, allowing keyboardist Matthew McDonald a chance to stretch out both musically and physically. The burley chairman's other-worldly synth textures were magnified all evening long thanks in part to the venue's brand-new disco ball that was also making it's Lark Hall debut during this performance.    
Perhaps the highlight of the show came next when P-Groove would uncork a monstrous version of the hard rocking "Speed Queen" bolstered by Butler's trademark precision and the heavy hands of the newest member of the band, drummer Darren Stanley, who joined in 2022 after spending time with Jimmy Hearing and Col. Bruce Hampton. The thunderous and cathartic peak would seamlessly transition into a beautiful and introspective version of "Out Here," a longtime live favorite that was only recently given the studio treatment. Following that up with one of Butler's most personal songs was "It Starts Where It Ends." Wailing away on his signature Stratocaster with eyes closed and his back arched, the song featured some of the most expressive playing of the night. Seamlessly transitioning into the set closing "Space Paranoids," the band performed like a well-oiled machine and spoke a musical language unto themselves, effortlessly communicating changes just by exchanging glances at each other.  
Rather than go through the typical rigmarole of exiting the stage prior to the encore, P-Groove would simply tell fans this will be their last song of the night and thanked them for coming out to their Lark Hall debut.  Opting to go with a crowd-pleasing cover of Talking Heads "This Must Be the Place (Naïve Melody)," coincidently the same song had also been covered by Ryan Montbleau at the venue just one week prior. Whether by choice or by happy accident, an agreeable theme appears to be emerging at Albany's newest concert spot.  After yet another night of stellar musicianship,  improvisation and overall good vibes, if Lark Hall isn't the place, then I don't know what is.
Perpetual Groove | April 26, 2023 | Lark Hall | Albany, NY
Setlist: Save For One > Stealy Man > Drive* > Stealy Man, Andromeda, TSM2, Crockett & Tubbs, Cairo, Speed Queen > Out Here, It Starts Where It Ends > Space Paranoids
Encore: This Must Be the Place (Naïve Melody)**
*The Cars cover
**Talking Heads cover
Social Assassins | April 26, 2023 | Lark Hall | Albany, NY
Setlist: Begrudging Acquiescence, The Red Hour, Hora Attik, Blood Boi, A Well-Placed Pen, Take on Me*
*A-Ha cover