Ace Frehley turns 72 on April 27th, proving you are never too old to keep rocking and rolling. While the famed guitarist is most known for his prominent role in the hard rock group KISS, he has also enjoyed a fruitful solo career. 
Perhaps one of his biggest solo hits is "New York Groove" – an anthemic encapsulation of Frehley's youthful spirit and the city that drove him to new heights. But it might surprise you to hear that he didn't actually write the tune. And that it was popular in Europe long before it ever reached America.
Ace Frehley was born Paul Daniel Frehley in 1951. He grew up in the Bronx and first picked up a guitar at the age of 14. It was here in New York City that Frehley saw the Who and Cream perform live, further solidifying aspirations of rock stardom into his young, impressionable brain.
Frehley cut his teeth on the local NYC scene throughout the late 60s and early 70's. It was during this time that he answered an ad calling for a guitarist in a hard rock group. It read, "Lead guitarist wanted with flash and ability."
That fateful listing brought him into the fold of bassist/singer Gene Simmons, rhythm guitarist/singer Paul Stanley and drummer Peter Criss –  KISS was officially born.
The band was signed to Casablanca Records in November 1973 and for most of the decade they toured around the world, skyrocketing to the top of their charts. Catchy choruses, searing guitar riffs and a flair for the theatrics helped the band stand out in more ways than one. A string of platinum albums and sold-out tours lasted throughout the late 70's.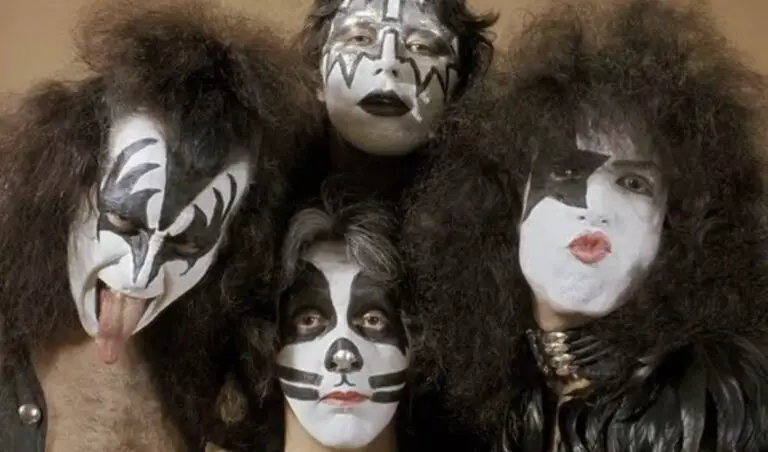 Despite the hectic schedule, all four members of KISS recorded and released respective solo albums on the exact same day in 1978. Frehley's project was self-titled and featured what would become one of his most popular solo tracks: "New York Groove."
While the song feels representative of Frehley's own experiences in New York, the track is actually a cover, originally written by Russ Ballard and recorded by a glam-inspired rock band called Hello. The original track achieved a fair amount of success in Europe, charting at #9 in the U.K. and #7 in Germany. It was reportedly recorded in less than 5 hours in a studio just north of London.
Ballard said in an interview that he had the idea for the song while on a plane ride to NYC.
I felt that'd be a good title for a song," he said. "The whole idea was of someone going back to New York and singing about the experience."
The song encapsulates the feeling of a nostalgic return to a place once called home. It starts with the lyrics: 
Many years since I was here
On the street I was passin' my time away
To the left and to the right
Buildings towering to the sky, it's outta sight
After years of relentless touring, one would think Frehley could relate to the feeling of coming home for the first time in a while. But apparently, Frehley was not enthusiastic about recording the song; he had never even heard the track before covering it. But alas, the label wanted a more commercial song on the album and so, Frehley went ahead with it.
In an interview with Louder Sound in 2016, Frehley put it like this:
"A lot of people think I wrote New York Groove. It's not a myth that I've perpetuated, but that's the way it is. I wish I would've wrote the song, though. I would've made a lot more cash out of it, ha-ha-hargh!"
While most of Frehley's solo album was recorded in a studio in Connecticut, "New York Groove" was a late addition and was recorded in Plaza Sound Studios, right above Radio City Music Hall. 
Frehley, Simmons, Stanley and Criss all released their solo albums on September, 18th 1978. But Frehley was the only one who managed a hit single, with none other than "New York Groove. "It stayed on the U.S. charts for 21 weeks, peaking at #13.
Frehley told Louder Sound in that same interview that there was no competition among bandmates to have the best record. But he also revealed that he hadn't really listened to his fellow bandmates' projects. 
"I did put Gene's on once," he recalled in the interview. "When I heard his version of When You Wish Upon A Star I had to pull it off the turntable, ha-ha-hargh!"
Frehley has continued to release solo projects in the past few decades. His most recent solo album, Origins Vol. 2, was released on September 18, 2020. It is a follow-up to Origins Vol. 1, released in 2016. Both consist of covers of some of Ace Frehley's favorite songs. Still, "New York Groove" remains a signature song.
In an interview, Russ Ballard attributes the song's success to its simplicity. "I guess it surprised me because it's so incredibly simple. They say a good song will always sell, and there's a lot of truth in that."
"New York Groove" Lyrics
Many years since I was here
On the street I was passin' my time away
To the left and to the right, buildings towering to the sky
It's outta sight in the dead of night
(Ooh) Here I am, again in this city
(Ooh) With a fistful of dollars
And baby, you'd better believe
I'm back, back in the New York Groove
I'm back, back in the New York Groove
I'm back, back in the New York Groove
Back in the New York Groove, in the New York Groove
In the back of my Cadillac
Wicked lady, sittin' by my side, sayin' "Where are we?"
Stopped at 3rd and 43, exit to the night
It's gonna be ecstasy, this place was meant for me
(Ooh) I feel so good tonight
(Ooh) Who cares about tomorrow
So baby, you'd better believe
I'm back, back in the New York Groove
I'm back, back in the New York Groove
I'm back, back in the New York Groove
Back in the New York Groove, in the New York Groove
I'm back, back in the New York Groove
I'm back, back in the New York Groove
I'm back, back in the New York Groove
I'm back, back in the New York Groove
I'm back, back in the New York Groove
I'm back, back in the New York Groove
I'm back, back in the New York Groove
I'm back, back in the New York Groove
I'm back, back in the New York Groove
I'm back, back in the New York Groove