featured image by Derek Java
I've been hearing about Matt Niedbalski for nearly 30 years. From the day he was born, it seems that he was destined to become a great drummer. I've been fortunate to hear all about his accomplishments and achievements, including his earliest lessons, gigs, even equipment from his uncle.
You see, Matt is no ordinary drummer. His musical tutelage began with his uncle; The Drummer of Love, Mr. Gene Sennes. Gene and I have been friends, bandmates and fellow percussionists for years, and one of his favorite topics of conversation is his nephew, Matt Niedbalski.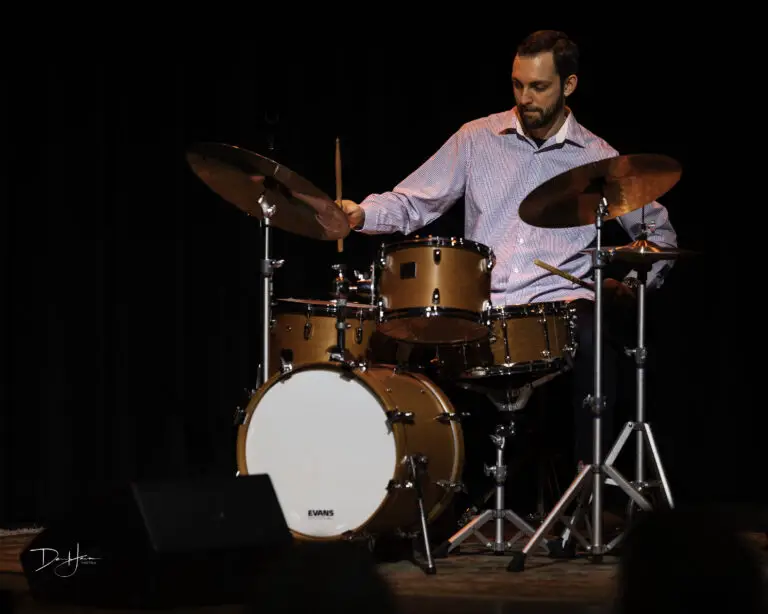 My first real conversation with Matt took place at Parkway Music, where I was scheduled to interview another drummer, who couldn't make it. Fortunately, I spent a couple of hours talking drums, jazz, and life with Matt. I found Matt to be a very engaging, knowledgeable, humble individual, with a very "old soul" vibe. I was impressed with his humility, and lack of ego. He is very complimentary of other local players and quick to give credit to his colleagues, teachers and friends.
Matt's playing is both relaxed and restrained; with an easy going, smooth use of polyrhythms, and exceptional dynamics. He's a phenomenal player, and a terrific human being. Gene Sennes told me, "He's my favorite drummer. He is technically sound, plays with great feel, has great time and an excellent sense of dynamics and color. The kid is world class, man!" So please welcome, Matt Niedbalski!
RRX: How old were you when you started playing drums? How did you get started?
MN: I got my first kit when I was two years old. I saw my uncle Gene playing drums as a toddler (either with the Royals, or Rabb for context. I know you remember!) and thought it was the coolest thing I'd ever seen and wanted to do that. It started with beating up on random objects around my grandmother's house with a pair of sticks he gave me and after I started putting dents in the end table my uncle and grandmother realized I had the bug and got me a junior CB drum-kit which I believe the family still possesses to this day. I know they say you don't start forming memories until later than two but I still see them pulling the sheet off the kit. I started taking formal lessons at age eight with Ted Mackenzie.
RRX: Who were some of your influences early on?
MN: My grandmother had a cassette of the compilation "Past Masters Vol 2" by the Beatles and the first track on that is "Day Tripper". Ringo was definitely my first drumming influence, followed by Joey Kramer in Aerosmith and then John Bonham. After getting involved in drum lessons and being introduced to jazz Elvin Jones made me start to focus on what I actually wanted out of the drums.
RRX: What are some of your earliest gigging experiences?
MN: I got involved in this small jazz group of older students when I was around 13 and we had a coffee shop gig every Sunday at this spot called Virgil's Coffee House in Saratoga, which is now the hardest place to get a beer in town, Henry Street Taproom. Around the same time or slightly after I started sitting in with guitarist Tony Jenkins who was based around the Glens Falls area and had a Friday night gig at Wallabee's Jazz Bar which is now the Bourbon Room. He'd have me sit in with the band and my parents would have to sit at the bar to make sure I didn't drink or smoke and eventually I got the gig with him.
RRX: Who are some of your influences now?
MN: I still listen to my earlier influences and drummers I started checking out in college so from a jazz perspective it's the ones everyone always lists in an interview situation to make sure they're viewed as a credible jazz drummer…so Elvin, Philly Joe Jones, Papa Jo Jones, Billy Higgins, Art Blakey, Max Roach etc. But I really gravitated towards two drummers specifically during my time at college. I went to school at William Paterson University which has a great jazz program and is located about 40 minutes outside of NYC. I would go to the city and check out drummers, but my two favorites were Eric McPherson and Nasheet Waits. Oddly enough they were best friends growing up in Greenwich Village and Nasheet's dad is the legendary jazz drummer Freddie Waits. I saw them and quite literally went, "Oh shit!"! I ended up hanging out with them after gigs, pestering them with questions and took a lesson with Nasheet. I still keep in touch with him. They are both super gracious and all about music. I'm known as a jazz drummer by most people, but my first love is rock and I fucking LOVE Soundgarden and Matt Cameron is a huge idol of mine. And he has a great first name. Finally, Bill Goodwin was a professor of mine at WPU, and happens to be a legend in his own right but also is like an uncle to me. One of the coolest people ever, a great record producer and all around amazing human being.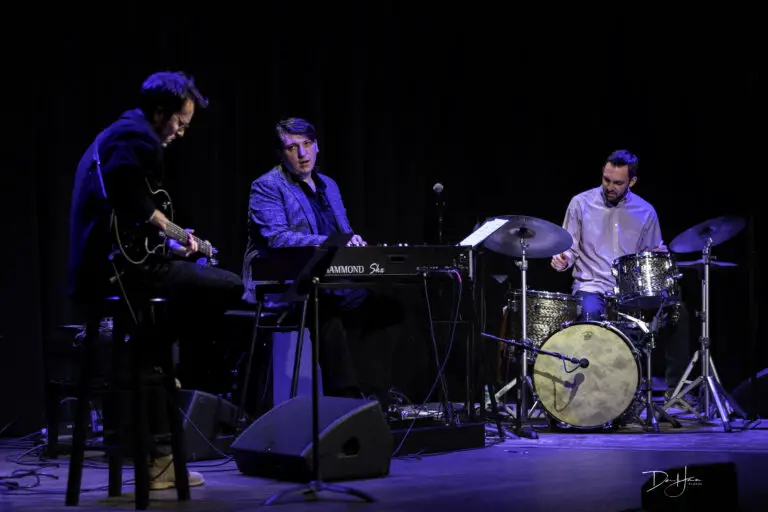 RRX: Tell me about your first kit.
MN: After the CB kit I mentioned, my first full size kit was a Pacifi c 5pc. Kit, the cheaper DW because Uncle Gene is a DW guy. He snuck into my parents' basement on my 8th birthday and set it up, complete with your classic Sabian B8's.
RRX: How about your current set-up?
MN: I feel like there are two kinds of drummers, and I further confirmed this working at Parkway. There's the drummers that have 18 kits and a few cymbals or the drummer that has one or two kits and a million cymbals. I'm the latter. I switch between a Yamaha Maple Custom absolute kit in bop sizes that my parents got me as a graduation present and a 1967 Rogers Holiday kit in black onyx. That one is 12 14 20 so I can either tune that kick up higher and wide open for a more "jazz" sound or throw a super kick II or some muffl ing in it to get a more punchy rock sound. Some bigger drums are in my future… My go to snare as of late is a Pearl Masterworks Mahogany drum which is 6.5×14. Very warm and has a lot of depth but can bark if you need it to. When I used a metal snare it's a 1960s Ludwig Supraphonic
Ted Mackenzie gave me which he took all the chrome off of because it was flaking off and cutting his hands. My setup for cymbals is changing at the moment. I was playing a 1960s 20" Zildjian A with 3 rivets given to me by Bill Goodwin and a 15" 60s A Crash that once belonged to Sarge Blotto. It had a bunch of cracks in it that I drilled holes in so they didn't get worse. That cymbal has a lot of vibe. As for hats 1960s pre serial Paiste 602s. I recently just signed an endorsement deal with Bosphorus after playing a few models of cymbals recently. I really dug them.. I liked them since they are still handmade. Some of the modern cymbals I've played in recent years felt very stiff to me which is why I always would go back to my vintage Zildjians. The Bosphorus stuff plays pretty soft and you can really dig into them. I have a fear of those cymbals cracking, and the guys at Bosphorus did an incredible job capturing the vibe of my old cymbals and modernizing them. I currently play
s 20" Bosphorus 20th Anniversary ride with 2 rivets, 18" Bosphorus 1600 crash and 14" Master Series Hi Hats. I currently endorse Vater drumsticks.
RRX: Do you play any other instruments?
MN: I do, my father plays guitar and I wanted to learn when I saw him playing with his buddies on the weekend so he gave me a book of chords around age 12. Around 14 I bought a bass and in college I had to take piano lessons as part of the general curriculum. When I'm not practicing drums or working on a mix (I also do some recording engineering) I'm usually making demos for fun in my home studio to shed recording and or just playing the guitar. I use the piano as a compositional tool for some of the jazz projects I'm involved in.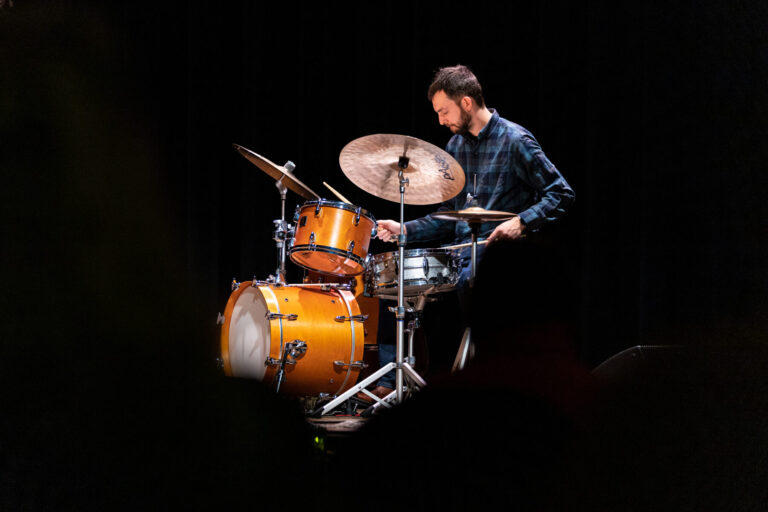 RRX: Tell me about your current projects.
MN: I currently play with Charles Cornell. I've been playing trio with him and Steven Kirsty since we were in high school, and I love them like brothers. Charles has been developing a successful YouTube page in the last few years and lives in Colorado. Steve and I jump on a plane and fl y out that way to record and film for his channel so that will be a big focus of 2023. I co-lead a trio with Tyler Giroux and Dylan Perrillo called GNP, a rather clever acronym, yes? We released an album called "Codes" on a small label called Ears & Eyes and are currently working on a follow up album. I've been playing with my friend Rob Fleming for his project Rhoseway, which features his great original music. Other than that, freelancing with various musicians usually playing jazz.
RRX: Now for some fun; tell us about your dream kit, dream gig, and who is in your dream band?
MN: Either Elvin Jones's 70s Yellow Stop Sign Gretsch kit or the Bonham Green Sparkle Ludwigs. Dream gig is being in the touring band for Chris Cornell's Euphoria Morning tour. That first solo album is pure gold. Dream band for rock, definitely Chris Cornell on vocals/guitar, Ken Andrews on guitar and John Paul
Jones.
RRX: Any drumming horror stories or good drummer jokes?
MN: Oh, plenty of horror stories. It all started with me playing the finger cymbal part in concert band 4th grade and the rope broke and rolled under the clarinet section. I was mortified. Then there was the time I played two crash cymbals and ride without wingnuts on the stands during this concert up at the Strand Theater. We hit an intense section and I play with my eyes closed otherwise I get distracted. I went to hit the crash and "missed" and thought hmm that's strange, so I tried again and hit the stand, opened my eyes and realized I sent two cymbals flying and all I had left was the ride. Finally, I was playing at this biker bar, the Great Notch Inn in North Jersey for my buddy Vin's CD release party. Everyone was hammered and wouldn't you know it was the only time I ever brought my own drums. The owner was a drummer and had an old set of Ludwigs as a house kit but on a CD release party, a special occasion, I brought my Rogers. Second to last song there's a couple doing the do se do and the bar is kinda tight and another patron connects with the couple and flies through my drums sending the rack tom flying and knocking the ride over. Luckily, my pal Steve Kirsty was playing bass and managed to catch the ride with his knee and told me he couldn't feel his leg from knee down but was pretty proud of saving the cymbal. As for drummer jokes, I don't think mine are appropriate for an interview…
RRX: Fair enough! OK: Tommy Lee, or Travis Barker?
MN: This is a tough question. I would say Travis Barker. I'm not really a fan of either Motley Crue or Blink however I can tell Travis truly loves the drums and always has a practice pad with him. We all know what Tommy Lee loves.
RRX: Wrong! The answer is Buddy Rich. Do you know Buddy Rich's real name? No cheating!!!
MN: Ted would be really disappointed in me, but I blanked. So, no. But I had to look it up otherwise I wouldn't be able to sleep tonight. Bernard… take away my music degree.
RRX: Your secret is safe with me. Finally, how has your drumming changed over the years?
MN: This is a great question. I would answer by saying I am now at a point where I try to balance technical ability and musicality, and that balance was WAY off in my early 20s. I would see some of my heroes play some pretty impressive shit and then get up on the bandstand and try to insert that into the music where it wasn't appropriate. I try to be more patient and listen to what the other people are playing more now and wait for space in the music to make a statement. Yes, there are times when I want to push someone and make the earth under them move a little bit, but I try to be tasteful. I heard a saying once, "the drummer is the mother of the band" It's kind of our job to make everyone sound as good as they can while also bringing some energy and excitement to the situation so I try to keep that in mind when I play. I could go further into some philosophies but I already feel myself becoming long winded so I will leave it there.
RRX: You were great! Thank you for your time. Matt Niedbalski is a name you won't forget; just go see him play and you'll see what I mean.
This article was originally publisher by RadioRadioX