The exhilarating rock band, Måneskin announced their world tour, RUSH! The rockstars will perform across North America, South America, Japan, Europe, UK & Ireland, and Australia, and appear at Madison Square Garden on September 21.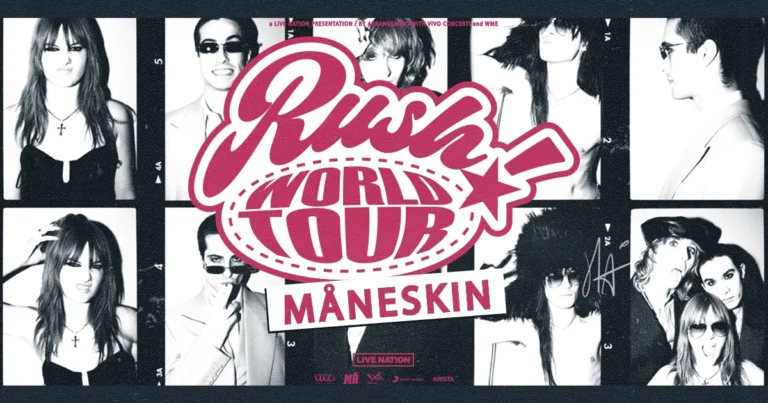 Last year while touring the United States, Måneskin sold out 100,00 tickets across 25 shows. In Rome, the group took over the historic Circo Massimo with 70,000 tickets sold. The band has also dominated other festival stages around the world including Coachella, Rock in Rio, Lollapalooza.
After an incredible experience in South America, the band will return, visiting Argentina, Brazil, Chile and Colombia for the first time. After the star's remarkable exclusive show and stand-out set at Summer Sonic in 2022, Måneskin is bringing RUSH! To Japan. Additionally, for the first time ever, the vibrant musicians will visit Australia, holding shows in Brisbane, Sydney, Melbourne and Adelaide. Lastly, fans can rock out to Måneskin in Germany, France, Ireland, UK, Manchester and Dublin.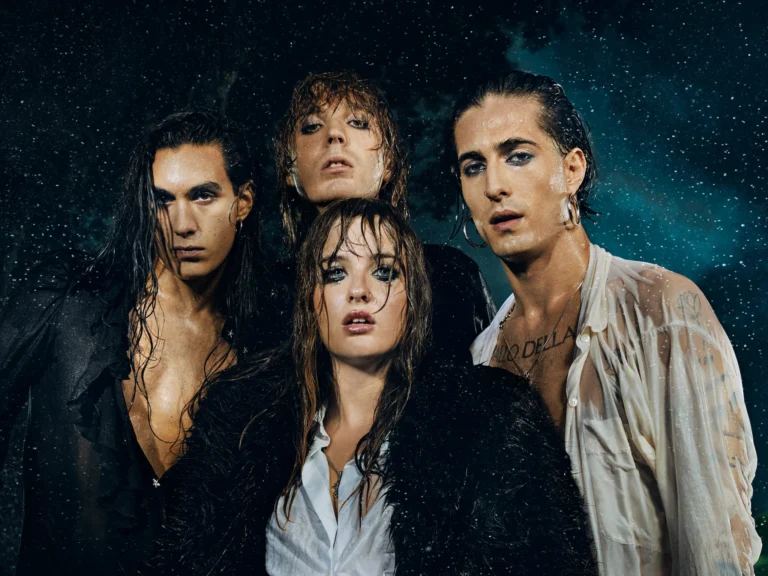 Prior to RUSH! Måneskin will play five special stadium shows in Italy with more than 220.000 tickets already sold. Alongside both tours, Måneskin will command stages at Glastonbury and Primavera Sound this summer.
RUSH! shares the name of the band's latest album released in January 2023. The chart dominating album reached #1 in fifteen countries and top five in twenty countries. It also garnered over 800 million global album streams, in addition to the band's impressive 7.3 billion global artist streams. This abundance of success led to the band's first Grammy award in 2023.
The general sale for RUSH! will start on Thursday, March 23. Tickets can be purchased here.
Måneskin RUSH! World Tour
February 23, 2023 – Pesaro, Italy – Vitrifrigo Arena SOLD OUT
February 25, 2023 – Turin, Italy – Pala Alpitour SOLD OUT
February 27, 2023 – Amsterdam, Netherlands – Ziggo Dome (previously at: AFAS LIVE) SOLD OUT
March 2, 2023 – Brussels, Belgium – Forest National SOLD OUT
March 3, 2023 – Brussels, Belgium – Forest National SOLD OUT
March 6, 2023 – Berlin, Germany – Mercedes Benz Arena SOLD OUT
March 10, 2023 – Cologne, Germany – Lanxess Arena SOLD OUT
March 13, 2023 – Paris, France – Accor Arena (previously at: Zenith) SOLD OUT
March 16, 2023 – Bologna, Italy – Unipol Arena SOLD OUT
March 17, 2023 – Bologna, Italy – Unipol Arena SOLD OUT
March 20, 2023 – Florence, Italy – Nelson Mandela Forum SOLD OUT
March 21, 2023 – Florence, Italy – Nelson Mandela Forum SOLD OUT
March 24, 2023 – Rome, Italy – Palazzo dello Sport SOLD OUT
March 25, 2023 – Rome, Italy – Palazzo dello Sport SOLD OUT
March 28, 2023 – Naples, Italy – Palapartenope SOLD OUT
March 29, 2023 – Naples, Italy – Palapartenope SOLD OUT
March 31, 2023 – Bari, Italy – Palaflorio SOLD OUT
April 3, 2023 – Milan, Italy – Mediolanum Forum SOLD OUT
April 4, 2023 – Milan, Italy – Mediolanum Forum SOLD OUT
April 6, 2023 – Milan, Italy – Mediolanum Forum SOLD OUT
April 11, 2023 – Barcelona, Spain – Palau Saint Jordi SOLD OUT
April 26 2023 – Zurigo, Svizzera – Hallenstadion (previously at: Halle 622) SOLD OUT
April 28, 2023 – Vienna, Austria – Wiener Stadthalle SOLD OUT
April 30 2023 – Esch-sur-Alzette, Luxembourg – Rockhal SOLD OUT
May 2, 2023 – Copenhagen, Denmark – The Royal Arena
May 5, 2023 – Milan, Italy – Mediolanum Forum SOLD OUT
May 8, 2023 – London, UK – The O2 Arena (previously at: O2 Academy Brixton) SOLD OUT
May 12, 2023 – Warsaw, Poland – Torwar Hall SOLD OUT
May 14, 2023 – Prague, Czech Republic – O2 Arena (previously at: Malá Sportovní Hala) SOLD OUT
May 16, 2023 – Budapest, Hungary – Budapest Arena (previously at: Barba Negra) SOLD OUT
May 18, 2023 – Riga, Latvia – Mežaparks Grand Stage (previously at Arena Riga) VENUE UPGRADE
May 19 2023 – Tallinn, Estonia – Saku Suurhall SOLD OUT
16 July 2023 – Trieste, Italy – Stadio Nereo Rocco
20 July 2023 – Rome, Italy – Stadio Olimpico SOLD OUT
21 July 2023 – Rome, Italy – Stadio Olimpico 
24 July 2023 – Milan, Italy – Stadio San Siro SOLD OUT
25 July 2023 – Milan, Italy – Stadio San Siro
September 3, 2023 – Hanover, Germany – EXPO Plaza
September 6, 2023  – Nancy, France – Nancy Open Air
September 21, 2023 – New York, NY – Madison Square Garden 
September 23, 2023 – Columbia, MD – Merriweather Post Pavilion 
September 25, 2023 – Boston, MA – TD Garden
September 27, 2023 – Toronto, ON – Scotiabank Arena  
September 29, 2023 – Chicago, IL – Allstate Arena 
October 1, 2023 – Detroit, MI – Michigan Lottery Amphitheatre at Freedom Hill
October 3, 2023 – Nashville, TN – Nashville Municipal Auditorium 
October 6, 2023 – Irving, TX – The Pavilion at Toyota Music Factory
October 10, 2023 – Los Angeles, CA – Kia Forum 
October 13, 2023 – Oakland, CA – Oakland Arena 
October 15, 2023 – Vancouver, BC – Doug Mitchell Thunderbird Sports Centre
October 20, 2023 – Mexico City, Mexico – Palacio De Los Deportes 
October 24, 2023 – Bogotá, Colombia – Movistar Arena 
October 27, 2023 – Santiago, Chile – Estadio Bicentenario La Florida 
October 29, 2023 – Buenos Aires, Argentina – Movistar Arena 
November 1, 2023 -Rio de Janeiro,  Brazil – Qualistage 
November 3, 2023 – San Paulo, Brazil – Espaço Unimed 
November 20, 2023 – Brisbane, QLD – BCEC
November 22, 2023 – Sydney, NSW – Hordern Pavilion 
November 23, 2023 – Melbourne, VIC – Margaret Court Arena 
November 25, 2023 – Adelaide, SA – AEC Theatre 
November 27, 2023 – Singapore 
December 2, 2023 –  Tokyo, Japan
December 3, 2023 –  Tokyo, Japan
December 7, 2023 – Kobe, Japan
December 14, 2023 – Dublin, Ireland –  3 Arena
December 19, 2023 – Manchester, UK – AO Arena