Lake George Arts Project's annual Bands n' Beans is back for its 29th year, set to take place on Sunday, March 26 from 2pm – 7pm at The Fort William Henry Conference Center.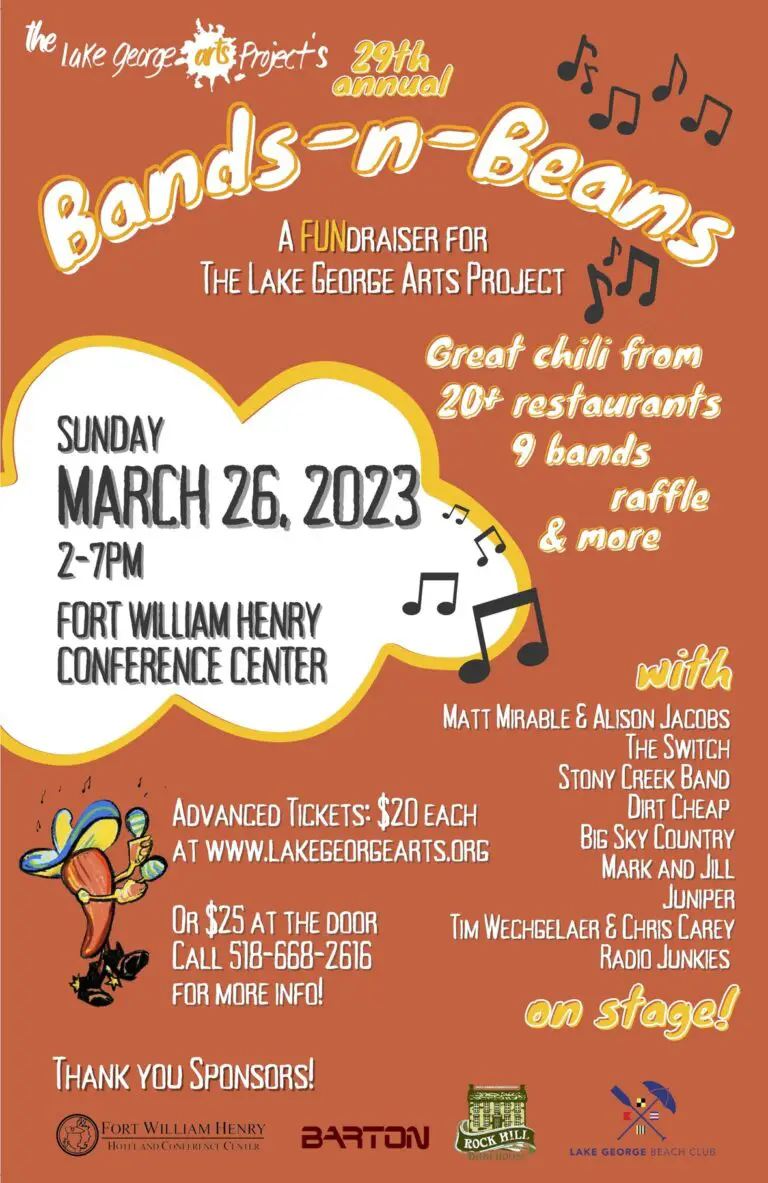 Bands n' Beans is the perfect event for anyone who loves fantastic food and great music. The festival features over twenty restaurants from all over the region, each offering their own unique dish. Whether you like it hot, mild, classic, or vegetarian, you're sure to find a new favorite.
In addition to the delicious chili, Bands n' Beans also features a fantastic lineup of musical acts including Matt Mirable & Alison Jacobs, The Switch, Stony Creek Band, Dirt Cheap, Big Sky Country, Mark and Jill, Juniper, Tim Wechgelaer & Chris Carey, and the Radio Junkies.

The proceeds from this years event benefit the Lake George Arts Project's free and open to all music and art programs like our year-round Courthouse Gallery exhibitions, our Summer Concert Series and our popular Jazz at the Lake Festival.
The Lake George Arts Project would like to thank this year's sponsors, Fort William Henry Hotel and Conference Center, Barton, Rock Hill Bakehouse, and the Lake George Beach Club. We would also like to thank our participating restaurants, the bands who will be performing, and all of the volunteers and staff that help make Bands 'n Beans happen.
Advance tickets are $20 each at www.lakegeorgearts.org, or $25 at the door.
Schedule of Bands
The Acoustic Room: 
2:30: Mark and Jill 
3:30: Juniper 
4:30: Tim Wechgelaer & Chris Carey 
5:30: Radio Junkies
The Ballroom: 
2 pm: Matt Mirable & Alison Jacobs 
3 pm: The Switch 
4 pm: The Stony Creek Band 
5 pm: Dirt Cheap 
6 pm: Big Sky Country