Transporting Albany to interstellar dimension, it was another hip shaking, foot stomping, groovy good time at Lark Hall on Thursday, March 9th as Daniel Donato's Cosmic Country made their other-worldly debut at the recently revitalized venue.
Unleashing an absolute powerhouse performance, the rapidly rising band from Nashville has been on a freight train to stardom since breaking out at the annual Peach Festival last summer. After the performance on Thursday, March 9, it's easy to see why and fair to say the Albany faithful are 'all aboard.'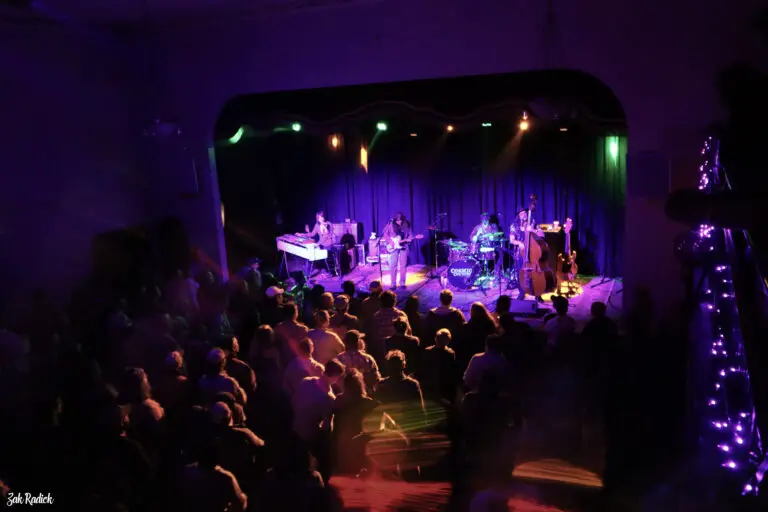 Taking the stage to a packed house with swagger, wearing vintage seventies garb, cowboy hats and each member having hair down past their shoulders, right away you could tell two things about this band: These guys weren't from around here and that they came to Albany with intent to impress.   Along with Daniel Donato on guitar and vocals, Cosmic Country also features Nathan "Sugar Leg" Aronowitz on keyboards, rhythm guitar and vocals, Will "Mustang" McGee on electric/upright bass, and Noah Winner on drums and percussion. The band was last in town on October 29th, 2022 opening for the Kitchen Dwellers in Saratoga Springs, but for this three hour, two set performance at Lark Hall, there was no opening act.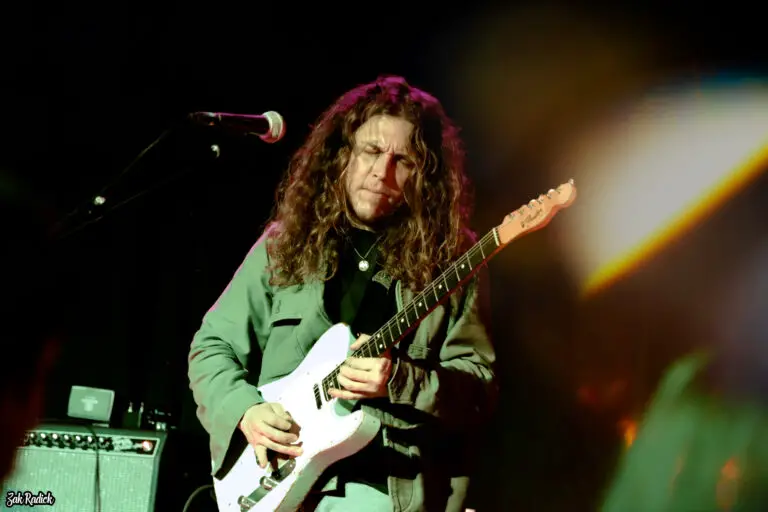 Coming out of the gates with a "Fourteen Carat Mind" > "Lose Your Mind," > "Faded Lovin'" trifecta, it didn't take the Cosmic Country band long to showcase their incredible songwriting and technically proficient chops. Easing the audience in with beautiful harmonies and tasteful melodies, the band effortlessly blended together genres like outlaw country and modern bluegrass with elements of funk, experimental jazz and rockabilly.
By the time the young guitarist virtuoso Donato and his teal-colored telecaster landed on "Sugar Shack," the whole room was in the palm of his hands and grooving together as one.  Seizing the moment and an opportunity to try something new, the band would then stretch their legs a bit on the unreleased song "Gotta Get Southbound." A tune about departure, exploration and freedom, Donato described it as "encompassing many emotions, but mainly, is for the soul that needs to adventure to awaken and discover a better world and reality."
Keeping with the positive outlook, bass player 'Mustang' McGee would switch out his electric bass for an upright one on "Half Moon Night" which features the lyrics "I'm gonna shine, shine, shine. No matter how dark it may be." Next, one lucky fan would get their wish as Cosmic Country then played "Fox On The Run" which had verbally been requested several times earlier in the set.  Up next was "Darlin' Cory," a timeless old murder ballad Danoto first started playing years ago when he was gigging with The Don Kelley Band around Nashville and now appears on his 2021 studio album Cosmic Country & Western Songs Western Songs.
"Arkansas Traveler" and "Rose In a Garden" would follow suit before Donato would lead us into set break with another homage to the Don Kelly Band, this time in the form of "Ghost Riders in the Sky." Calling it "one of the most heroic songs of the great American Western catalogue of music," Donato believes "the journey this song takes you on, musically, is a mutually understood and realized feeling that we all possess inside us. The truth of the sincere feelings this song conjures would be the only explanation as to why this vehicle of song has transcended nearly 70 years of cultural and musical change."
After a brief break in the action, things would get rolling again as "Hi Country" was selected to kick off the second set.  Bringing serious early 70's Dead vibes with it, momentum would continue to build as Cosmic Country then segued their way through a "Luck of the Draw" > "Sugar Leg Rag," which gave keyboard player and rhythm guitarist Nathan Aronowitz ample time to bask in the spotlight.   Slowing the pace up for a bit was another unreleased new one called "Chore" that started off as a bluesy ballad and featured beautiful full-band harmonies before the improvisational section of the song launched the room into the next stratosphere with Donato's lightning-fast finger work largely to blame.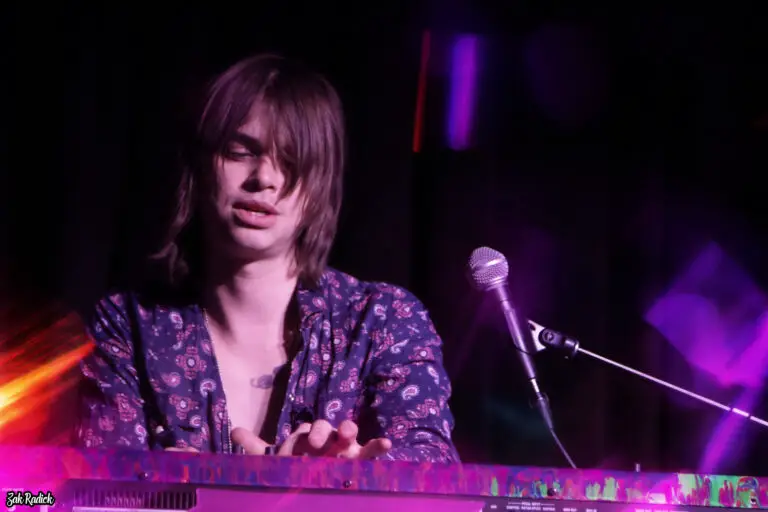 Feeling the collective storm of energy, it was only fitting that "Weathervane" make in appearance in the set next, though some fans humorously confused it for a cover of "Peaches" by The Presidents of The United States of America at first.   They did get a cover next, however, as Wille Nelson's "Blue Skies" brought many smiles to the older folks in attendance. The outlaw train kept rollin' next with a smokin' version of "Mystery Train" followed up by Mustang McGee taking over vocal duties for a rollicking rendition of "Ten Feet of Rope."    Fully vibing off the shared frequencies felt in every corner of the room, "Double Exposure" felt particularly passionate, psychedelic and on point and even featured a dynamic guitar duel exchange between Donato and the multi-talented "Sugar Leg" Aronowitz. "When you find yourself running low on the colors that you need, keep searching through the afterglow for positivity guaranteed!"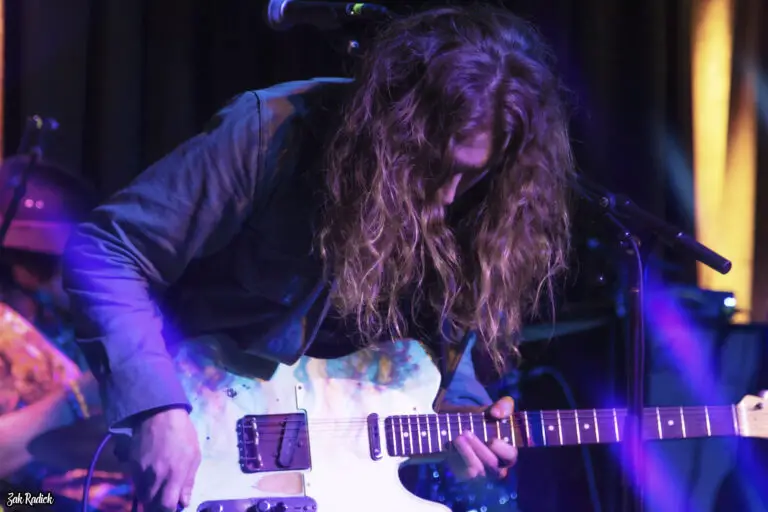 Clearly having fun and sharing in the groove, the genre defiance reached a new level as
"Dance in the Desert" crossed multiple boundaries and had everyone in the place cutting a rug before reaching its final soaring peak and bringing the second set to a close. Hungry for one more song, the audience was practically begging for an encore.  Happy to oblige with a bit of showmanship, Cosmic Country returned to the stage with huge smiles on their faces. 
While many songs on the evening felt reminiscent of early 70's Grateful Dead, there was no mistaking that certain twang on the song chosen for an encore.  Uncorking a red-hot version of "Cumberland Blues," even the hardest Dead Heads in the room were loving it and clearly giving Daniel Donato's Cosmic Country the coveted 'Albany Seal of Approval.' After the song, the band's photographer would take a group wide shot and the guys would hang around meeting their newest fans and signing merchandise.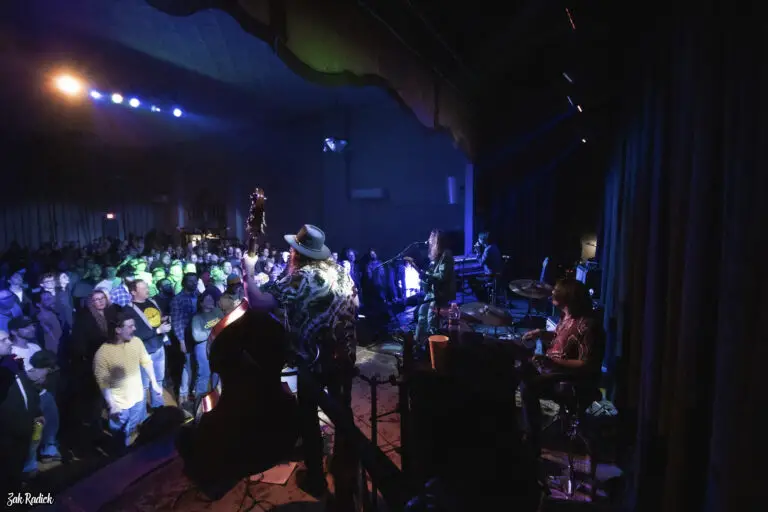 Reflecting on the show, Donato would later take post to social media "Albany still to this day has essence of a very original spirit, that spirit we all know and love, and search for when the music plays. It's not my ability to name this sensation, but I do know when the room is feeling this strange, synchronous, and benevolently fleeting frequency. Albany delivered this to us in such a concentrated and positive way, and for that, we love you." 
Up next Cosmic Country will return to Garcia's in Port Chester and then head to Lewes, De, followed by a pair of dates in Virginia, before they wrap up this winter run in Charleston, SC.  Already booked for a number of major music festivals and high profile gigs throughout the summer, it's easy to predict big things ahead for this band on the rise. Keeping the honky-tonk spirit alive by honoring their heroes like the Don Kelly Band, The Grateful Dead, Rory Gallagher and The Allman Brothers, Daniel Donato's Cosmic Country Band is a special combination of something old and something new married together in a most profound way.
Complete, with great songwriting, a beautiful tone, a never-ending flow of fresh licks and an absolutely badass cast of musicians behind him, we suspect the portal to Danial Donato's Cosmic Country universe has only just opened and their rocket ship to stardom is right on the cusp of hitting lightspeed.
Cosmic Country | March 9, 2023 | Albany, NY | Lark Hall
Set 1: Fourteen Carat Mind, Lose Your Mind, Faded Lovin', Sugar Shack, Gotta Get Southbound, Half Moon Night, Fox on the Run, Darlin' Cory (Don Kelley Band cover), Arkansas Traveler, Rose In a Garden, Ghost Riders in the Sky,
Set 2: Hi-Country, Luck of the Draw > Sugar Leg Rag, Chore, Weathervane > Blue Skies (Willie Nelson cover), Mystery Train, Teen Feet of Rope, Double Exposure, Dance in the Desert
Encore: Cumberland Blues