Mike Gordon has announced a new solo album, Flying Games, along with June and July tour dates, bringing him to Webster Hall in Manhattan and Town Ballroom in Buffalo.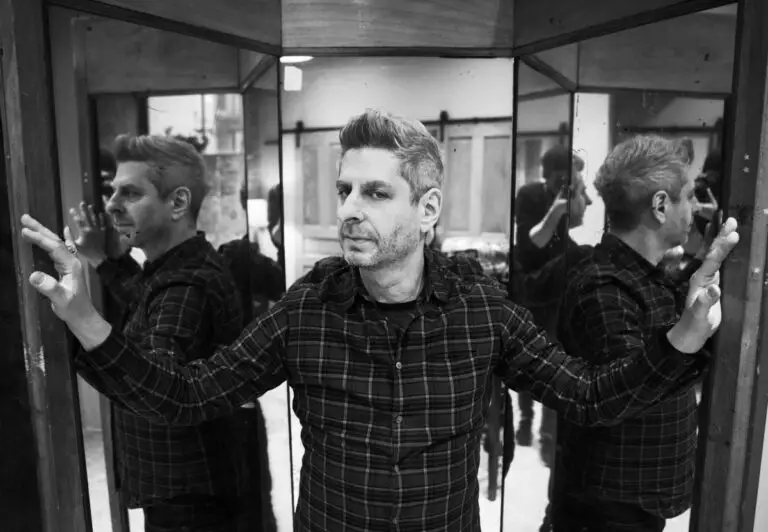 Flying Games (ATO Records/Megaplum) will be released on Friday, May 12 and is produced by Gordon, recorded by longtime collaborator Jared Slomoff, and mixed by GRAMMY-winning engineer Shawn Everett (Alabama Shakes, The War on Drugs).
For me Tilting is about being in a situation or a relationship where you don't know if your footing is solid, but then accepting that and realizing you enjoy the feeling of disorientation. Whether it's playing music or driving or experiencing something new, I've always felt more present when I don't know where I'm going next.

Mike Gordon
The first single off Flying Games, the high velocity "Tilting" is out today and available at all DSPs and streaming services.
The eclectic sixth solo LP from Mike Gordon, Flying Games is an album of constant and wildly hypnotic movement, each moment animated by unexpected sounds that morph and expand and spin off into their own strange orbits. Flying Games follows Gordon's most recent solo works, 2020's Noon and 2017's OGOGO. The LP imbues elements of everything from disco and dancehall to psych-folk and funk into Gordon's unfettered and expansive breed of rock music.
To create Flying Games, the Vermont-based Gordon spent much of 2020's lockdown and – writing and recording in his makeshift Megaplum home studio, immersing himself in sonic experiments ranging from the playfully spontaneous (constructing beats by banging wrenches against various pieces of farming equipment) to the hyper-specific and technical (programming a keyboard with chords sampled from'50s-era Hawaiian guitar records).
As the songs became more fully formed, Gordon brought in contributions from his bandmates, drummer John Kimock, keyboardist Robert Walter, percussionist Craig Myers, and guitarist/pedal-steel player Scott Murawski, all of whom submitted parts from afar which were then woven by Gordon and Slomoff into the initial tracks. Revealing entirely new dimensions of the kaleidoscopic musicianship Gordon has displayed as Phish's bassist for the last four decades, the result is a work of both extraordinary vision and daring execution.
As someone who comes from a world of telepathic improvisation, the idea of one person layering sounds alone in a room might seem a bit against the mythos. But with this record I didn't want to work in that traditional way of going into a studio with a band and recording for two weeks; I wanted to take my time and explore, and really go deep into the fabric of the music to see what we could find.

Mike Gordon
Gordon, bassist for Phish, will celebrate the release of Flying Games with a tour that includes headline shows and performances at Peach, Northlands and Blue Ox festivals. Tickets for all newly announced headline dates go on sale Friday, March 17 with pre-sales underway.
Watch the official animated video below.
Mike Gordon 2023 Tour Dates
June 15 – Portland, ME – State Theatre
June 16 – Swanzey, NH – Northlands Music Festival
June 17 – New York, NY – Webster Hall
June 18 – Buffalo, NY – Town Ballroom
June 20 – Covington, KY – Madison Theater
June 21 – Kalamazoo, MI – Bell's Eccentric Cafe
June 23 – Eau Claire, WI – Blue Ox Music Festival
June 24 – Chicago, IL – Thalia Hall, Chicago, IL
June 25 – Chicago, IL – Thalia Hall, Chicago, IL
June 27 – St. Louis, MO – Delmar Hall
June 28 – Indianapolis, IN – The Vogue
June 30 – Millvale, PA – Mr. Smalls Theatre
JULY
July 1 – Scranton, PA – Peach Music Festival
July 2 – Burlington, VT – Higher Ground Ballroom