And here we are at Round 3 of NYS Music's March Madness 2022. Below you'll find 8 matchups between 16 bands and artists from across New York State, from numerous genres, all on the rise and ready to make a name for themselves.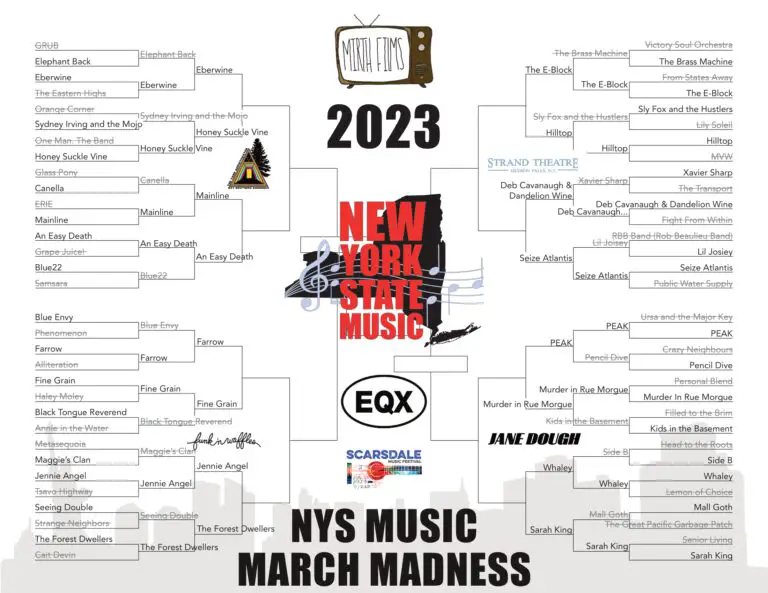 For the past 8 years, this annual competition has been shining a spotlight on the talented artists and musicians from across the Empire State. This year's competition promises to be the biggest and best yet, with a lineup of diverse genres and highly skilled performers. March Madness 2023 highlights 64 bands and artists you might not know, but should know, as these homegrown talents are making waves through the New York State. Check out Round 2 here.
Enter your email address, meet the bands and artists below, and vote for your favorites!
Yard Amphitheater Region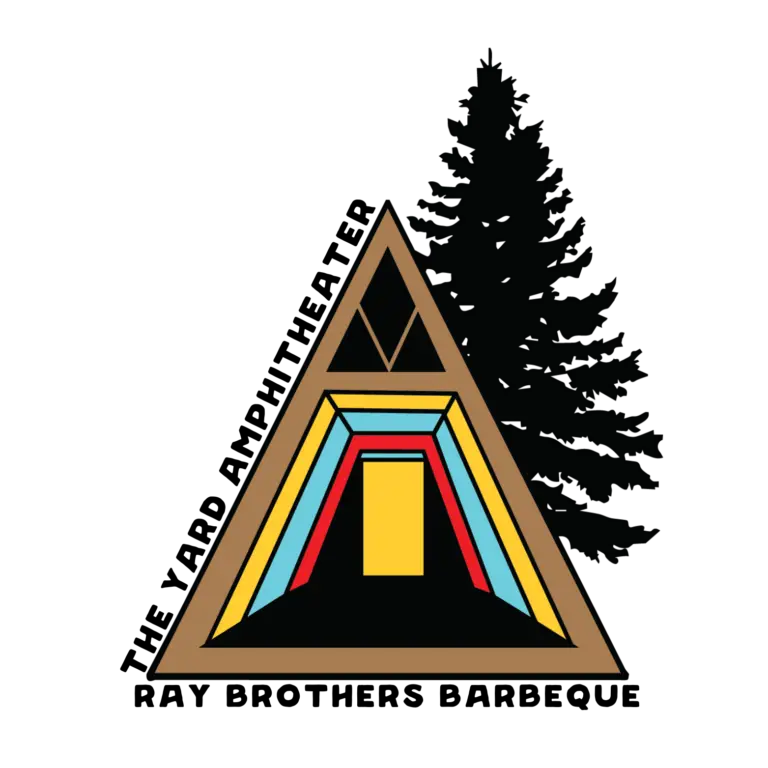 The Yard Amphitheater is an outdoor music venue nestled in the rolling hills of NY State with BBQ on site, an outdoor bar, space for lawn games, and room to dance! Watching a performance at The Yard is similar to watching a concert in your own backyard, with the exception that this backyard features a fully stocked outdoor bar, mouthwatering BBQ, and nationally touring performers.
eberwine vs. Honey Suckle Vine
Buffalo-based rock and blues quintet eberwine (sic) is known for innovative improvisation, soulful lyrics, and high-energy shows. The band's music highlights the best of rock and blues with nods to 90s alt-rock and jam. eberwine is the brainchild of frontman and guitarist Todd Eberwine (Dive House Union, Soul Roach, Todd Eberwine Band). What started as a solo project in 2016, is now a touring five-piece pulling seasoned musicians from the Buffalo music scene into a Western New York supergroup featuring Ryan Nogle (Funktional Flow, Aqueous), Evan Laedke (Tim Britt Band), Aaron Ziolkowski (Little Mountain Band), and Jay Race (Dead Alliance Buffalo). While they don't have any upcoming shows at the moment, check back for any new show announcements on their website.
Honey Suckle Vine (HSV) is a high-energy 4-piece blues-rock band based out of the Capital District of New York State. The songwriting team of Joey Jaquez (vocals, harmonica) and Jeremy Silverman (guitar, vocals) have been creating original material for over 20 years across the USA. Joined in 2017 by long time friends Graham Espe (bass, vocals, recording and production) and David Snediker (drums, vocals), HSV is ready to entertain. Check out their most recent album Painted Nights. On March 24th, they'll be playing at Putnam Place with Tops Of Trees, Kyla Silk, and House of Saturn.
Mainline vs. An Easy Death
Mainline officially hit the scene at the end of 2019 when Anthony Schettino (Bass), Johnny Iodice (Lead Singer & Guitar), Mason Servedio (Drums), and Devin Reck (Guitar) released their debut single "Open Fire" which eventually led to the self-titled EP that came out in February of 2020. Their album "The Unholy Idol" has garnered up over 80,000+ streams across platforms, and has gotten worldwide attention. The current lineup since 2022 now includes Ryan Hartell on guitar, replacing Devin Reck.  As of November 2022, the band released their most recent single "In Nothing We Trust" everywhere on streaming. Their last show was March 10 at Pete's Saloon in Elmsford, NY. You can find Mainline next on April 22 at Dingbatz in Clifton, NJ, opening for Kore Rozzik!
An Easy Death is a 5-piece Post-Punkcore band based out of the Rochester area drawing influence from bands like Blink-182, Oceans Ate Alaska, Everytime I Die, MxPx, and It Dies Today. The band formed in 2020 and has since been making a name for themselves in the Rochester and Buffalo areas. Check out their most recent release from January, "The Debt That All Men Pay". Their next appearance will be on March 25 at 7:00 PM with Dark Divine and Catch Your Breath at Rochester's very own Montage Music Hall.
Voting for Round 3 has ended. Stay tuned for Round 4, starting at 8am on Thursday, March 16
Funk n Waffles Region

Farrow vs. Fine Grain
With thought provoking lyrics, strong melodies, and deep grooves, Farrow brings to life a vibe reminiscent of decades past whilst grounded in a modern sonic landscape. Based in Buffalo and led by producer/bass player Andre Pilette and singer/lyricist Michael Farrow, the band features Tim Webb on drums, Michael Ruopoli on percussion, Cory Clancy on guitar, Rufus "Breexy" Cole Jr. on keps, and Danielle Johnson on backing vocals. Check out the band's website for show updates, like their past show on March 10. They also have an upcoming show on March 21, 2023 at the Buffalo Sabres vs Nashville Predators hockey game at Key Bank Center in Buffalo.
Fine Grain floats in between shoegaze haze and punk posturing. With prog-inspired riffs, post-punk murk, and the occasional ripping sax solo, fine grain offers up rambunctious reverie fit for hardcore fans of all generations. Fine Grain's maturation is a testament to the transformative possibility of punk, showing how pulled threads of the past can still stitch together a promising new future. Visit here to listen to their latest release, their album "Missing Adult".
Jennie Angel vs. The Forest Dwellers
Jennie Angel is an actress who recently rediscovered her love for music. Started playing the guitar when she was 16 and has been singing she was born, now performing popular country hits! Jennie has most recently been added as a member of the Academy of Country Music and will be attending the awards show in March. Music and merch are both available on her website. Check out her most recent single, released on Valentines Day, "You Proof". Catch her next performance on March 16 at the SXSW Balanced Breakfast Showcase.
The Forest Dwellers are a reggae-infused folk/ indie group based out of Rochester, NY that plays universal medicine music. The band blends melodic music with incredible vocal harmonies. Stemming from different styles and genres, The Forest Dwellers fuse them into a new take on a familiar sound all its own. Listen to their song "Open Road" here.
Voting for Round 3 has ended. Stay tuned for Round 4, starting at 8am on Thursday, March 16
Jane Dough Region

Jane Dough help cannabis entrepreneurs win business licenses, optimize facility design, standardize operation, increase revenue and design their future.
PEAK vs. Murder in Rue Morgue
PEAK's music, described as Psychedelic Indie Funk, is a mix of poetic, melodic songwriting, moody electrofunk, riffed-out blues-rock, and exploratory danceable improvisations. Some of their many influences include artists such as The Band, The Talking Heads, Phish, The Grateful Dead, Radiohead, James Brown, and Miles Davis, as well as modern songwriters such as Conor Oberst, Mac Demarco, Kurt Vile, and Jack White to name a few. The band's website has links to their music, including their most recent album, "Choppy Water". Tour/show information can be found here, like their most recent show on March 10, and their upcoming show on March 25 in Lake Huntington, NY.
Murder in Rue Morgue is CJ Carr, John Wolff, Matt Biss, and Dan Ouimette, hailing from the hometown of Manowar, and Level 7 in Auburn. The band is highly influenced by melodic death metal, such as In Flames, Killswitch Engage, and Times of Grace. The band is a group of hardworking musicians who leave it all up on the stage giving the best show every time. Listen to their 2019 album "Endless Cycles" here.
Whaley vs. Sarah King
Whaley comes from Long Island, and they are a culmination of the best material & musicians Logan has written & met over the last 8 years since graduating from music school. His music can be best described as having old-school sensibilities with a new-school vibe. He released his debut album "Funky Tonight" this past February. Keep up with Whaley at all their shows, the next one being March 16th at Long Island Stage in Riverhead, NY.
Known for her powerhouse voice and "fiery, vulnerable songs," Sarah King creates thought-provoking, versatile Americana music. Her genuine stories about real-life emotions and situations also draw on classic folk-blues themes, balancing songs about the devil and booze with hard-won moments of reflection and acceptance. Her acclaimed 2021 EP The Hour, produced by Simone Felice and David Baron, earned her recognition as the New England Music Awards Songwriter of the Year and performances at the 2022 Folk Alliance International and Philadelphia Folk festivals, as well as supporting slots for acts including Blues Traveler and The Steel Woods. While Sarah doesn't have any shows slated in NYS at the time, her next show is March 11 at The Colonial Theatre in Keene, New Hampshire.
Voting for Round 3 has ended. Stay tuned for Round 4, starting at 8am on Thursday, March 16
Strand Theatre Hudson Falls Region

The E-Block vs. Hilltop
The E-Block is a 5-piece indie R&B band based in Upstate New York, blending the acoustic warmth of singer-songwriter music with an ice-cold rhythm section informed by modern R&B. Led by guitarist Luke Pascarella, with the line up of saxophonist James Soren keyboardist Devin Tetlak, bassist Daniel Folds, and drummer Leroy "Rudy" Dalton, the band's deep bag of influences and free-flowing style have earned them a reputation as a unique live act in the Capital Region scene. Follow their instagram for all the current action, including their new project "Waterfall" releasing this spring. In the meantime, listen to their most recent track "Stay" here. There are currently no upcoming shows, but check back on their website for any announcements.
Hilltop is a four piece jam band from Albany, NY. Over the past four years they've made a name for themselves with carefully crafted originals, mind bending improvisation & fun, diverse covers. Each member offers a proficient, unique approach to their instrument that defines the musical experience. This band of young musicians is eager to spread their music and will continue to engage crowds wherever they go. Listen to their newest release, a collection of live performances, titled "Live Rips" here. With an upcoming tour, there are 5 chances to see Hilltop live in NYS. Be sure to catch them at their next show on March 25 at the Monopole in Plattsburgh, as well as at Zen Barn in Waterbury, Vermont on March 23.
Deb Cavanaugh vs. Seize Atlantis
Singer-songwriter, multi-instrumentalist and roots singer Deb Cavanaugh lives in the foothills of the Taconic Mountains, in Upstate New York. ​In the mid-nineties, Deb focused on traditional folk music such as Old Time, traditional ballads, and Irish dance tunes. She now formed Deb Cavanaugh & Dandelion Wine, playing a variety of styles including blues, rock and traditional folk as well as a variety of instruments. Dandelion Wine's line-up may vary depending on the venue and availability of musicians. Dandelion Wine is Jared Carrozza on bass and Ben Hart on drums, who also provides vocals and occasional lead guitar. The unique blend of blues, rock & roll, and folk is what gives Dandelion Wine a genre best defined as "psychedelic folk." Find out more about her incredible story and listen to songs at her website, including their most recent release "Electric Avenue". Catch their performance at Troy Speakeasy on March 25th with Jared Carrozza, Ben Hart and Mandy Valentine.
Formed in 2019, Seize Atlantis, is an Alternative Rock Band located in Upstate NY that play a variety of genres, including originals and covers. The band consists of James Mullen (Lead Vocals/Guitar), Mike Dardas (Bass/Vocals), Luc Bourgault (Lead Guitar) and Cody Platt (Drums). Listen to their most recent release, "I Need It" here. Catch their performance at Pauly's Hotel in Albany on March 12th.
Voting for Round 3 has ended. Stay tuned for Round 4, starting at 8am on Thursday, March 16
Voting ends at 11:59pm on Wednesday, March 8th. Winners will be announced on March 9th, with voting in Round 3 running March 11-13. Good luck to all the bands!
NYS Music has partnered with these great businesses across New York State to highlight the 64 up and coming bands and artists of NYS Music March Madness, Round 1 and Round 2.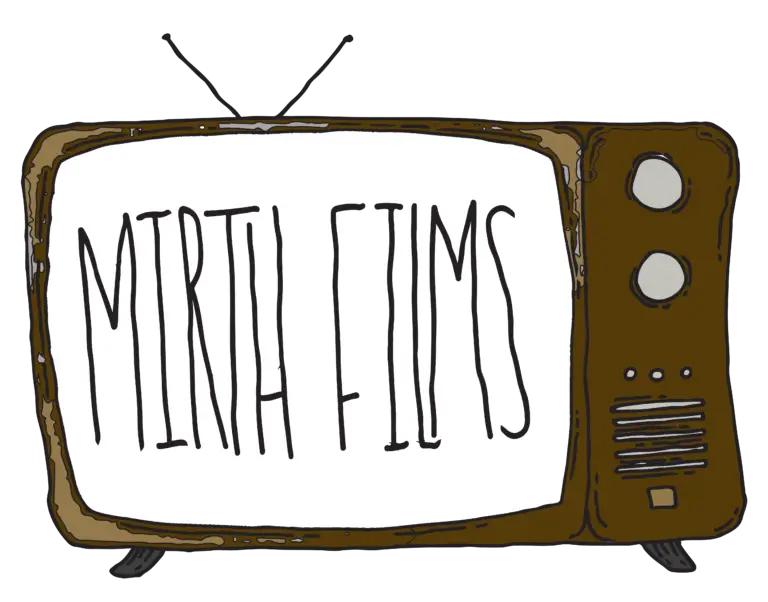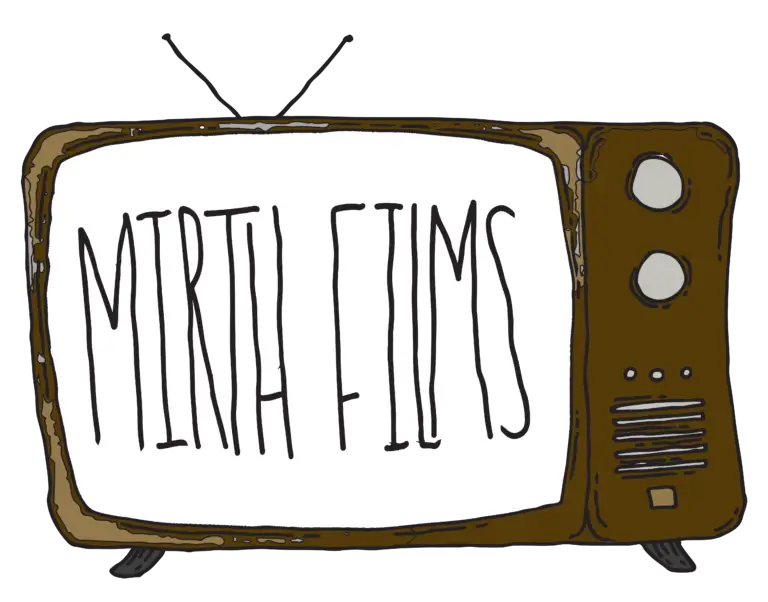 The finalists of of each region will be rewarded with a collection of prizes worth $3000. Partners for NYS Music's March Madness 2023 include Mirth Films from Albany, a music news/entertainment outlet that specializes in original video content and live streaming, with news coverage ranging across the whole country, who will provide a professional multi-camera recording session at a prestigious venue in Albany for the winning band, premiering exclusively on Mirth Films.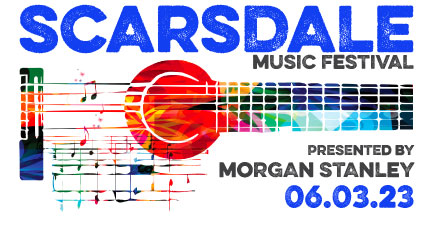 Additionally, one finalist will earn a spot on the lineup for the Scarsdale Music Festival, held on June 3, 2023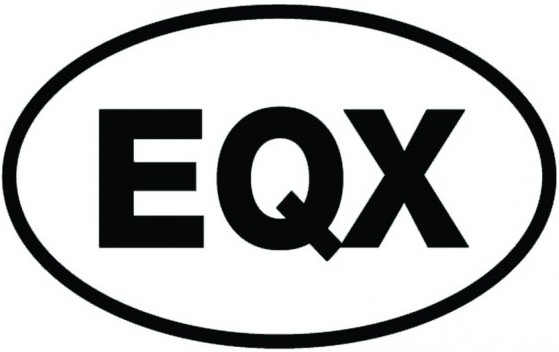 WEQX is a radio station in Manchester, VT. They're are completely independently owned and operated, always have been, since 1984. This station exists out of a love for music, a love for radio, and the commitment to always giving their listeners the best of the best.