The first ever Soulshine Festival has been announced for Saturday, July 1st at Arrowood Farms in Accord, New York. A collaboration between Radio Woodstock 100.1 WDST and Impact Concerts, in conjunction with Chet-5 Productions and Michael Franti, artists for Soulshine Festival include Michael Franti & Spearhead, along with special guests Tank & The Bangas, Son Little and The Big Takeover. The festival will also feature yoga and wellness, as well as local, sustainable food and craft vendors and family friendly activities.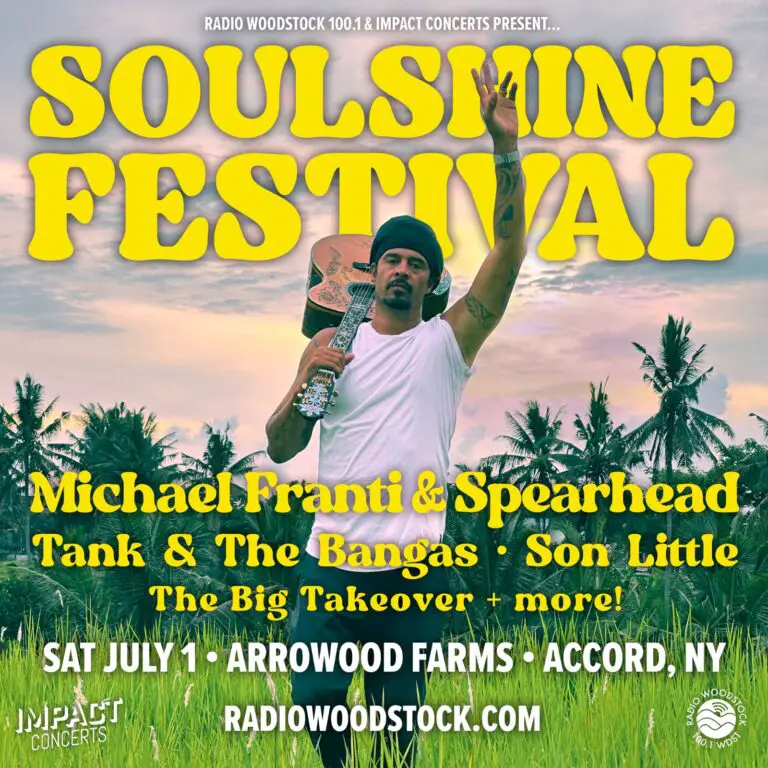 Musician and activist Michael Franti, whose energitic live shows foster a sense of community, is set to host and co-curate Soulshine Festival. He has performed in the Hudson Valley over the past 20 years, including many performances at Mountain Jam. Franti is the creator and lead vocalist of Michael Franti & Spearhead, a band that blends hip hop with a variety of other styles including funk, reggae, jazz, folk, and rock. Franti is thrilled to return to the Hudson Valley to not only perform, but to be able to co-curate Soulshine Festival.
There is no other artist whose universal message of peace, love, compassion, and hope resonates more with us, our listeners and our community than Michael Franti. Michael has been the soul of Mountain Jam and has brought countless memorable moments of joy and positivity to the Hudson Valley over the past 20 plus years. He has been an inspiration to so many and has shown us the transformative power of music and its ability to heal and bring people together. I am so grateful and honored to create with him and my partners at Impact Concerts a new festival with his imprint.

Gary Chetkof
Franti has been recognized by global awardes including three Billboard No. 1's with triumphantly hopeful hits "Sound of Sunshine," "Say Hey (I Love You)," and "I Got You," as well as six Top 30 Hot AC singles, 10 Top 25 AAA Singles and three Billboard Top 5 Rock Albums. His band's lastest album Follow Your Heart released on June 3rd, 2022. Franti has been in the studio since wrapping the Follow Your Heart World Tour, with new music on the way later this year.
General admission and VIP tickets for Soulshine Festival will be available for purchase beginning on Friday, February 24th at 10 am at RadioWoodstock's website. General admission tickets are $90, and VIP tickets are $180 and include access to the VIP hangout area and other premium services. Children 10 and under are admitted to the festival for free with a paying adult.Radio Woodstock members and Michael Franti Fan Club Members can buy tickets early with a pre-sale code.