With one last night of their first Madison Square Garden run since 2019 remaining, Phish left not a single note on the table as they brought fans on a journey through the gags that have rung in the new year, dating back to 1992.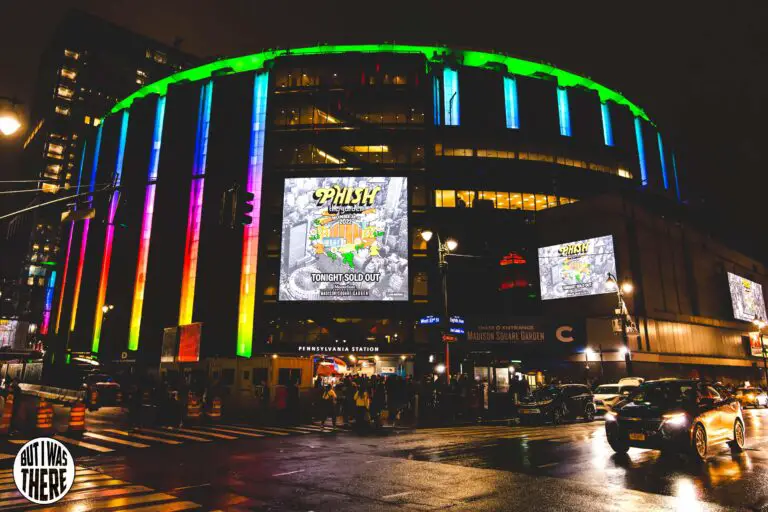 Sticking with a recurring theme of time and time manipulation, Phish would make this night among their most memorable at Madison Square Garden, and not only as they enter into their 40th year, but as they tie Sir Elton John for the second most shows ever played at The Garden, with 72. A post-show tribute of "Goodbye Yellow Brick Road" was a fitting nod to The Rocket Man, who performed his last ever show at MSG in February, and his final North American show in November.
Fans who had already been through three nights of Phish this run, and many having been at the April shows – which were rescheduled from December 2021 – were eager and anticipating something special, given that 2023 will bring in the 40th year of Phish and more celebrations to come. But how would they kick the night off, and more importantly, ring in the new year? Patience is a virtue and those who waited were rewarded, and then some.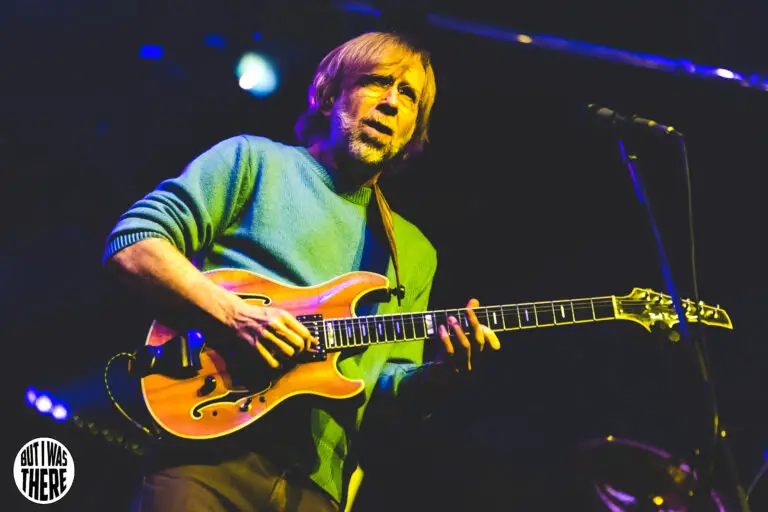 Kicking off the show was a highly-anticipated "Tweezer," which set the tone for the night as playing their greatest jam vehicle in the opening slot never fails. A shift into "Halley's Comet" netted a smooth segue into "Set Your Soul Free" which gave way to "Rift," all energy-filled songs to start the show, following the trend of the past few nights and no let-up from any of the band, or the audience for that matter. "Cavern" gave way to the second "Tweezer" of the night, followed by the ballad "Shade" and a proper "Mike's Groove" to close.
Heading into Set 2, the band would begin to hint at a theme they revisit reguarly, time. Each song in the second set would have some nod towards time, even if hidden in the lyrics. The opening "Say It To Me S.A.N.T.OS." (you will always remember where you are) and never dull second set appearance of "Also Sprach Zarathustra" (aka "2001") gave fans the start they hoped for, with the "Kill Devil Falls" (who knew a day would turn into a week) following. A throwback to 2018's New Year's gag in "Mercury" (your day is longer than your year) would follow, as well as "Light" (memories fall behind; future is less and less there; past vanished in the air), "Waste" (wasting my time with you) and "Drift While You're Sleeping" (I've seen the day go by; one brief moment; the days are few) providing even more direct hints as the set progressed, but mid-set, when you're tuned into the music, the lyrical connections are up for setbreak discussion. And if a final hint was needed, "Backwards Down The Number Line" gave the clearest indication the band was getting nostalgic, as one does on New Year's Eve.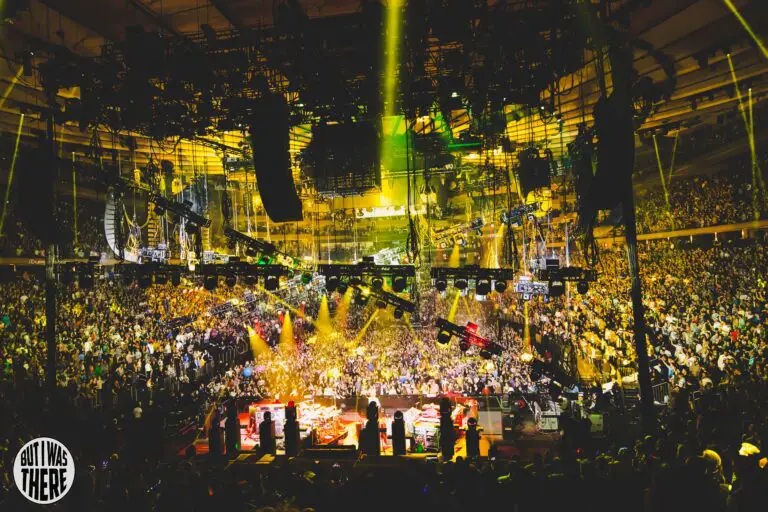 Phish sprinkled some musical bread crumbs during the second intermission that helped shed a little light on the traditional New Year's Eve gag. Attentive fans picked up on music from Parliament Funkadelic ("Tear the Roof Off the Sucka") and The Breeders ("Cannonball") being played lightly on the PA, along with aptly titled songs like "Umbrella" (Rihanna), "Steam" (Peter Gabriel), "Mockingbird" (Carly Simon) and "Send In The Clowns" (Grace Jones). It all hinted at a retrospective look back at the band's career and that's exactly how the manic yet celebratory third set played out.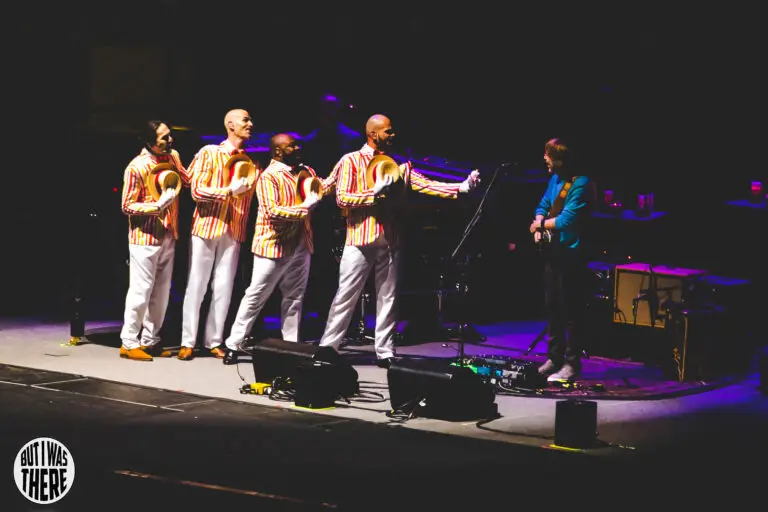 In true Phish fashion, the final set started out with a barbershop quartet proclaiming that the stroke of midnight would mark the band's 40th year together. As a birthday "wish" of sorts, Trey makes one for a time machine, so as to do it all again. In response, a cube-like object then descended from the rigging above the stage, showcasing both audio and video from all of the band's storied New Year's Eve showsa and gags such as Halloween shows Wingsuit and Sci-Fi Soldiers. Dancers from all different eras then began to emerge, including a Wombat, sadly not costumed by Abe Vigoda this time, who winds up "breaking" the machine and setting off a wave of more ghosts from Phish New Year's past.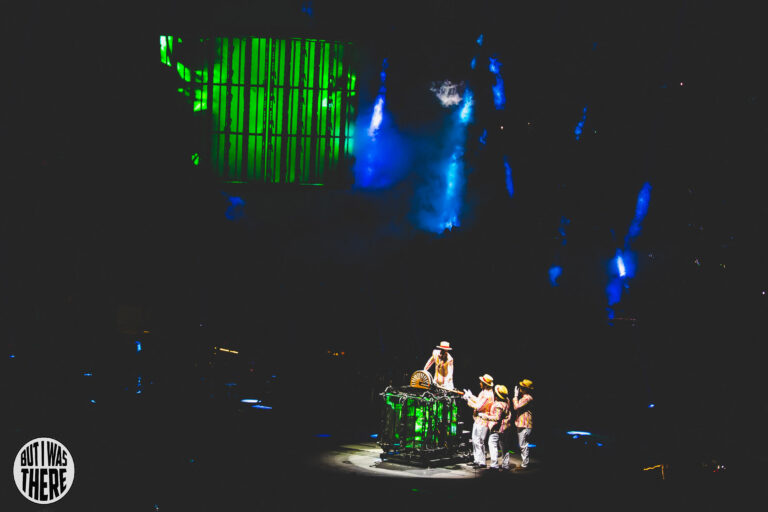 With the fitting set-opening "Ghost" now in full swing, a full fledged choir emerged from backstage and the band steered into "Bohemian Rhapsody" in a nod to their 12/31/96 show in Boston, MA. The song was also visited by an entire marching band as well as it made its way into "Jungle Boogie," which had not been played since 12/31/03 in Miami, FL. A "Wilson" castaway merged the 2002 "Tom Hanks" appearance with Trey Anastasio being stuck on a platform in 2019, and was unveiled from atop the stage as the music shifted into the namesake song before a final New Year's countdown and a confetti-filled "Auld Lang Syne." The constant set of revolving characters also saw ones like Father Time from 12/31/99, the "Meatstick" dancers from 12/31/10 and the "Petrichor" dancers and umbrellas from 12/31/16 make apperances.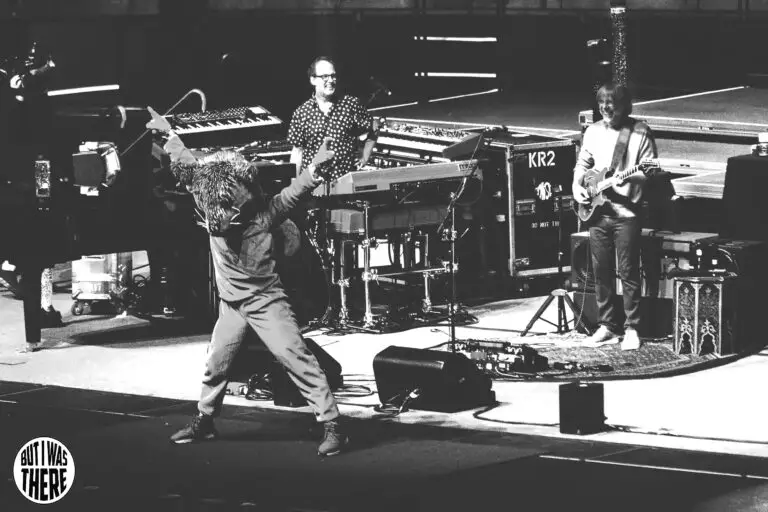 2023 was greeted by "Carini" and a host of "naked dude" dancers reveling in the new year's energy, even forming a chorus line during "New York, New York," before eventually, as expected, shifting back to "Tweezer" one last time. An explosive "Crosseyed and Painless" > "Piper" section may have been the pure musical highlight of the set, before "A Life Beyond The Dream" and the always raucous "First Tube" closed out the final set of the run.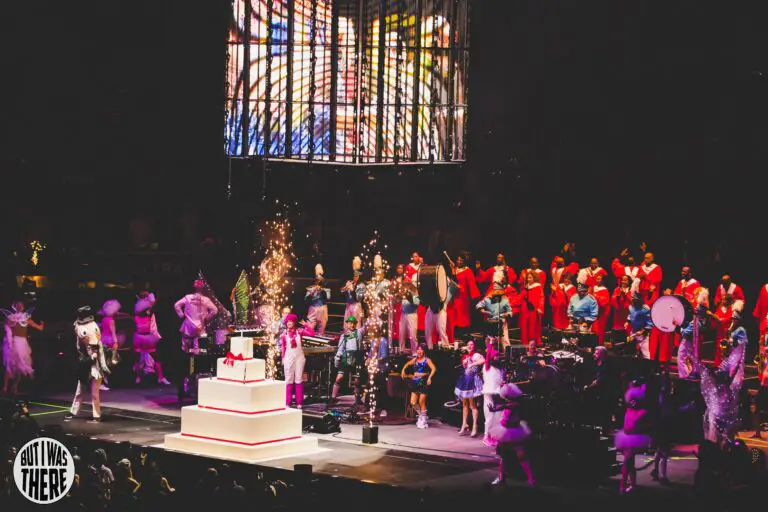 In their 14th overall New Year's Eve performance at Madison Square Garden (and 22nd over the last 40 years), Phish celebrated what has made these shows so unique – the music, the antics, the special guests and the unexpected gags that continue to influence and be emulated throughout the jam band world. The only question left from this New Year's Eve show is, how are they going to top this? We'll get an answer to that question later this year.
Phish Madison Square Garden – New York, NY 12/31/22 – setlist via Phish.net
Set 1: Tweezer, Halley's Comet -> Set Your Soul Free > Rift, Cavern > Tweezer > Shade, Mike's Song > I Am Hydrogen > Weekapaug Groove
Set 2: Say It To Me S.A.N.T.OS. > Also Sprach Zarathustra > Kill Devil Falls, Mercury > Light > Waste, Drift While You're Sleeping, Backwards Down The Number Line
Set 3: Ghost > Bohemian Rhapsody > Ghost -> Jungle Boogie > Wilson > Auld Lang Syne > Carini > Theme From New York, New York > Tweezer > Prince Caspian > Crosseyed and Painless > Piper, A Life Beyond The Dream, First Tube
Encore: Show of Life > Tweezer Reprise