It was a splendid evening for mid-week melodies, hump-day harmonies and independent live music in Glens Falls Wednesday, December 7th as fans of all ages filled the Park Theater for a captivating performance by The Ballroom Thieves and Griffin Sherry of The Ghost of Paul Revere. A beautiful and underutilized venue that dates all way back to 1911, the intimate room was the perfect setting for these modern-day master songwriters to pour their hearts out.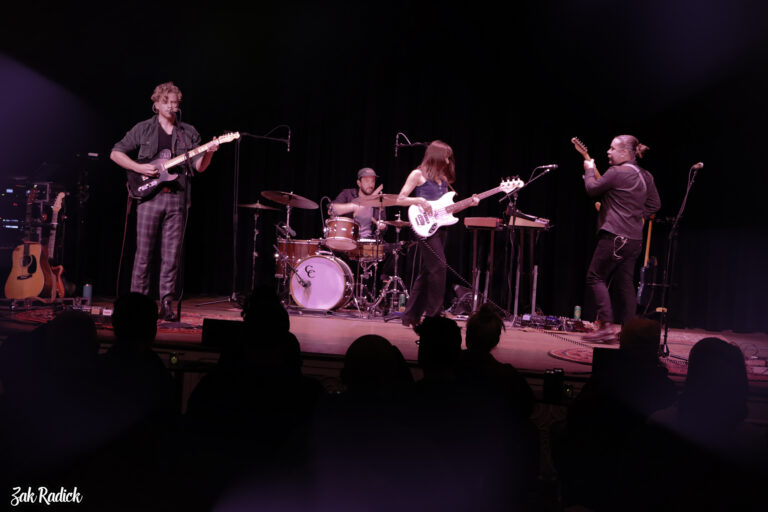 Playing his first run of shows since the demise of The Ghost of Paul Revere, Portland, Maine's Griffin William Sherry surprised both fans and even the venue when he arrived in town with a full backing band of musicians that also included former GOPR drummer Chuck Gage. Sherry joked from the stage how this was more people and more gear than he ever took on the road with his former band while also reassuring the crowd that it is ok to get a little rowdy. "I'm particularly looking at you ladies" he said, while pointing out a table full of much older women. "It's so good to see you again!" chimed an excited fan from the other side of the room.
Perhaps still grieving the loss of GOPR who played their final show in September, fans were delighted to hear new renditions of some old favorites with "One of These Days" being a clear highlight. Known primarily as an acoustic guitar player, the surprises from Sherry didn't end there. Using his new solo platform to try new things, longtime fans gasped when he suddenly strapped on a beautiful hollow body guitar and launched into a cover of the classic Pink Floyd song "Fearless." The 'electric' Sherry would also try out several new songs, including "Stephentown" and the hard rocking set closer "Ain't It Amazing."
Following a quick pause in the action the lights went dim as the Ballroom Thieves then took their places on stage. Back on the road for the first time in years, the acclaimed neo-americana folk act from Boston were in complete command from the very moment they played their first note. Building up the tension with the hypnotic intro of "Canary," the Thieves wasted no time in living up to their reputation as one of the most dynamic, energetic and melodic live bands on the independent circuit. Consisting of husband-and-wife duo Martin Earley on guitar and vocals and Calin Peters on electric cello, bass and vocals, the current incarnation is rounded out by John Henry Nolan on guitar and keyboards and drummer Kevin O'Connell (from Rome, NY) who somehow was able to play the show despite suffering a torn meniscus.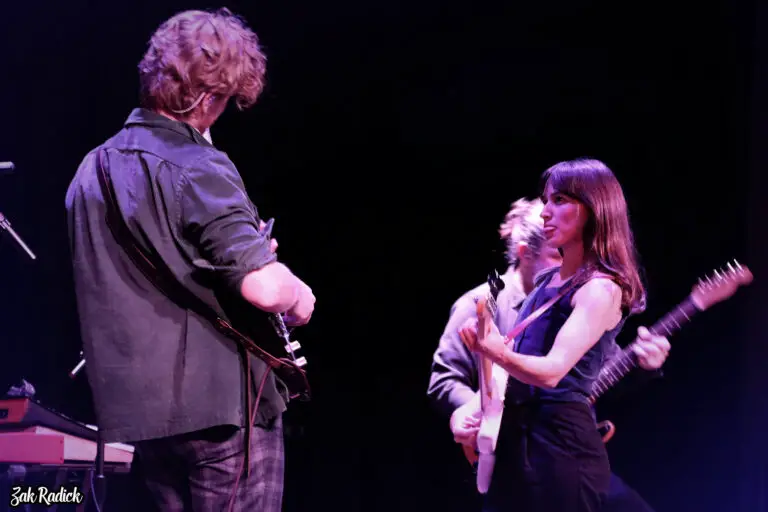 Fresh off the release of their latest studio album, 2022's Clouds, the band has gone through some tough times these last few years and many of their new songs address that head on. A chronicle of desire and despair, trust and betrayal and the importance of mental health, The Thieves would play the albums opening track "Worldender" next, followed by "In the Morning. " Trading stunning and lush vocal harmonies, the cozy atmosphere almost made you feel like you were getting your own private show.
Switching back and forth between electric cello and bass guitar, Peter's voice was both beautiful and haunting. Songs like "Almost Love" and "Do Something" put her squarely in the spotlight and it was easy to see she was reveling in it. Smiling, dancing and leaping about the stage, you couldn't help but be charmed by her performance. Contradicting upbeat melodies with some darker lyrical content provided a powerful juxtaposition that wasn't lost on the audience. A great example of this was the Earley sung rendition of "Shadow" which would then go into the brilliantly bluesy number "Anybody Else" from the bands 2017 album Deadeye.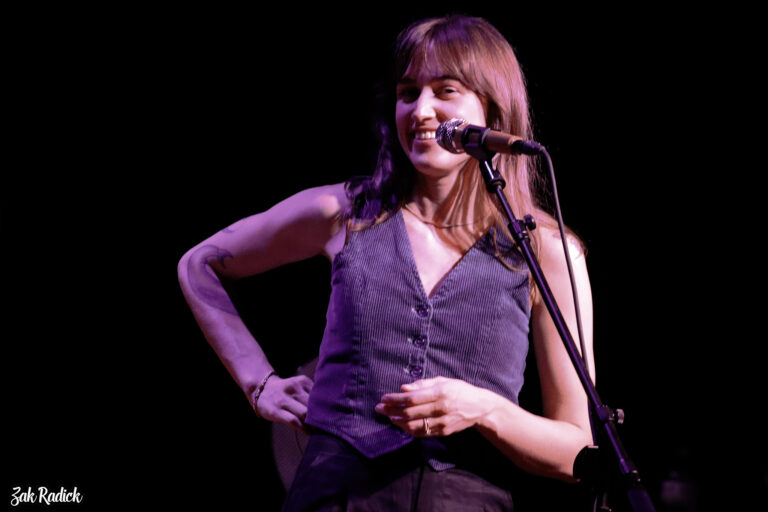 "Most of the time, we're usually all about love and understanding, but not on this next one, "Peters' said. "Picture in your mind someone you hate and when we play this song, we want you to think about them. That is, of course, unless they are in this room right now. If they are, sorry, you can't play this game with us." And with that thought in mind, Peter's then crooned out perhaps the most hauntingly beautiful song of the night called "Woman."
I was your woman
And you left me standing
Alone in a world that had not heard me use my voice yet
You're just tired of my noise, I guess
Hey, we all make our choices and break our own horses
Are you hearing me say all this?
This is the last one
For you

– "Woman"
Following that up with two more older, tender songs "Pendulum and "Bees," Martin Early would soak in the moment and candidly address the audience by saying "It's been a tough couple of years, but we never stopped writing songs and you being here to hear them means more than you'll ever know. This next one is about coming to terms with a crippling depression." Providing perhaps the emotional highpoint of the evening, "I Lose" hit you like a ten ton hammer.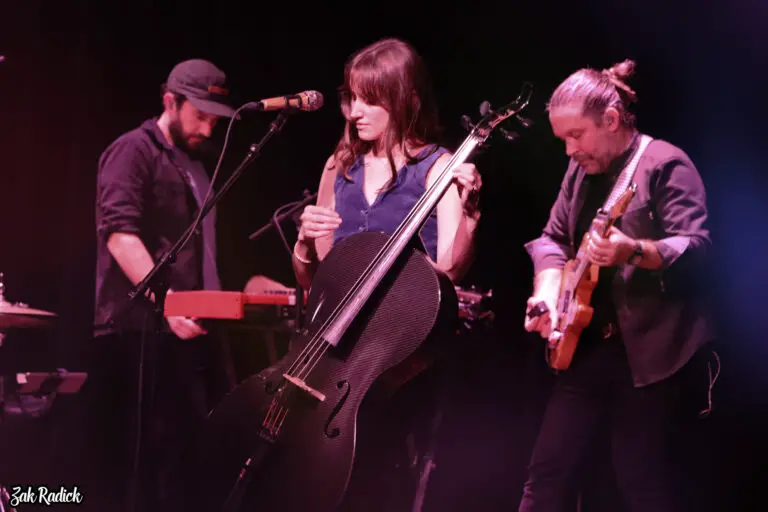 Showcasing their flexibility, both musically and physically, the chemistry between the Ballroom Thieves was undeniable. Interacting like a tight-knit family, even during the "sad" songs each member of the band was clearly engaged, invested, enjoying themselves. At the peak of all Peters and Earley would lock eyes, meet each in the middle of the stage and get so lost in the music that they'd both end with their backs on the floor. Perhaps the loudest cheer of the evening came during their most rocking song, "Fistfight," rocking duel-guitar attack of the bands hit single "Fistfight." After wishing guitarist John Henry Nolan's Aunt Emma a happy birthday, The Ballroom Thieves would close the set with a powerful rendition of "Wolf."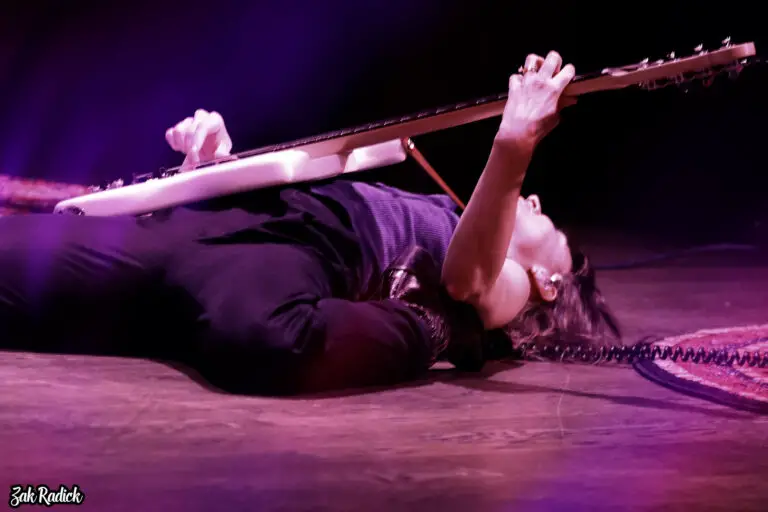 These days you almost expect an encore at every show, but in perhaps the best fake out ever, you could hear the collective letdown when the house music came up. Just then as fans starting getting ready to leave, the music and lights suddenly went back down. Returning to the stage with huge smiles and to a huge ovation, The Ballroom Thieves then treated fans to one more surprise by closing the show with a cover of the Donna Lewis song "I Love You Always and Forever."
A captivating performance from start to finish. From hushed whispers to cathartic screams to synchronized dance moves, the intimate and thought-provoking show felt truly special. Anyone who wasn't sure about this band going into it walked out of the Park Theater a full fledged believer. Up next, the Ballroom Thieves will take a little time off for the holidays before Early and Peters return to the road for a brief duo tour this winter.
The Ballroom Thieves | December 7, 2022 | Park Theater | Glens Falls, NY
Setlist: Canary, Worldender, In The Morning, Almost Love, Do Something, Shadow, Anybody Else, Woman, Pendulum, Bees, I Loose, Fistfight, Wolf
Encore: I Love You Always Forever (Donna Lewis cover)
Griffin William Sherry | December 7, 2022 | Park Theater | Glens Falls, NY
One of These Days, Stephentown, Me and My Shadow, Fearless (Pink Floyd cover), Ain't it Amazing