Since the very beginning of Rock and Roll way back in the 1950s, every decade seems to have an iconic album that is representative of the time period in which they were recorded. In the 1950s, the decade that saw the birth of Rock and Roll there was Elvis Presley's smash Elvis Presley. In the 1960's the Beatles owned the decade with their apex being 1967's Sgt. Pepper's Lonely Hearts Club Band. In the 1970's, the decade that was known for its god-like guitar heroes and exceptional live concert albums, there was a young English player named Peter Frampton who produced the wildly popular Rock and Roll classic 'Frampton Comes Alive!' in 1978.
Frampton, who the former guitarist and vocalist for Humble Pie, the super group which he co-founded with Steve Marriot, left the band and went solo in 1971 after achieving moderate success in both the UK and America with albums like Town and Country and Humble Pie.
Frampton went on to release his debut solo album Camel in 1973 and spent the remaining years of the decade producing another 5 solo albums. The unsurpassed crown jewel of which was his fifth offering, the multi-platinum double-album Frampton Comes Alive! was the record that cemented the English guitar slinger's legacy in Rock and Roll history. After it's debut in January 1976, the live concert double album sales rocketed and eventually rose to the top of Billboard albums chart for the week ending April 10th of that year.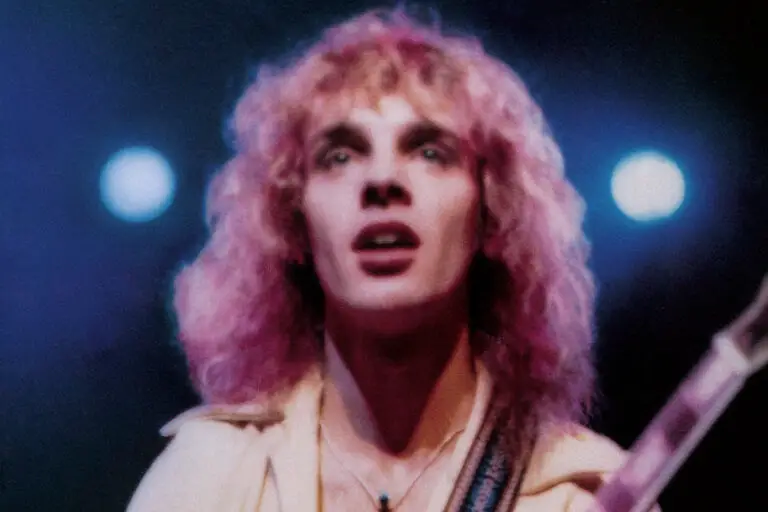 The tracks that were featured on 'Frampton Comes Alive!' were chosen from selected performances that were recorded in the summer and fall of 1975, at historic venues such as, Bill Graham's historic Winterland Ballroom in San Francisco and the Long Island Arena in Commack. The 70's rock and roll classic also includes recordings from a concert that took place on the evening of the 22nd of November in 1975 at the little known Memorial Hall located in the heart of the SUNY Plattsburgh campus.
Frampton's Plattsburgh performance was organized by the SUNY Plattsburgh concert committee, headed by then-student Neil Jacobsen. Neil took a chance on booking Frampton who was up to that point was still relatively unknown. According to an article published in 2016 by VPR, Jacobsen felt that it was worth taking the gamble, "I knew about Humble Pie. I had their records," Jacobsen says. "I knew Frampton was a great guitarist and then he was solo. And I said, 'You know what, we can get him cheap. I think he means something, and let's go for it.' Back then, we had a certain amount of money to lose. So we were given the opportunity to really program and be adventurous."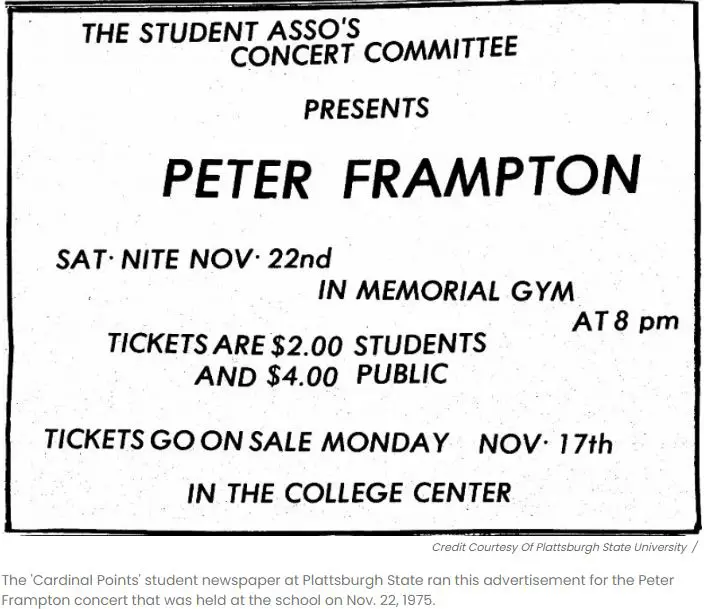 The cost of the Peter Frampton concert was a whopping $2.00 for students and $4.00 for the general public, which is equivalent to about $11.00 and $22.00 in today's dollars, which still seems an excellent bargain for a chance to see a gifted guitarist and singer/songwriter of his caliber. The performance was recorded by Frampton's road crew and which provided three tracks to the Frampton Comes Alive! LPs, including 'All I Want To Be (Is By Your Side),' 'Wind of Change' and the iconic, 'Baby, I Love Your Way.' Peter Frampton would go on to sell more than 17 million copies of Frampton Comes Alive! worldwide and in the process became an international super star that helped define a decade. "He was a really nice guy," Jacobsen continues. "I didn't speak to him much. Maybe for a minute or two just to say, 'Hi, hello.' But it was a good day for them. You know, he was on a small tour, playing small theaters and clubs, and he had an enthusiastic crowd and it was great."
The SUNY Plattsburgh setlist included a rendition of Frampton's now legendary of "Do You Feel Like We Do?" which features his now iconic Talk Box. The revolutionary device was first introduced to Frampton by legendary Nashville-based peddle steel player Pete Drake in 1970, while at a Abbey Road Studios recording session for George Harrison's All Things Must Pass LP. The effects unit allows the musician to adjust the sound of the guitar which then mimic's the sound of speech. The device directs sound from the instrument into the musician's mouth usually by means of a plastic tube that is then picked up by a vocal microphone. The musician controls the alteration of the instrument's sound by changing the shape of the mouth, "vocalizing" the guitar's output into a microphone. This resulting effect was something that listeners in the mid-70s were mostly not exposed to and has since then become forever linked to Peter Frampton's unique guitar playing style.
The success that Peter Frampton achieved from Frampton Comes Alive! was the stuff of legends, but with all the perks and the glitzy trappings of fame it also came with the heavy burden of being overworked and an exhaustive schedule in order to satisfy an ever increasing public demand. Frampton spoke to Gold Mine in June 20, 2013 and tried to describe the effect that the sudden success of Frampton Comes Alive! had on him. Well it was all a bit surreal, to be honest … It's something that very few people have experienced, and you can't really put that into words. You kind of have to be there to know what that was like. Surreal is the right word. It's almost like it's not happening to you, and it's happening to somebody else, because you haven't changed, but the world has changed the way they think about you. Lots of people who didn't know about you now know who you are, so notoriety on that level is a very strange thing (laughs)……I was 25 years old when that record came out, and I was at my prime of growing up, basically. Your brain doesn't stop growing until you're 30 (laughs), so I was still developing a personality and who I was at that point, so it definitely had a major effect on me.
Frampton would come back to Upstate NY and have a repeat performance at SUNY Plattsburgh four years later in 1979, but this time performed at the campus' Fieldhouse. The University had stopped presenting concerts there due to old wiring and limited seating capacity. Rob Buran Plattsburgh State concert committee member in 1975 spoke with VPR about Frampton's return performance. "Now, Peter Frampton came back in '79 and played at the Fieldhouse and strapped on an acoustic guitar and came out and said, 'This is one of the songs that appears on my album from Plattsburgh,' and he went into 'Baby, I Love Your Way.'
When Buran was asked by VPR if current Plattsburgh students were aware that the University played such an important role in Peter Frampton's rock and roll legacy, he replied, "Once in a while I'll come to the college and I'll ask them, 'Do you know the song, 'Baby, I Love Your Way?"' Buran says. "I might sing a part of it. 'Yeah, I know that.' 'Did you know it was recorded across the street at Memorial Hall?' 'No, I had no idea.'"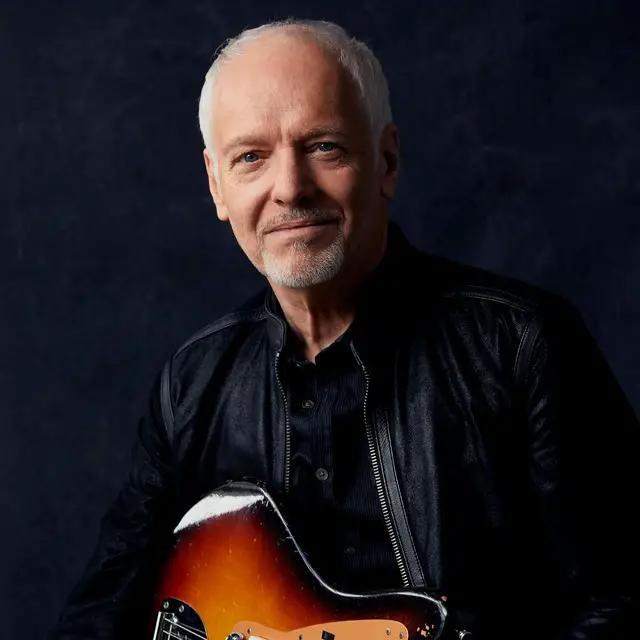 Peter Frampton's career would never see the dizzying heights that he achieved in the 1970s, but he would go on to have continued success in the music business. From his 1986 hit 'Lying' off of his ninth solo album Premonition to his 2006 Grammy Award winning Fingerprints, Peter Frampton continued to be a productive musical artist producing a vast quantity of material until his retirement in 2009 after disclosing his diagnosis of inclusion body myositis (IBM), a progressive muscle disorder. When asked in 2016 by Azcentral about the legacy of Frampton Comes Alive! he reflected back on his career. "Hey, I've done a lot of other things but I'm also very aware that when I kick the bucket, the first paragraph will be "The man responsible for 'Frampton Comes Alive' just dropped dead. 'Frampton Drops Dead' after coming alive all these years." It's just one of those things. Who knows why?"
Peter Frampton – Memorial Hall, SUNY Plattsburgh – November 22, 1975
Setlist: Baby (Somethin's Happening), Baby, I Love Your Way, Do You Feel Like We Do, Penny for Your Thoughts, (I'll Give You) Money
Encore: Jumpin' Jack Flash, Shine On