Music has been an integral part of the moviegoing experience ever since the Lumière Brothers screened the first silent shorts with musical accompaniment in Paris in 1895.  Today, Upstate Films is continuing the tradition of celebrating film and music together at its theaters in Rhinebeck and Saugerties and many other locations via its traveling Hudson Valley Picture Show.
From musicals to documentaries and biopics to staging live performances before and to complement silent film screenings, Upstate Films is putting a uniquely creative touch to the fusion of music and moviegoing.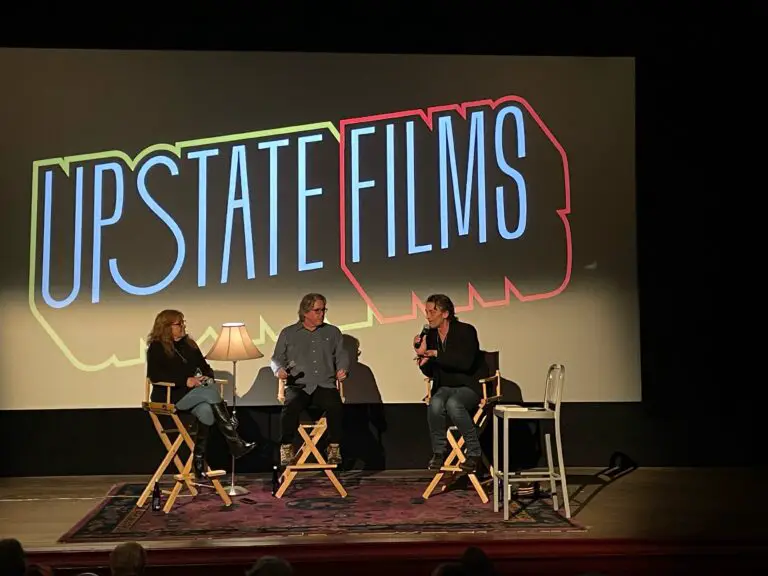 The venture launched in 1972 as a single-screen, not-for-profit cinema in Rhinebeck. In 2010, it added to its footprint by leasing Woodstock's Tinker Street Cinema for a decade. With its departure from Tinker Street in 2020, Upstate Films moved on to an even grander space, The Orpheum Theater in Saugerties.  This new acquisition was forged by Upstate Films' newly appointed co-executive directors, the creative team of Jason Silverman and Paul Sturtz.
"The Orpheum Theater is a true classic," says Katie Cokinos, Senior Programmer for Upstate Films. "It opened in 1908 as a vaudeville theater and has a big, beautiful stage which is ideal for live events.  We've had everything from staged readings of plays to poetry and book events and, of course, a bounty of live music.  That's not only here, but also at our Rhinebeck location and throughout the area with our Hudson Valley Picture Show."

Launched in Spring 2021, The Hudson Valley Picture Show is a traveling film experience, one that is often staged "al fresco" at some of the region's most bucolic backdrops.  With the purchase of a state-of-the-art outdoor screening system including a 24-foot screen, an ultra-bright projector and a powerful sound system, Upstate Films has popped up at venues like Olana, Kingston's Old Dutch Church, Catskills Community Theater and many more.
"Our Hudson Valley Picture Show events always incorporate a live music component," says Jason Silverman. "My co-director Paul and I really love music. And since we are new to the area, we thought this would be great way for us to not only get to know but showcase the unparalleled wealth of musical talent that call the Hudson Valley home. 
"Over the course of the past two years, we've probably had 40 acts performing in our theaters and Hudson Valley Picture Show," continues Silverman.  "We've had everyone from jazz greats like Bill Ware and local legends like Simi Stone to up-and-coming younger bands and solo artists as well as a revival of the John Street Jam, a long-running singer-songwriter event in Saugerties that was without a home for a few years. "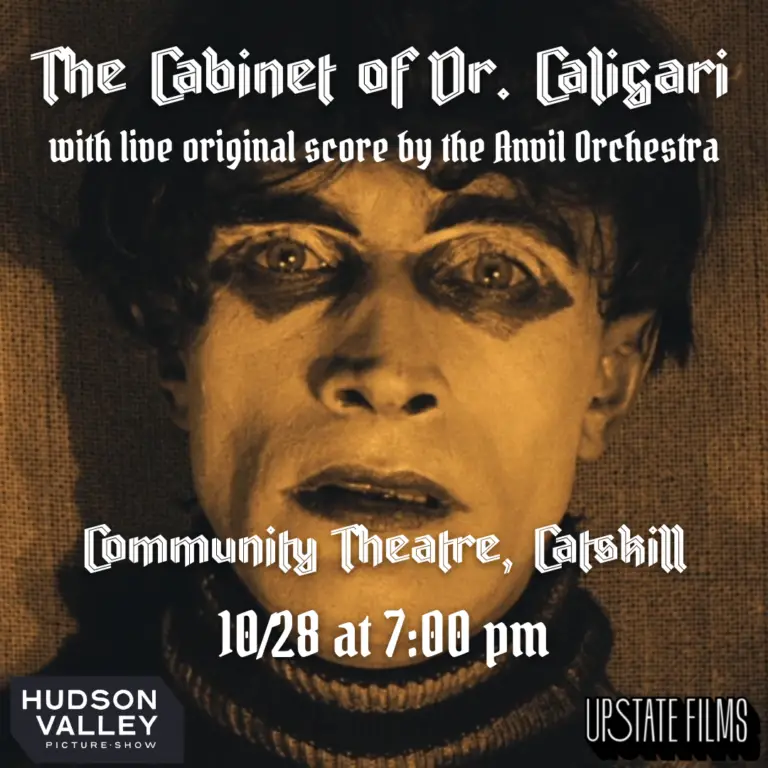 On Friday, October 28, Upstate Films' Hudson Valley Picture Show will present a screening of the 1920 horror classic, The Cabinet of Dr. Caligari, with live musical accompaniment by The Anvil Orchestra. Founded by Roger Clark Miller (Mission of Burma) and Terry Donahue more than 30 years.  The event will take place at The Community Theater in Catskill, New York.  
"The marriage of silent film and live musical accompaniment is something we've been exploring since we reopened The Orpheum in November 2021," adds Silverman.  "Our opening weekend actually featured a screening of Buster Keaton's Sherlock Jr. with a live score by pianist Barbara Lee.  It was something that not only pleased adults but kids as well. We look forward to doing more of it in the future."
Upstate Films and its Hudson Valley Picture Show have also boasted screenings of many of the best music documentaries. The list includes the Prince-focused Sign of the Times, the recent Bowie doc Moonage Daydream and Anonymous Club, a critically-acclaimed profile of enigmatic singer-songwriter Courtney Barnett.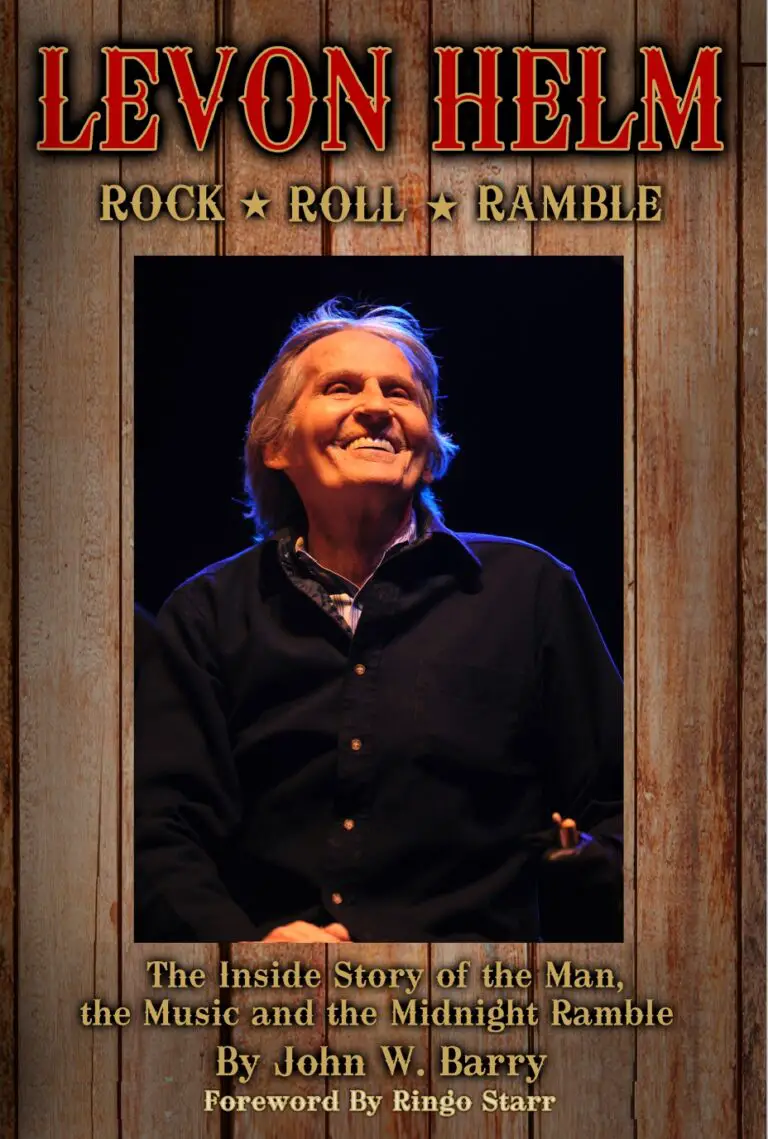 On October 18, Upstate Films celebrated the life of one of Woodstock's most beloved music-makers, Levon Helm, with a screening of the 2010 documentary, Ain't in It for My Health. The film was preceded by a presentation about a fascinating new book, Levon Helm: Rock, Roll and Ramble: This Inside Story of the Man, the Music and the Midnight Ramble, by local music journalist John Barry.
Barry's book is a 'fly on the wall" account of the final chapter of Helm's life and the scene that grew up around his legendary, star-studded home concerts, the Midnight Rambles.  These weekly events were a way for Helm to both recover from bankruptcy and battle against throat cancer, something that had robbed him of his legendary voice for a time. Barry spent years just hanging and recording conversations with Helm, both in his home and on the road.  The book, which took the writer 14 years to complete, may provide the truest look into the spirit of this legendary American music-maker and his triumphant final turn with the Grammy-Award winning album, Dirt Farmer, before his passing in April 2012.
Barry was joined at the sell-out event by Barbara O'Brien, who served as Helm's manager during this final chapter, and Radio Woodstock's amiable morning host Greg Gattine.  The trio provided many humorous and heartfelt anecdotes about their time with Helm, providing unique insight into both his music and his life in Woodstock. The event was co-sponsored by Inquiring Minds Books in Saugerties which, in this writer's estimation, has the largest selection of music biographies and histories to be found in the Hudson Valley. For more information on Barry's book, visit rockrollramble.com.

Silverman continues: "We think of ourselves as a cultural center, something that is about film, of course, but also about the other arts that flourish here in the Hudson Valley.  We pay every musician who plays here too, which is important.  There are many ways to use a theater and music is just one.  But it's one that is a true cornerstone of Hudson Valley culture, one, as with Helm's story, can have a lasting, worldwide impact."
Upstate Films will mark the holidays with two additional musical events.  Woodstock-based singer/songwriter Chris Maxwell will be teaming with Holly Miranda and Ambrosia Parsley on a quirky holiday musical/variety show, The Great Big Christmas Show.  Slated for December 11 at The Orpheum Theater, it will include tune created by the trio for their 2016 holiday CD, Catskill Christmas. Also upcoming in a holiday themed rock-and-roll performance by the youngsters at Woodstock's own rock school, The Rock Academy, at The Orpheum on December 4 at noon.