Joan Osborne has been known for her powerful vocals and genre-crossing dimensionality since she first broke into the industry in the '90s. Already acclaimed with seven Grammy nominations, Joan Osborne is to receive the 2022 John Lennon Real Love Award at Symphony Space, NYC on Saturday, October 8 as part of the annual John Lennon Tribute concert. 
This will make Osborne the eighth recipient of the John Lennon Real Love Award, whose previous honorees include Patti Smith, Natalie Merchant and Ani DiFranco. The award is presented by Theatre Within, the non-profit that has been hosting the John Lennon Tribute since 1981. Osborne has performed in the Tribute ten times since 2009, more than any other artist in the Tribute's history.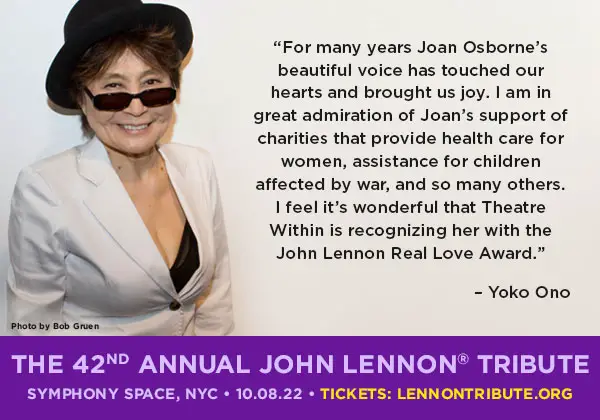 The John Lennon Tribute is the only ongoing concert series dedicated to John Lennon sanctioned by Yoko Ono. "For many years Joan Osborne's beautiful voice has touched our hearts and brought us joy. I am in great admiration of Joan's support of charities that provide health care for women, assistance for children affected by war, and so many others," Ono said on Osborne's nomination for the award.
Joining the legendary vocalist at Symphony Space will be Martin Sexton, Catherine Russel, Willie Nile, Larry Campbell and Teresa Williams, David Broza and Rich Pagano, with more artists to be announced. The program promises some Beatles tribute songs from Rubber Soul and Revolver.
Part of the proceeds from the John Lennon Tribute will be used to support Theatre Within's John Lennon Real Love project, a free songwriting program the organization brings to public elementary schools. 
Tickets are available at LennonTribute.org. John Lennon and Beatles fans are invited to join "Friends of the Annual John Lennon Tribute" at LennonTribute.org/join-friends, where a limited number of VIP packages are available.