Hellbound Train is an astounding double-album retrospective from the always revelatory American guitarist Steve Tibbetts, a stalwart innovator who has been associated with ECM Records for 13 albums over 40 years.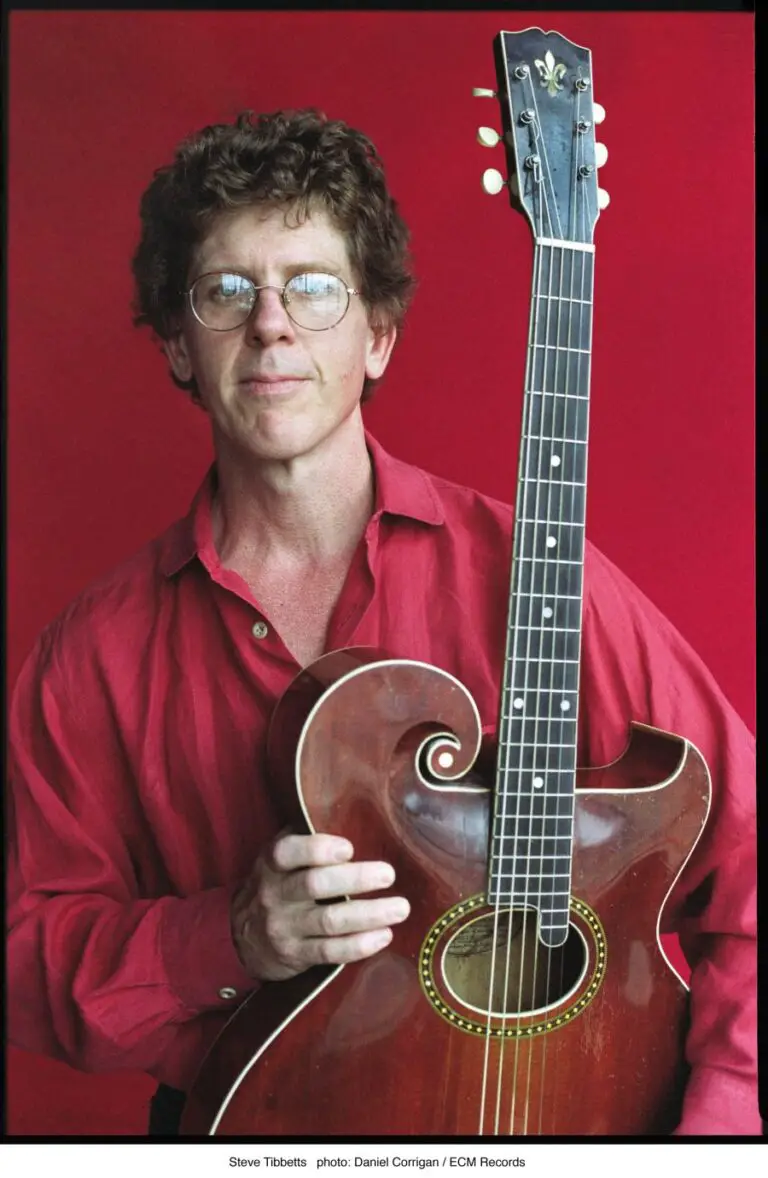 Tibbetts has one of the widest palates in the world of guitar.  His music features alternately tuned 12-string acoustics that trigger lush samples from a wide library he has created – Tibetan long horns, gongs and even his wife's tuned wine glasses.  And no one can create a more fearsome sound with an electric guitar.  Tibbetts combines a vintage Stratocaster with a Marshall JCM 800 to create feedback that he compares to "sheet metal being torn to pieces."  Tibbetts can tap and slur with the best of them, with his electric sounding like an uncaged animal and his acoustic melodies bearing a sitar-like tonality. He complements this with electric kalimba, dobro,  percussion and piano to complete his always melodic compositions.  
Since the beginning of his career, Steve Tibbetts has been supported by the incredible tribal cum gamelan rhythms of percussionist Marc Anderson, surely one of the most underrated musicians working today.  Minnesota-based Tibbetts has traveled widely. He has lived and collaborated with musicians in Tibet, Nepal and Bali, something that infuses his music with colors and beats that are truly unique.
Hellbound Train is divided in two chapters. The first disc is largely a showcase for his dazzling electric side; the second his acoustic and more peaceful ethereal leanings.  The anthology juxtaposes pieces originally featured on the albums Northern Song, Safe Journey,  Exploded View, Big Map Idea, The Fall Of Us All, A Man About A Horse,  Natural Causes and Life Of.  The guitarist's goal was not to create a "Best Of"with bits from every album, but a collection of pieces that flowed best together.  
The album opener, "Full Moon Dogs," enters with polyrhythmic hand drums and shakers supporting Tibbett's vocal choir chants and sitar-like melodies from his treated acoustic.  At the four-minute mark, things get more hellacious with the entrance of Tibbett's fuzz fried Strat and groaning whammy bar antics. "Black Temple" opens with an orchestral acoustic and tinkering temple bells and Anderson's sandy, scrapy percussion.  More animal melodies from Tibbett's electric as the pulse and tempo accelerates. 
I am delighted that side one features the tune that turned my head and turned me on to Tibbetts, "Vision" from his 1984 album, Safe Journey. It has everything I and you are sure to love about Tibbetts.  There's an intro with tablas and shakers supporting a simple melody played by Tibbetts on his kalimba.  After a slight breakdown for percussion at 1:45, Tibbetts roars in with drawn out notes of his fuzzed-out Strat before moving into the melody, with slurs, taps and harmonics.  Interestingly he get this thick maelstrom of guitar splendor without an effects boxes, just with every dial on his amp turned up to 10.
It's music ancient and modern, music of both the soil and deep space.
Disc 2 showcases Tibbetts' unique approach to acoustic.  Rock fans will have their minds expanded by his cover of Jimmy Page's "Black Mountain Slide."  Tibbetts' take is infused with other worldly ambience from his sample-generating 12-string and driven by Anderson's excellent tabla drumming.  In places, it brings to mind the work of John McLaughlin's Indian acoustic band, Shakti.  The Indonesian-flavored "Wish" provides a distinct gamelan vibe while "The Big Wind" is all airy guitars and ambience at first, leading to a rhythmic pulse and kalimba melody before an outro of heavenly sustained guitars climax.  These pieces show that, in the hands of Tibbetts, an acoustic guitar can be orchestra with all the color of a philharmonic and the warmth of a large concert hall.
Since the 1970s, ECM Records has been a platform for not only some of the most virtuosic and original musicians on the planet, but a producer many of the best sounding and engineered albums ever made.  Along with Tibbetts, ECM has been home to monster guitarists' guitarists like Norwegian Terje Rypdal, John Abercrombie, Ralph Towner, David Torn and Eivind Aarest.  And it's let them not only stretch their wings conceptually, but produces some of the most attractive album packaging to showcase these superlative sounds .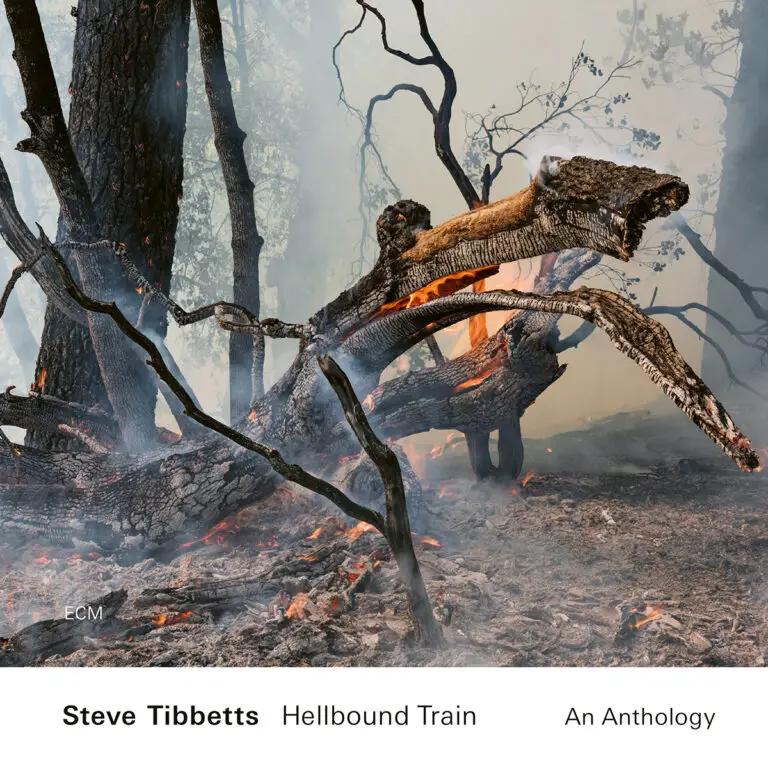 With its liquid melodies and textures,  its hypnotic beats and pulsations subtly influenced by musics of many cultures, Hellbound Train is an ideal introduction to the work of one of the world's most consistently original guitarists.