Darien Center will host Folkfaces Fest 6 from September 29th through October 2nd at Cherry Hill Campground, a perfect fall music festival in Western New York.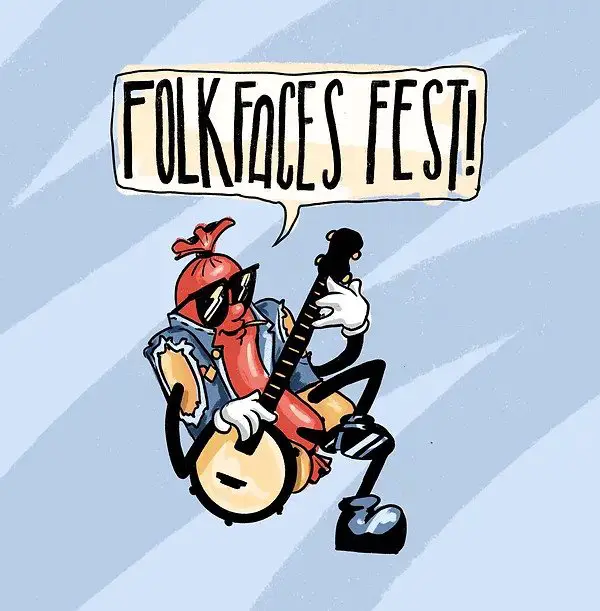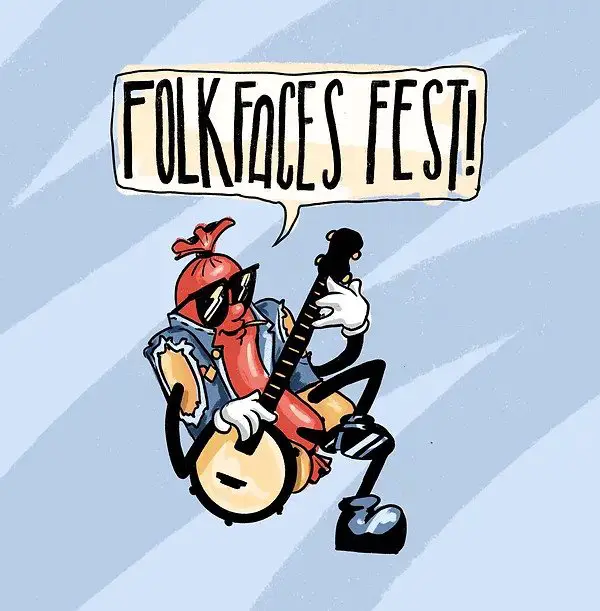 Folkfaces Fest is an emerging grassroots-style music festival hosted by Tyler Westcott & his band Folkfaces. Situated 40 minutes from Buffalo and less than an hour from Rochester, Folkfaces Fest welcomes a variety of bands and vendors with activities for kids of all ages.
The festival has three areas for performances – The Greystone Stage (main stage), The Gage Stage (side woods stage), and the Slyboots Tent (a large circus tent for performance, workshops, activities and more). 
Folkfaces Fest curates unique national and regional acts mostly of the roots music or world music variety. Over the last half a decade the festival has hosted many notable performers including Grammy award winning co-founder of the Carolina Chocolate Drops Dom Flemons "the American Songster," champion fiddler & ragtime banjoist Aaron Jonah Lewis, Viral YouTube sensation Abby the Spoon Lady, folk hero Bruce Molsky, ragtime blues guitarist Andy Cohen, Kentucky Colonel and front man of the Legendary Shack Shakers – JD Wilkes, Texas one man band, Scott H. Biram, Innovative folk duo Richie Stearns & Rosie Newton, freak folk legend Baby Gramps, and many many others… 
Food vendors will be on hand with healthy options as well as standard fair fare. Don't miss art and craft vendors in the artist village, where there will be held the yearly film fest, square dance, art installations, a paint wall, mycology foray, & workshops with artists. This years theme has been announced as "Denim & Dogs" so dress up in your best Canadian Tuxedo and bring your pup to the fest.
The festival will be accepting donations of lightly worn winter coats, unopened packages of socks and underwear, canned good and non-perishables at the gate to benefit Friends of Night People!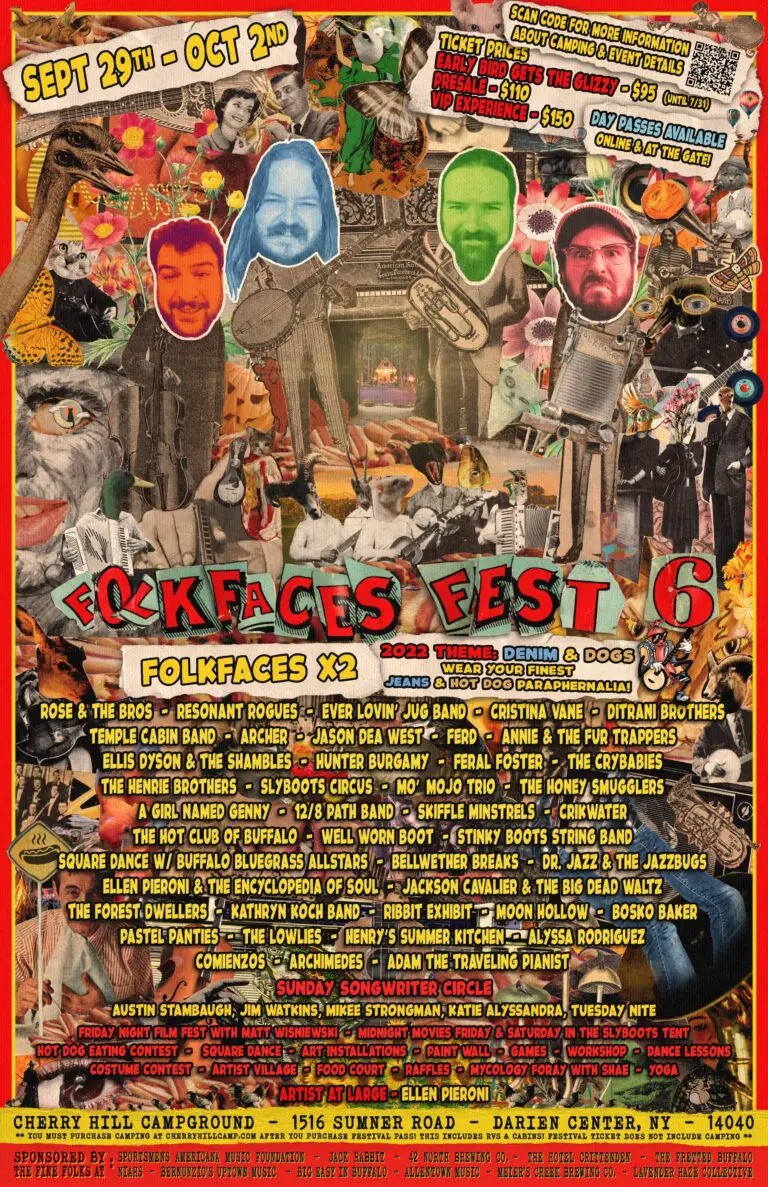 In a slight change from years past, camping is now a separate fee. Once you purchase your festival pass, visit cherryhillcamp.com to book your campsite. While RVs sites and Cabins are sold out, plenty of tent sites remain.
Cherry Hill Camp is a well manicured campground with 50 campsites scattered through out its 63 acres. Each with their own picnic table and fire ring. A few unfurnished barebones cabins. A bathhouse with 6 flush toilets and two showers, laundry and vending machines. There are numerous spigots with potable water spread throughout the festival grounds. A camp store with all your camping supply needs, snacks, drinks and more. Cherry Hill Campground is located at 1516 Sumner Road, Darien Center NY 14040
Folkfaces Fest 6 is sponsored by Sportsmens Americana Music Foundation, Jack Rabbit, Rigidized Metals, The Big Easy In Buffalo, The Fretted Buffalo, Bernunzio's Uptown Music, The Hotel Crittenden, Allentown Music, 42 North Brewing Company, ANIAH, Slyboots School of Music, Art & Dance, Lavender Haze Collective and Meier's Creek Brewing.
Tickets are on sale now and be sure to book your site at Cherry Hill Campground here.
Folkfaces Fest 6 Lineup
Folkfaces x2 
Rose & The Bros
The Resonant Rogues
Ever-Lovin' Jug Band
Cristina Vane
DiTrani Brothers
Temple Cabin Band
Archer
Jason Dea West
FERD
Andy Cohen
Annie and the Fur Trappers
Hunter Burgamy
Feral Foster 
The Crybabies
The Henrie Brothers
The Slyboots School of Music, Art & Dance
Mo' Mojo Music trio 
The Honey Smugglers
Public Water Supply
Raedwald Howland-Bolton
12/8 Path Band
The Skiffle Minstrels
Crikwater
The Hot Club of Buffalo
Well Worn Boot
The Stinky Boots String Band
Square dance with Buffalo Bluegrass Allstars
Bellwether Breaks
Dr. Jazz & the Jazzbugs
Ellen Pieroni & the Encyclopedia of Soul
Jackson Cavalier & the Big Dead Waltz
The Forest Dwellers
Kathryn Koch Band 
Ribbit Exhibit
Moon Hollow
Bosko Baker
Pastel Panties
The Lowlies
Henry's Summer Kitchen
Alyssa Rodriguez
Comienzos
Archimedes 
Adam the Traveling Pianist
Sunday songwriter circle:
Austin Stambaugh 
Katie Alyssandra 
Mikee Strongmen
Jim Watkins
tuesday nite
Artist at large Ellen Pieroni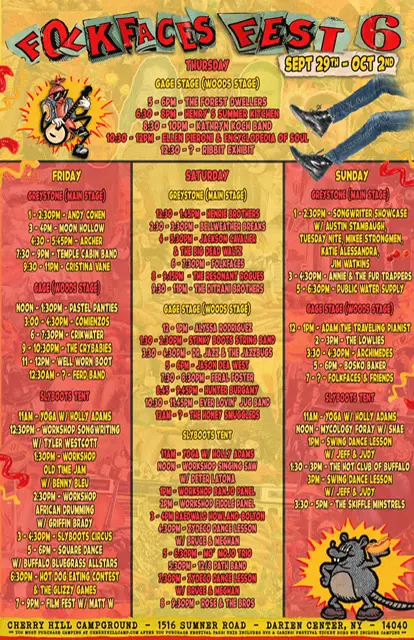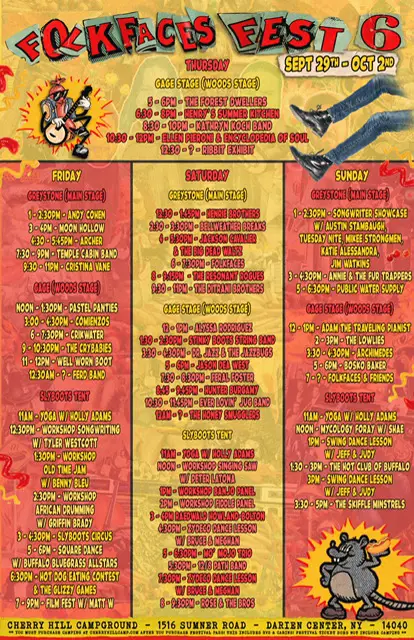 Folkfaces Fest 6 Activities
Friday night film fest with Matt Wisniewski
Midnight movies in the Slyboots Tent
Hot dog eating contest/Glizzy games 
Square dance
Art installations 
Paint wall
Workshops (fiddle,banjo,singing saw, songwriting, African drumming)
Old time jam
Live painting 
Dance lessons 
Costume contest
Artist village 
Food court
Raffles
Mycology foray with Shae
Yoga with Holly
Ticket prices:
Kids 12 and under – free
Puppy Pass (for well behaved, non-aggressive, cleaned up after, leashed dogs) – Presale $20, Gate $25 
Thursday Day Pass: Presale $25, Gate $30
Fri & Sat Day Pass: Presale $50, Gate $55 
Sunday Day Pass: Presale $40, Gate $45
In Folkfaces We Trust: $85 6/25-7/16
Early bird weekend pass: $95 7/17-7/31
Presale weekend pass: $110 8/1-9/28
Gate weekend pass: $130 
VIP pass: $150