The Albany Riverfront Jazz Festival will return for its 20th annual celebration on Saturday, September 10 at Jennings Landing. First run in 2002, the free-to-the-public event starts at noon and closes at 8pm, with the five-act day being wrapped up by a fireworks display.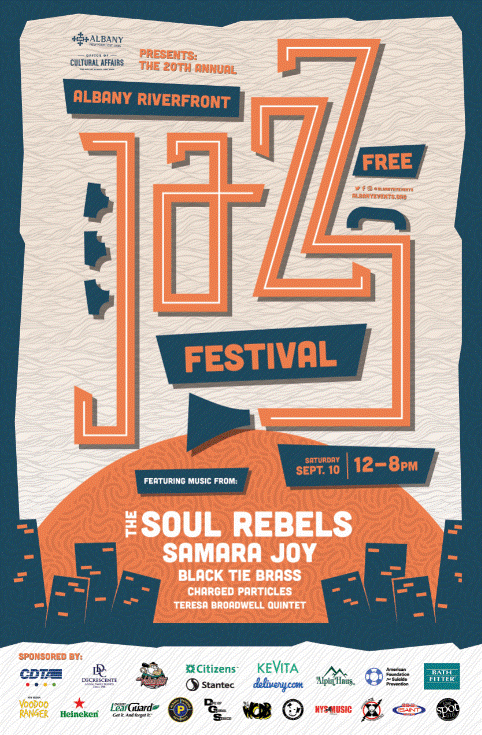 Opening up the day's music will be the Teresa Broadwell Quintet from 12:30pm to 1:30. Led by fiddler Teresa Broadwell, the Albany swing and jazz collective also includes saxophonist Leon Russo, guitarist Mike Novakowski, bassist Peter Toigo, and drummer Cliff Brucker.
Following is Charged Particles, performing from 2 to 3. The Latin-jazz oriented group is comprised of keyboardist Murray Low, bassist Aaron Germain, and drummer Jon Krosnick.
Next on the schedule is Black Tie Brass from 3:30 to 4:30, a NYC-based horn driven jazz/funk group. Founded in 2013, the band draws on genres such as pop, R&B, hip-hop, and more in guiding their sound.
Act number four is Samara Joy, a 22-year-old singer from the Bronx on stage from 5 to 6. A Verve Records artist, her young career has already been impressively marked by multiple appearances on the TODAY show and a TikTok page with over 100 thousand followers.
To close out the night will be the headlining Soul Rebels, performing from 6:30 until the festival's end. Big name collaborations of theirs include Katy Perry, Nas, Metallica, Big Freedia, G-Eazy, and the Wu-Tang Clan.
Food and beverage vendors will be available on site, and more information can be found on albanyevents.org