On Aug. 8th Rage Against the Machine (RATM) played the first of five, sold-out shows at Madison Square Garden (MSG). This was the 15th stop of their "public service announcement" tour. The reunion tour has 51 shows throughout 12 countries and 40 different cities. They were accompanied by Run The Jewels (RTJ). RTJ is a hip hop duo consisting of Brooklyn based rapper/producer El-P and Atlanta based rapper Killer Mike.
Originally announced in 2019, and postponed several times due to the COVID pandemic, this tour marked the band's first time playing together in 11 years. New Yorkers were clearly excited for their return as all five nights are sold out. The bands politically charged messages throughout their songs feel as relevant today as they did when they were first released decades ago. The energy in the arena was through the roof. Although frontman Zack de la Rocha had to perform the show sitting down due to a leg injury he sustained on the second stop of this tour, his passion and excitement were on full display.
Also outspoken about their political views, Run the Jewels is a perfect match as an opening act for RATM. They opened the show with "Call Ticketron" which appropriately has an opening verse of "run the jewels live at the garden". They made sure to let us know they've been waiting years for that moment, and it set the tone for an explosive set. The chemistry between Killer Mike and EL-P on stage is incredible to see live.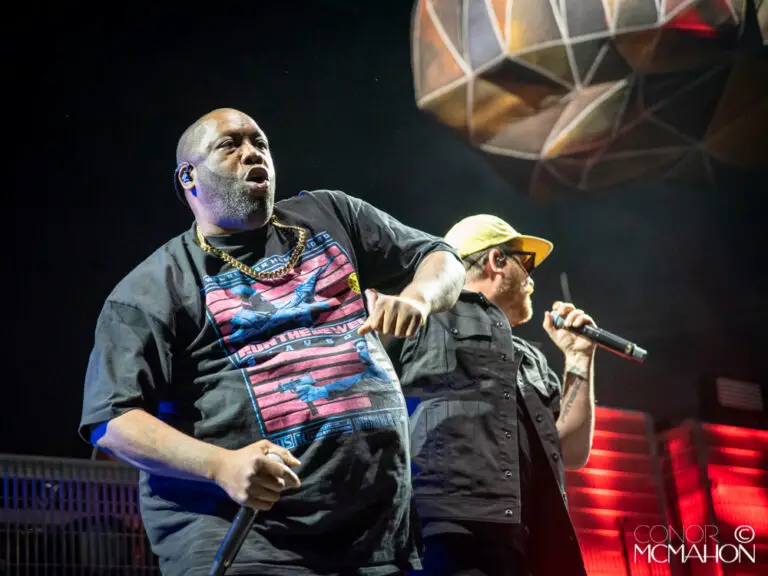 Rage Against The Machine – Madison Square Garden – Aug. 8, 2022
Bombtrack, People of the Sun, Bulls on Parade, Bullet in the head, Revolver (intro only), Testify, Take The Power Back, Wake Up, Guerilla Radio, Down Rodeo, Know Your Enemy, Calm Like a Bomb > Sleep Now in The Fire, Born of a Broken Man, War Within a Breath, The Ghost of Tom Joad (Bruce Springsteen cover), Freedom > Township Rebellion > Killing in the Name

Run The Jewels – Madison Square Garden – Aug. 8, 2022
Call Ticketron, Yankee and the Brave (ep.4), Close Your Eyes (And Count to Fuck), Ooh La La (with Greg Nice), Blockbuster Night Part 1, Oh My Darling Don't Cry, Legend Has it, Stay Gold > Don't Get Captured, Ju$t, Walking in the Snow, A Few Words for the Firing Squad (Radiation)