National Sawdust announced its Fall 2022 season, bringing worldwide artists to Williamsburg, Brooklyn to share ambitious new explorations in music and performances. The works comprising the season emerge from an America and a world experiencing intersecting crises and urgent calls for change—and respond with themes of healing, metamorphosis, activism, and hope.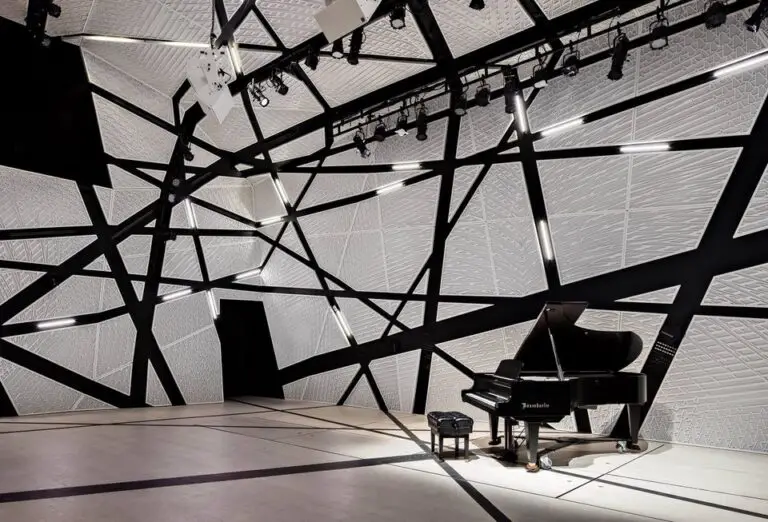 National Sawdust is a nonprofit music producer and venue in Brooklyn founded in 2015 by composer Paola Prestini and attorney Kevin Dolan. With its belief of being an innovative leader in changing the landscape of contemporary music, by bringing all voices to the stage and beyond — artistic representation that reflects the ever-evolving multicultural society in which we live, National Sawdust engages worldwide artists in a wonderful art ecosystem in Williamsburg venue.
JOJO ABOT and esperanza spalding: A GOD OF HER OWN MAKING – September 23 & 24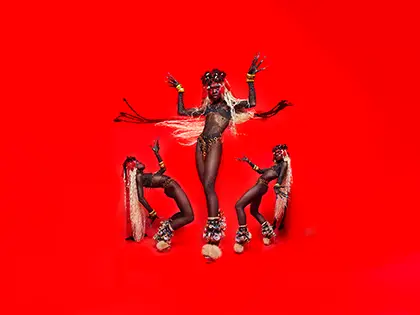 A GOD OF HER OWN MAKING is a new spiritual and experiential opera of immersive soundscapes and visuals, in which the human vessel serves as a primary instrument and conduit for sound as a healing pathway to the divine. Created, directed, and composed by 2018 Artist-in-Residence artist Jojo Abot,A GOD OF HER OWN MAKING builds on JOJO ABOT's exploration of spirituality, and incorporates spalding's lineages and practices of restorative music.
Emily Wells – September 29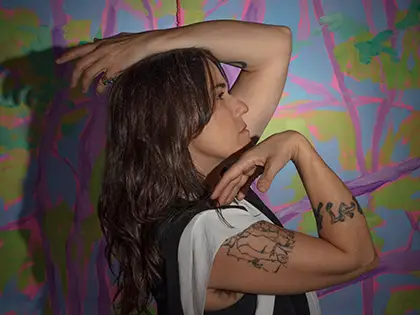 For her third appearance on the National Sawdust stage, composer, producer, and video artist Emily Wells and her band (bassist Dandy McDowell, drummer Addie Vogt, and multi-instrumentalist Alec Spiegelman) will perform work from her 2022 album Regards to the End, Centering the Stories of Artists Behind Early AIDS Activism.
Xavier Foley – October 16
Virtuosic Double Bassist Xavier Foley will co-presented with the Sphinx Organization. This performance is one of a series reflecting both National Sawdust and Sphinx's commitment to empowering diverse voices that are reshaping the landscape of western classical music.
Jean-Michel Blais – October 18
Jean-Michel Blais is a Montreal-based pianist-composer-performer. His debut opus, Il, was written after two years of daily improvisation, recorded with a Zoom H4n in his apartment. It ranked among the Top 10 best albums in Time Magazine.
Niloufar Nourbakhsh's 'We, The Innumerable' – October 21
A Concert of Niloufar Nourbakhsh's Opera We the Innumerable, Tracing an Iranian Woman's Heroic Journey After Her Life Is Besieged by State Violence, Co-Presented with the Center for Contemporary Opera.
Ichiko Aoba – October 26
This performance will be the New York debut of Japanese folk musician Ichiko Aoba. She will perform music from her latest album, Windswept Adan, presented by AdHoc.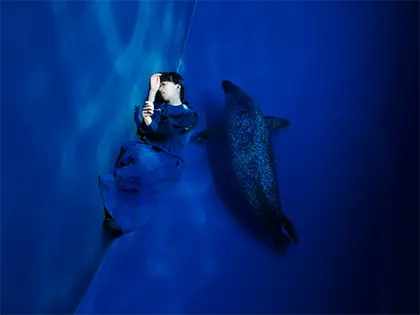 Nathan Schram with Special Guests Attacca Quartet, Becca Stevens, & Caroline Shaw – October 29
GRAMMY Award-winning composer and violist for Attacca Quartet Nathan Schram will premiere his new album Nearsided, which released on July 29th, in this multimedia performance. Schram's latest album tested the power of exploration and the possibilities of what can be created in the studio and on-stage. Nathan Schram and his special guests–Attacca Quartet, Becca Stevens, Caroline Shaw, and more–are prepared for the world premiere of Nearsided in this album release show.
AdHoc Presents: Colin Stetson & Elori Saxl – November 3
Horn player Colin Stetson will co-present with American experimental electronic composer Elori Saxl on November 3rd. Stetson has an utterly unique voice as a soloist, principally on saxophones and clarinets, as well as a songwriter. Elori Saxl released her debut album The Blue of Distance in 2021 which elegantly combined digitally-processed recordings of wind and water with the rich sounds of analog synthesizers and chamber orchestra.
Ami Dang with Opener Roshni Samlal – November 10
South Asian-American vocalist, sitarist, composer, and producer Amrita "Ami" Kaur Dang will bring her experimental ambient music. It referred to her first-generation Sikh-American experience while combined elements of North Indian classical music with noise, dance, and psych music.
PUBLIQuartet "What is American" – November 11
2018-2019 Artists-in-Residence PUBLIQuartet, presented with Sphinx, will perform work from their latest album What Is American, a Call to Ponder the Kaleidoscope of Diverse Genres, which originating in black and Indigenous music.
Michela Marino Lerman and Her Band Love Movement – November 18
Tap dancer and choreographer Michela Marino Lerman and her band Love Movement will present a multidisciplinary musical experience inspired by Martin Luther King Jr.'s "Levels of Love" speech. This will be an evening of dance, music, and therapeutic release.
Margaret Leng Tan – December 3
Renowned Avant-garde pianist Margaret Leng Tan, known as the "Queen of the toy piano" and "the world's premier string piano virtuoso," will present a program honoring the late American composer George Crumb and his late wife Elizabeth May Brown.
Sofiane Pamart – December 5
French pianist Sofiane Pamart, a.k.a. 'Piano King,' has made a name for himself by bridging the traditionalist western classical world and the always-innovating realm of hip-hop. Pamart's collaborations with rappers like Koba LaD, Vald, Joey Starr, and more have helped piano music shed its staid facade and become more accessible to new listeners. Pamart delivers performances that are visually and technically stunning, and his film-inspired aesthetic has led to partnerships with fashion houses like Yves Saint Laurent and Dior Hommes. A classically-trained pianist with a rapper's flair for storytelling, Pamart aims to bring people together through the emotional vibrancy of his piano compositions. For his only East Coast tour stop, Sofiane Pamart will take piano music into the future with a mix of western classical works and his own hip-hop-classical fusions.
Juilliard Blueprint Bridge Fellowship Concert – December 11
The Blueprint Bridge Fellowship partner with The Juilliard School, is an annual National Sawdust mentorship. The 2022 winning composers – alumni composers Eugene Astapov, and Lingbo Ma, and current student composers Nicole Balsirow, Aidan Gold, and Sia Uhm – were commissioned to a dream work that the National Sawdust Ensemble will workshop and perform at National Sawdust.
Matt McBane and Sandbox Percussion – December 16
Chamber quartet Sandbox Percussion will perform composer and violinist Matt McBane's Bathymetry in its entirety in this celebratory album release concert featuring an opening set by Matt McBane. Bathymetry will be out on October 22, 2022 via Cantaloupe Music.