Making the most of an unfortunate and potentially volatile situation, a free moe. concert at the Empire State Plaza in Albany was music to the ears of disappointed Deadheads and plenty of moe.rons on Wednesday, July 6.  With many fans already on the road when late afternoon news broke that Dead and Company had suddenly cancelled their show at SPAC, live music lovers didn't have to look very far to find their fix.
With beloved Buffalo improv icons moe. already scheduled to kick off Albany's 'Summer at the Plaza' concert series on the same night, what was once thought to be tough choice for the competing fanbase suddenly seemed like a blessing a disguise.  For the moe.rons, there was never a debate on where to be, but to the dedicated Deadheads still hoping to dance, turning the bus around and detouring it to the Empire State Plaza became an obvious no-brainer.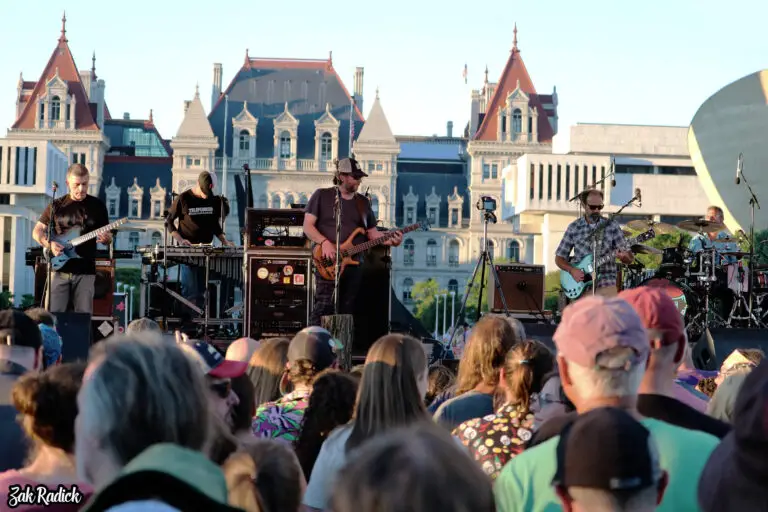 Set in the shadows of the state capitol building and in a sea of tie dye t-shirts, it was more than just the hippies who showed up on this picture-perfect summer evening. Instead, a pleasantly diverse crowd of all ages, genders, colors, hair styles and musical aptitudes packed into the plaza shortly after happy hour. There were kids running around with cotton candy and snow cones, old friends catching up while waiting in the massive beer line, people playing frisbee and walking their dogs, local artists hustling for a buck.  All of it helping to create a family friendly, carnival-like vibe bustling with energy and as word got around that moe. was in town, the crowd only seemed to grow larger as the evening went on.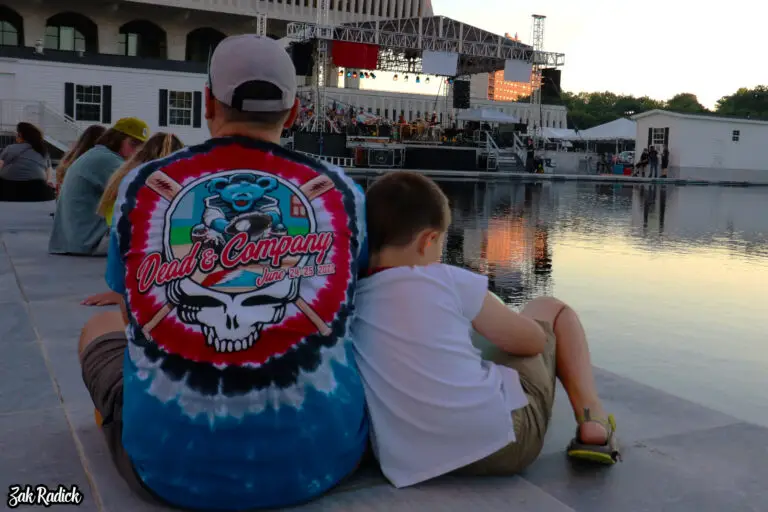 The entire performance felt drenched in nostalgia. While it was a beautiful and surreal scene come showtime, the road to getting there has been long and full of curveballs. You see, while moe is largely considered a "Buffalo band," die-hard Albany fans still like to consider the guys "homegrown." Playing some of their earliest shows at legendary local dives like the former Valentine's off New Scotland Ave, some members of the band even lived in Albany before truckin' up to Buffalo.  Their impact on local culture over the years so significant, that back in 2018 Albany's mayor, Kathy Sheehan, officially declared February 24th as "moe. Day" in the city.  While little has been made of that fact since then, judging by the amount of people who packed into the plaza for this rare (and free) moe. show, it's clear that the local love has never wavered. Seeing core members Rob Derhak (bass), Al Schnier (guitar), Vinny Amicio (drums), and Jim Loughlin (percussion) sharing smiles together while taking it all in, you couldn't help but feel proud of the "happy hour heroes" on stage.
From the thought-provoking summer anthem "Blue Jeans Pizza" opener, to a jammed out 16 minute version of "The Road," to old-school moe. staples like "Head," 2001's "So Long" and an always appreciated "Mexico" set closer, much of the talk during intermission wasn't about the guys playing on stage, but rather who wasn't on stage. The conversation was all about Chuck and how much he is missed.  For many in attendance, it was their first time seeing the band without moe.'s founding guitarist, virtuoso Chuck Garvey, who has been on the sidelines recovering from a serious stroke since in November of last year. In a truly sentimental moment towards the end of the show, Al read a "get well soon" note from a fan named Nicole, then lead the entire crowd in a "Chuck, Chuck, Chuck" chant.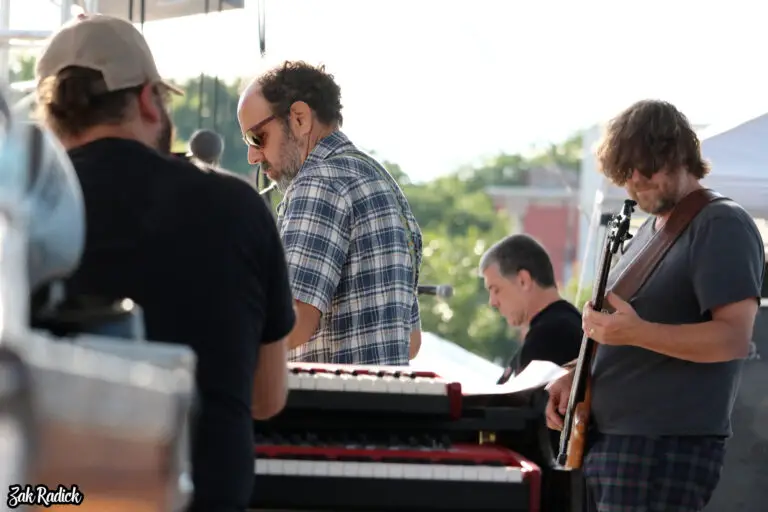 Stepping up to the plate in Garvey's absence, the band has enlisted not one, but two world-class players; Suke Cerulo of Schleigho on guitar and keyboard/multi instrumentalist Nate Wilson from Percy Hill. While guitarist Al Schnier handled most of the heavy lifting and soloing during the first set, the improvisation during the second set went long and deep and really allowed Cerulo and Wilson to show what they're made of.  While Cerulo's headless guitar will take some getting used to, he's seems to be a natural fit, while Wilson on the other hand, adds a completely new dynamic and versatility to the moe. sound, complete with funk infused keyboards and a flute that plays incredibly well off Jim Loughlin's xylophone sounds. 
Coming out of the gates for the second set with a near 20 minute version of Lazarus, the band would effortlessly segue into a particularly funky 18 minute rendition of "George."  After a brief pause, the band would launch into a massive "McBain" sandwich that saw them jam into a "Starship Troopers">"Tubing the River Styx" and eventually find their way back into "The Pit."  The true highlight and easily the long jam of the name night came next with the set closing 26 minute moe classic "Brent Black" which brough everyone at the Empire State Plaza to their feet in a standing ovation. With the hard curfew now rapidly approaching, the band would return to the stage for fan favorite "Bear Song" as an encore.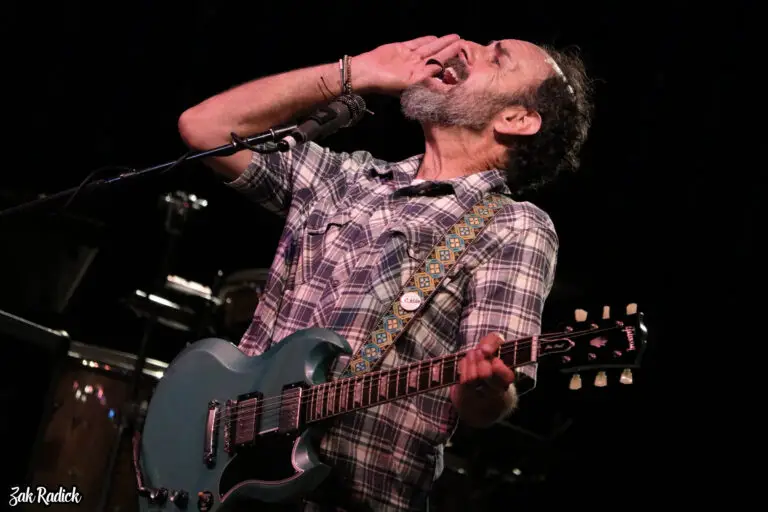 If you liked the setlist of this show, you can thank a kind man by the name of John King. If you didn't like it, well, blame cancer. Based on King's generous donation to the American Caner Society, the band gave him the unique opportunity to write the setlist. Considering many of the people who were there went into the night expecting to hear Dead and Company, I think it's safe to say Mr. King knocked it out of the park in a big way. Before exiting the stage, bass player Rob Derhak addressed the crowd one final time saying, "We had an awesome time, we hope you guys did as well. Thank you so much for coming out.  Seriously though, we really do love Albany.  We have are own day here in February, it's moe. day, so you can't beat that, thank you.  Me and some of the guys are gonna be down at The Hollow tonight with Blue Star Radiation, so shameless plug.  Goodnight." 
Moe. | July 6, 2022 | Albany, NY | Empire State Plaza (Free Show)
Set 1: Blue Jeans Pizza, The Road, Head, So Long, Mexico
Set 2: Lazarus > George , McBain> Starship Troop Jam > Tubing the Rive Styx* > The Pit> Brent Black
Encore: Al.nouements, Chuck Chant, Bear Song
* with Nate Wilson on flute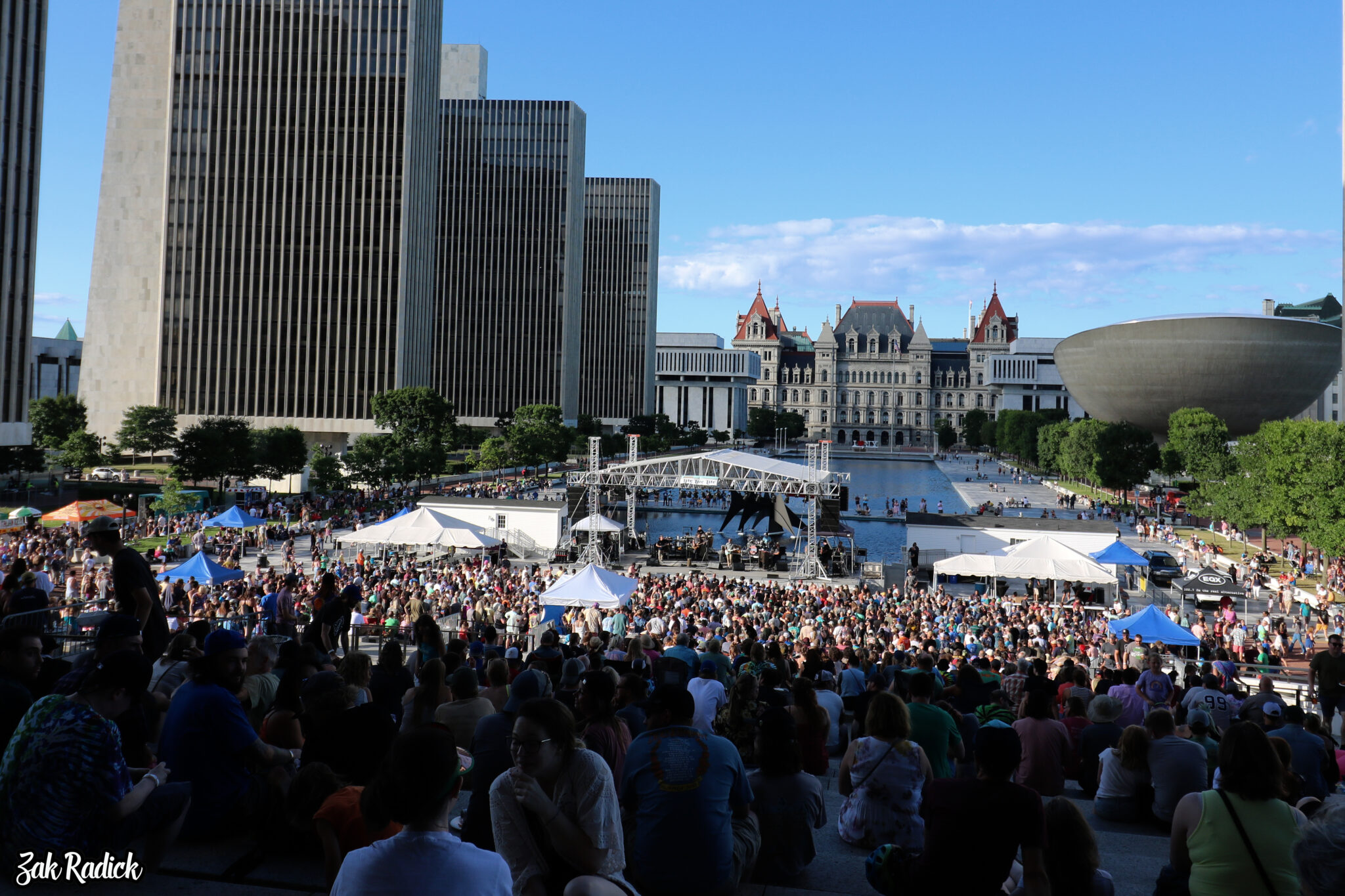 Pulling double duty, the fun wasn't over yet this evening. Directly following moe.'s performance, fans in the know headed further downtown to The Hollow where Guthrie/Bell Productions was hosting an evening with Blue Star Radiation, the side-project which also features moe. drummer Vinnie Amico and bassist Rob Derhak, plus keyboard/multi instrumentalist Nate Wilson and virtuoso guitarist Tim Palmieri of Kung Fu, The Breakfast and most recently Lotus fame.
As you might expect with the pedigree of the players involved, this show was quite the party. A veritable "all-star" band of improvisational, jam band musicians that all share an affinity for classic rock, the show saw everything from highly danceable funk grooves, to tasteful blues-based crooning, to bombastic, over-the-top soloing. It was perhaps no surprise that guitarist Tim Palmieri stole the show however, as he was the only member of Blue Star Radiation that was completely fresh having not played at the Plaza earlier in the night.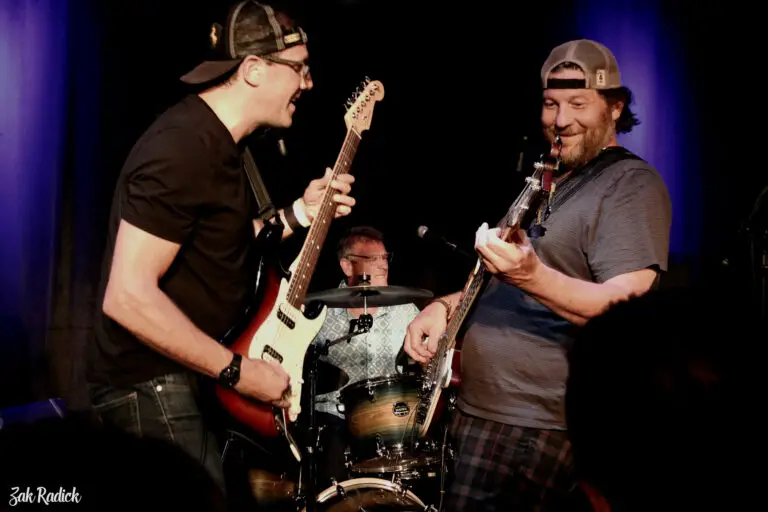 Always the consummate showman, Palmieri's incendiary shredding was on full display from the beginning, almost daring his bandmates to try and keep up. Derhak, who could be seen grinning ear to ear most of the show, was up to the challenge, and even would go head-to-head with Palmieri in an instrumental duel that would send the Hollow howling.
While there appeared to be no formal setlist, obvious highlights included covers of moe. classics like "Opium" and "Mar De Ma" as well as "Biblical Proportions" and an exquisite rendition of the Jethro Tull classic "Locomotive Breath." Sensing there was something special going on here, about half way through the night, promoter Greg Bell casually worked his way through the crowd to the front of the stage to ask the guys how they felt about playing a second set. Derhak would leave it up the audience, holding his arms out and asking "What do you folks think?" After the resounding cheer, Blue Star Radiation would go on to play all the way till about 1am. While this project is still relatively new, BSR shows are quickly becoming "can't miss" affairs.
New Yorkers will get their next chance to see the band soon, as Blue Star Radiation makes their NYC debut at the Cutting Room on Friday, July 22. As for moe.'s next New York engagement, the band is set return to beautiful Lake George the first weekend of September for two headlining nights at the Adirondack Independence Music Festival.
Blue Star Radiation | July 6, 2022 | Albany, NY | The Hollow
Setlist (partial): MarDeMA, Opium, Biblical Proportions, Locomotive Breath